Attract Top Talent by Becoming a Client of Choice
The nature and culture of independent work is growing more complex and more sophisticated with each passing year. In tandem, large corporations are increasingly relying on a particular subsector of the independent workforce—a growing group of highly-skilled independent professionals—as a key element in executing strategies and serving clients. Independent professionals include independent contractors and consultants, statement-of-work-based laborers, and freelancers who provide services to corporations on a regular basis.
Our Client of Choice report, the third report in its series, explores the key motivations and drivers of the 7.4 million Americans working as full-time independent professionals.
For businesses to effectively compete in the marketplace, it is critical to engage the best and the brightest independent professionals," says Gene Zaino, CEO of MBO Partners. "To do so, they need to understand how and why independent professionals choose their clients and what clients can do to position themselves as a Client of Choice."
The report examines how companies should structure policies, procedures, and engagement practices to be successful in attracting, engaging, and retaining top independent professional talent.
Download the Client of Choice Report
Interested in becoming a client of choice? Contact us to learn more.
Client of Choice 2019 Report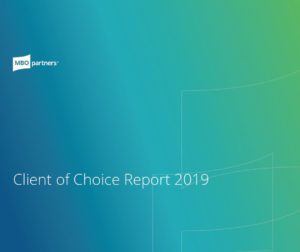 Previous Client of Choice Reports
2019 State of Independence
The State of Independence in America report is the longest-running comprehensive look at the independent workforce. Now in its 9th year, the 2019 survey finds full-time independents are a persistent, confident, and tech-savvy core of the independent workforce.
Elevate: A Blueprint for Independent Workforce Management
Independent workforce management programs position organizations as forward-thinking leaders among their peers and teh independent consultant community. Through a series of proven best practices, learn how your organization can implement, structure, maintain, and track the effectiveness of your independent workforce program.
10 Predictions for the Future of Work
It's difficult to know what the future of work might hold, but one thing is for certain – independent professionals are poised to be more important than ever before in years to come. In today's project-driven economy, more businesses than ever before are turning to independent talent to fill workforce needs—nearly two-thirds (65 percent) of executives say their external workforce is essential for operating at full capacity and meeting demand.