Join the Starman Cybersecurity Community

The world has changed, but our mission remains the same: Maximize security and resilience in the face of cybercrime
The world has changed, but our mission remains the same: Maximize security and resilience in the face of cybercrime
Long before COVID-19, companies struggled to find people to protect and defend against relentless cyber threats. Now, with many workers on the front lines of the battle against cybercrime sidelined by restrictions on the way we work, the shortage of security talent is even more acute. At the same time, unscrupulous criminals are exploiting the new normal to compromise remote workers and individuals.
Companies need your help now. Independent cybersecurity experts who know how operate to remotely and flexibly are in high demand. Starman Cybersecurity is a new community of professionals responding to the urgent call for expert help. Let our deep industry ties connect you to leading enterprise clients that need your skills and experience. Be among the first to join the Starman community, become an endorsed member of our talent network, and become part of the response we're mounting to this unique situation.
What is Starman Cybersecurity?
Starman is a new way for independent cybersecurity professionals to efficiently and transparently connect with organizations that need expertise on a temporary basis. We help cybersecurity experts pursue fulfilling, mission-oriented careers by giving them control over the work they do, when they do it, who they do it for, and how much they get paid.
Join other cybersecurity experts in a community organized by industry veterans who are entirely dedicated to connecting community members to the work you want to do, without sacrificing your independence. It costs nothing to join and is funded by a mark-up on projects you deliver as a community member. You set your billable rate, we mark it up, collect on your behalf, and you get paid.

Interested? Want to explore joining Starman Cybersecurity? Fill out the contact form and a Community Organizer will get in touch to discuss your background and qualifications.
What are the MBO Platform and the MBO marketplace?
The MBO Platform is MBO Partners' product suite for individuals in the growing independent economy. The Platform's tools and services enable Independents and their Clients to do business together, safely and easily. The MBO marketplace is one component of the platform, where dozens of the Fortune 500, and other large enterprises, go to find independent talent. Find new opportunities in the project listings and gain a competitive edge with a professional profile that highlights your expertise and gets you noticed!
As a member of the Starman community,
you're never alone
When you're a traditional, full time employee, it's easy to get help when you need it. But when you're working for the man, you give up control over what you do, who you do it for, when you do it, and what you can charge for your expertise. That's why being an independent is so attractive.
You know you're great at what you do, but there are only 24 hours in the day to do it. What if:
You had people to bounce ideas off of, and pitch work with?

A second pair of eyes to review deliverables?

Someone to help you get ready for a meeting with a prospect?

Someone who's "done it before" and can collaborate with you?
The Starman Community is the answer: Join a network of the best independent professionals like you, focused on delivering cybersecurity projects.
Since the entire community is vetted by its organizers and connected through the platform, you'll have access to the best talent in the business, when you need them.
Need an AWS architect to help a client design a secure approach to moving enterprise systems to the cloud? Here's one who's wrapping up a project next week and can help you.
Found a great project opportunity and need a referral to the manager? No problem-she used to work for the Community Mayor, who will make the connection and vouch for your expertise.
Have a great rolodex with lots of demand for work? Here's your bench to deliver what you sell.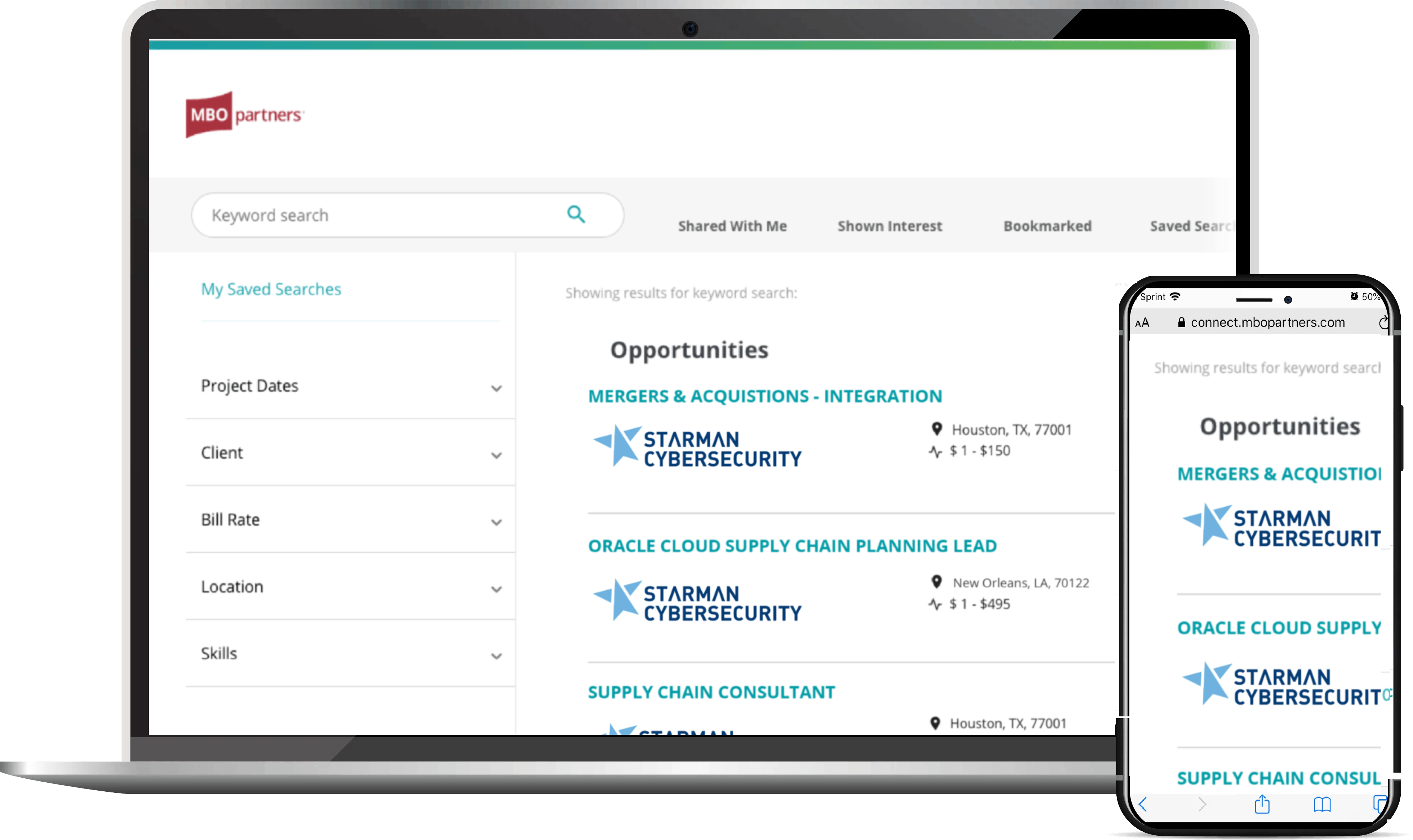 Create an account in MBO's marketplace.

Tell us about your skills and recent projects.

Save a search for projects you are interested in.

We notify you of projects that fit your skills, availability, and rate.

Let the manager know you're interested in one click!