To our clients, Peredom is a platform of the best of the best in MuleSoft and open source integration solutions. Peredom is the place to find the best MuleSoft consultants our clients need to help with their data integration projects. MuleSoft is not a fad, it's here to stay. Since its acquisition by Salesforce in 2018 their customer base has doubled and includes companies such as Coca-Cola, Airbus, and Toyota. Organizations continue unlocking the benefits of using MuleSoft, but MuleSoft professionals are scarce, and filled with unreliable certifications. By registering at Peredom, clients have access to well-known, industry-leading  MuleSoft professionals and thought leaders available to help them now. 
The API integration market is growing and demand for MuleSoft and open source competitors will continue to grow.  Join us and we'll connect you with the work you want to do, in the way you want to do it. As a MuleSoft professional, independence and remote working is par for the course, and at Peredom, our goal is to provide each member the work experience they crave. As a community member you are among the best MuleSoft consultants. You deserve top dollar for your skills. Peredom will connect you with clients who know your value and can pay the highest rates. 
There is no cost to join and our community is funded on the billings you deliver as a member of our community.  Set your billable rate, we include a small margin, and we handle the billing and get you paid. Traditional consultancies charge large margins to cover their overhead and maintain profits - Peredom has much lower overhead and can leave more profit in your hands. 
Check us out. Fill out the contact form and we'll reach out to discuss your experience and goals, and how the Peredom community can be the platform you need to achieve success as an independent consultant.
What are the MBO Platform and the MBO marketplace?
The MBO Platform is MBO Partners' product suite for individuals in the growing independent economy. The Platform's tools and services enable Independents and their Clients to do business together, safely and easily. The MBO marketplace is one component of the platform, where dozens of the Fortune 500, and other large enterprises, go to find independent talent. Find new opportunities in the project listings and gain a competitive edge with a professional profile that highlights your expertise and gets you noticed!
As a member of the Peredom community, you're never alone
When you're a traditional, full time employee, it's easy to get help when you need it. But when you're working for the man, you give up control over what you do, who you do it for, when you do it, and what you can charge for your expertise. That's why being an independent is so attractive.
You know you're great at what you do, but there are only 24 hours in the day to do it. What if:
You had people to bounce ideas off of, and pitch work with?
A second pair of eyes to review deliverables?
Someone to help you get ready for a meeting with a prospect?
Someone who's "done it before" and can collaborate with you?
The Peredom Community is the answer: Join a network of the best independent professionals like you, focused on delivering MuleSoft integration projects.
Since the entire community is vetted by its organizers and connected through the platform, you'll have access to the best talent in the business, when you need them.
Need a team of MuleSoft experts quickly to help integrate your platforms? Here's one that's wrapping up a project next week and can help you.
Has your company been a victim of hiring fraud? Perhaps you've hired a candidate after a phone interview only to discover that a different, less skilled person shows up for the job. It happens more often than you'd think. We have the MuleSoft professionals you can trust, each personally vetted before joining the community.
As an independent consultant, have you found a great project opportunity and need a professional reference? No problem — our Community Mayor will be glad to speak with you, vouch for your expertise, represent you to the client, and provide you with a seamless billing and payroll platform.
Have a great rolodex with lots of demand for work? Here's your bench to deliver what you sell.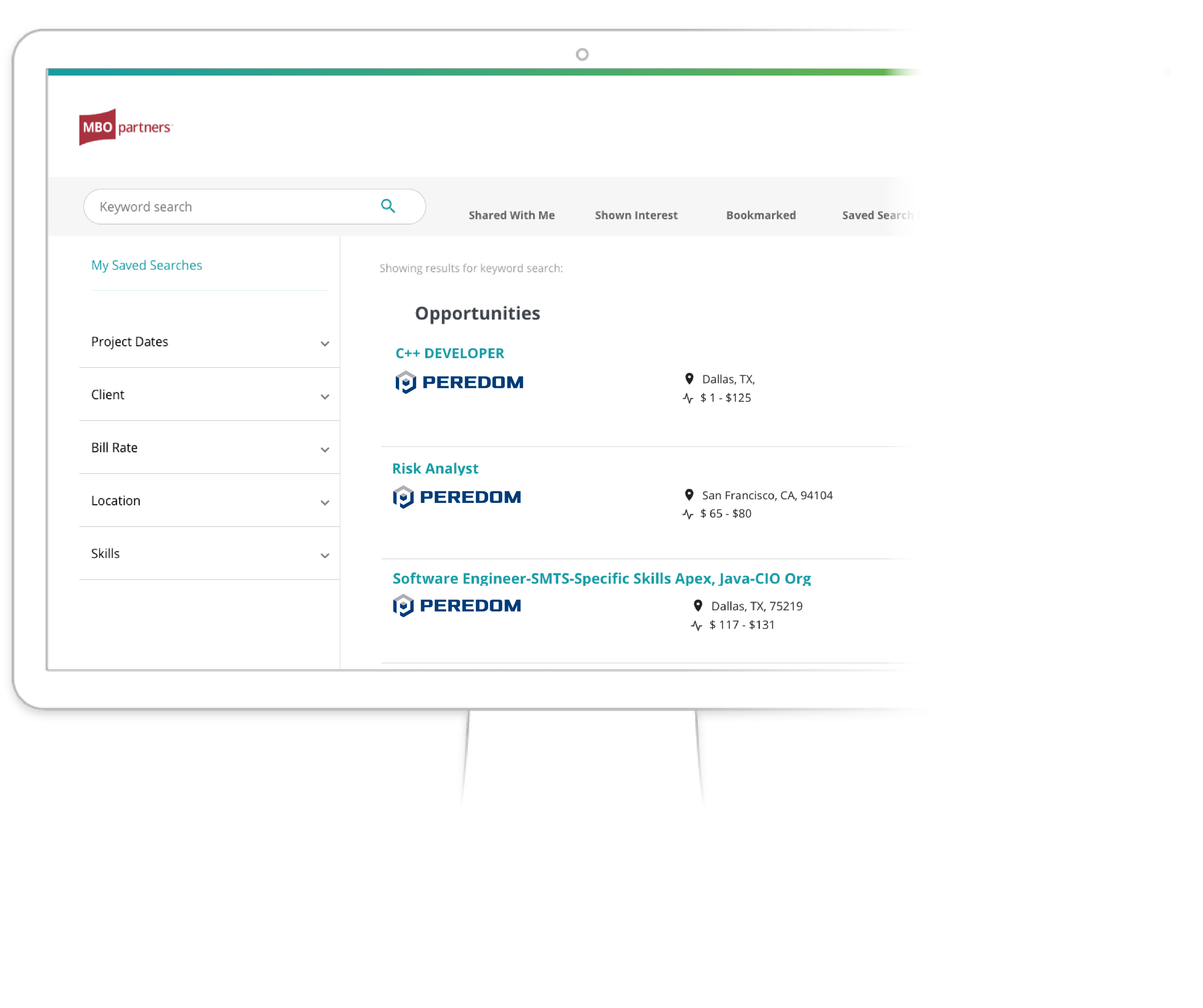 Create an account in MBO's marketplace.

Tell us about your skills and recent projects.

Save a search for projects you are interested in.

We notify you of projects that fit your skills, availability, and rate.

Let the manager know you're interested in one click!