Real Combat vs. Corporate Combat – How Authentic Value Can Transform a Nation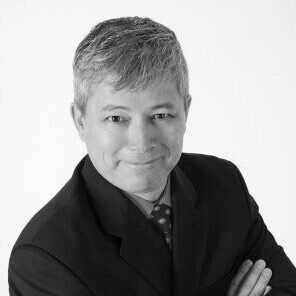 By Eddie Dunn
Founder & CEO
Eddie Dunn Consulting, LLC
Veteran Transformation Business Consultant and Thought Leader
"IF YOU THINK, PRIVATE DUNN, YOU'RE WRONG!" was the booming southern drawl of a U.S. Army Jumpmaster as I was preparing to exit the aircraft.  He saw my fear and confusion in my eyes, and it wasn't pretty.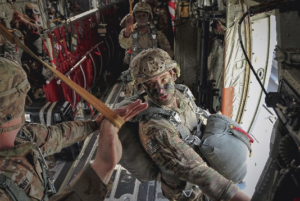 We were minutes away from the drop zone when the doors opened.  The rush of wind and near-deafening noise that occurs at that moment is hard to describe.  A split second of relief from the oppressive heat in the aircraft was immediately replaced by the terror of doing something so unnatural: jumping out of a perfectly good airplane.  When the green light came on, the jumpmaster screamed "GO," as he hit the backside of the first paratrooper exiting the aircraft. Suddenly, the plane jolted and dropped in altitude for a brief moment.  With nearly 80 pounds of equipment strapped to my body, I lost my balance as I neared the door.  It was the second-worst jump of my military career, but more on that, later.
HARD TRUTHS
Unlike any civilian occupation, being genuine, being real, defines our authentic value in the military.  It is the fuel of great leadership at the intersection of our character and competence. In the military, you cannot fake it until you make it.  Without it, you cannot earn the trust of your soldiers. For the many who have served, it is our source of truth.  It is our foundation.
For those who have eyes to see, our authentic value is often disguised as a quiet patriotism that runs deep, always giving away credit, just in time, to go unnoticed.  Imagine, hundreds of thousands of Lebron James hitting the winning shot at the buzzer every night to an empty arena.  How is that possible?  Has our authentic value come at a high price?  I submit that our greatest strength has become our greatest weakness, in a civil society that is blinded to our selfless service.
A bold statement, but consider the following: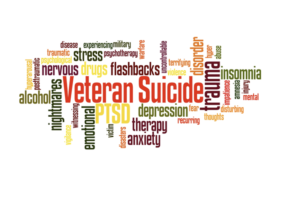 How is it that we spend trillions of dollars creating the greatest fighting force in human history, yet we have not proportionally reinvested in solving for "D" all the above?
CONFRONTATION OF THE IMPOSSIBLE
Despite these incredible challenges and barriers, veterans possess a rare superpower of resiliency in the face of adversity.  It's what sets us apart from all others.  Our muscle memory is predisposed to overcoming fear (and sometimes cheating death) in accomplishing any mission, in any circumstance.  Being resilient AND selfless is a unique skill set.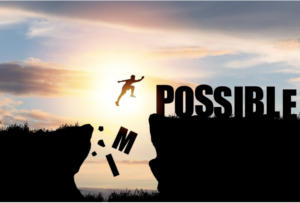 When I was in real combat, my soldiers depended on me demonstrating this true north, every time, through my character and competence. In every convoy, every mission, every jump, every dangerous situation we found ourselves in, I had to earn their trust, as our lives literally depended on it.  Facing life and death has an interesting way of keeping it real.
Strangely, when I started my corporate career, there was an uncomfortable similarity to real combat.  In what I've come to define as 'corporate combat,' I saw the same fear, the same yearning from employees for that authentic value to come through in its leaders, especially in times of crisis.  Great organizations have great values, that are lived and breathed by great leaders – PERIOD.  In the confrontation of the impossible, rests the true potential and impact, authentic value veterans bring for those who can see it.
Yet, in these challenging times, our nation continues to struggle to meet its moral obligation in bridging the gap between service to one's country and the transition back to civilian life.  But there is hope.
In our emerging post-COVID, post-George Floyd world, the alignment, and integration of the right talent strategy with the right business strategy has the potential to transform everything we do.
A FORERUNNER OF THINGS TO COME
The world is flat, thanks to COVID.  The rise of the independent workforce is exploding.  Rising alongside, are innovative talent strategies, cutting across industries that are redefining the employment ecosystem.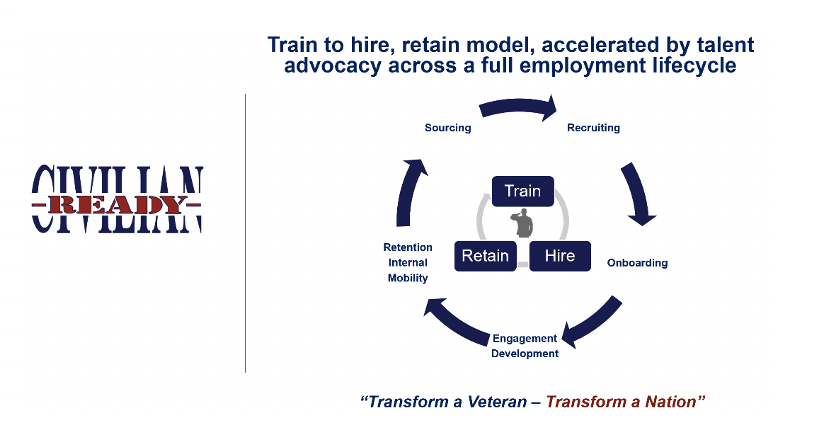 One such emerging strategy is our Civilian Ready, train to hire, retain model, accelerated by talent advocacy across a full employment lifecycle.  With a strong diversity and inclusion lens, our niche practice is creating new and competitive career pathways, that are making extraordinary impacts for both veterans and employers.
Such is the case of a top industry client of ours, who adopted this model, experiencing high employee conversion rates and retention value in a cost-effective military fellowship program.  Our client went on to achieve #2 in the nation as a Top Military-Friendly Company by G.I. Jobs Magazine in 2021.
A TECTONIC, GENERATIONAL SHIFT IN THE MAKING
Veterans and their families are a national treasure and our greatest untapped resource in a nation that needs them now, more than ever.  Trailblazing a socially innovative market-based solution in the veteran talent supply chain ecosystem will be the tectonic, generational shift that will inspire a nation to embrace its authentic value. Imagine 200,000 transitioning service members, year over year, who are:
Certified, Civilian Ready on Day One, entering the marketplace as a 1st choice premium talent
Going to veteran ready employers who understand and embrace their authentic value
Coming from a government that proportionally re-invests, achieving their moral obligation
Driving the socio-economic value, when you transform a veteran, you transform a nation
To this 'Lebron,' I'm encouraged and inspired by the faint applause of those early adopters, entering the veteran employment arena.   Although the value and impact of this emerging re-entry market are not yet known, I believe it represents, the tectonic, generational shift of our lifetime.
A TOUGH-LOVE MOMENT
Now back to the second-worst jump of my military career:  Planting his size 12 boot on my backside, along with a few choice words, the jumpmaster encouraged my quick exit.  I recall, bouncing off, face first, on the side of the aircraft as I fell out, stunned and spinning out of control.  I don't think I lost consciousness, but when my parachute finally opened, I was all twisted up, falling faster than the rest of my fellow paratroopers.  Within seconds, I braced for impact, crash landing in a shallow creek, swallowing, what felt like a gallon of swamp water, but hobbled off the drop zone with my authentic value intact!   It was a tough-love moment I never forgot as it prepared me for THE worst jump of my military career when I later joined the elite 82nd Airborne Division.
I learned a very hard lesson that day:  I needed to trust my training and allow my muscle memory to overcome my fear.  Over time, this has served me well, deepening my resiliency and selfless service, reinforcing my authentic value as a:
Chaplains Assistant at Ground Zero, during 9/11
Combat Veteran in Iraq 2004
Army Jumpmaster – size 9.5 boot
Retired honorably 2008
HR Professional in Organizational Design
Architect of the most successful veterans program in U.S. history
A national thought leader in the veteran transition space
Elected Town Councilmen, Vernon, NJ, 2011 – 2013
Unique practice bridging gap between veterans & employers
Builder of a #1 Military Friendly Employer Program Fortune 500
Builder of a #2 Military Friendly Company for a Fortune 10 client
Visionary of Civilian Ready nonprofit, driving transformation
2021 Veteran Champion Advocate of Year, G.I. Jobs Magazine
As to my 'worst' jump? That's for another story, another time!
"Great organizations have great values that are lived and breathed by great leaders – PERIOD."
US Dept of Veterans Affairs - 2020 National Veteran Suicide Prevention Annual Report
The U.S. Department of Housing and Urban Development - The 2020 Annual Homeless Assessment Report (AHAR) to Congress
Institute for Veterans & Military Families - Coping during COVID: Veterans' Mental Health and Implementation of the Hannon Act
The Lancet: Universal health coverage for US veterans: a goal within reach
US Dept of Defense:  DOD Official Cites Widening Military-Civilian Gap
Journal of Veteran Studies: Reconceptualizing the U.S. Military's Transition Assistance Program: The Success in Transition Model
GuideStar: U.S. Veterans Organizations by the Numbers
Recruit Military: WANT TO HIRE VETERANS? CHECK YOUR BIASES AND MISCONCEPTIONS
Learn more about Eddie's Veteran career in his featured MBO story:
"Veterans and their families are a national treasure and our greatest untapped resource in a nation that needs them now, more than ever."
Eddie Dunn is a national thought leader in the veteran transition space, driving a unique and dynamic talent management consulting alliance focused on bridging the gap between veterans and employers. His primary focus is on Veteran Transition Management, Talent Management, Change Management, Organizational Development and Management Consulting. He is the owner of Dunn Alliance Group which you can learn more about on his website.
Read these other articles in the Advantage Consulting Quarterly
Imposter Syndrome is Killing Your Brand: 5 Tricks to Get Over It and Get Back On Track
Data Strategies for Customer Engagement: Authentic Growth in the Era of Digital Disruption
Delivering Tangible and Lasting Value as a Consultant
Leading with Value in the Business Development Process