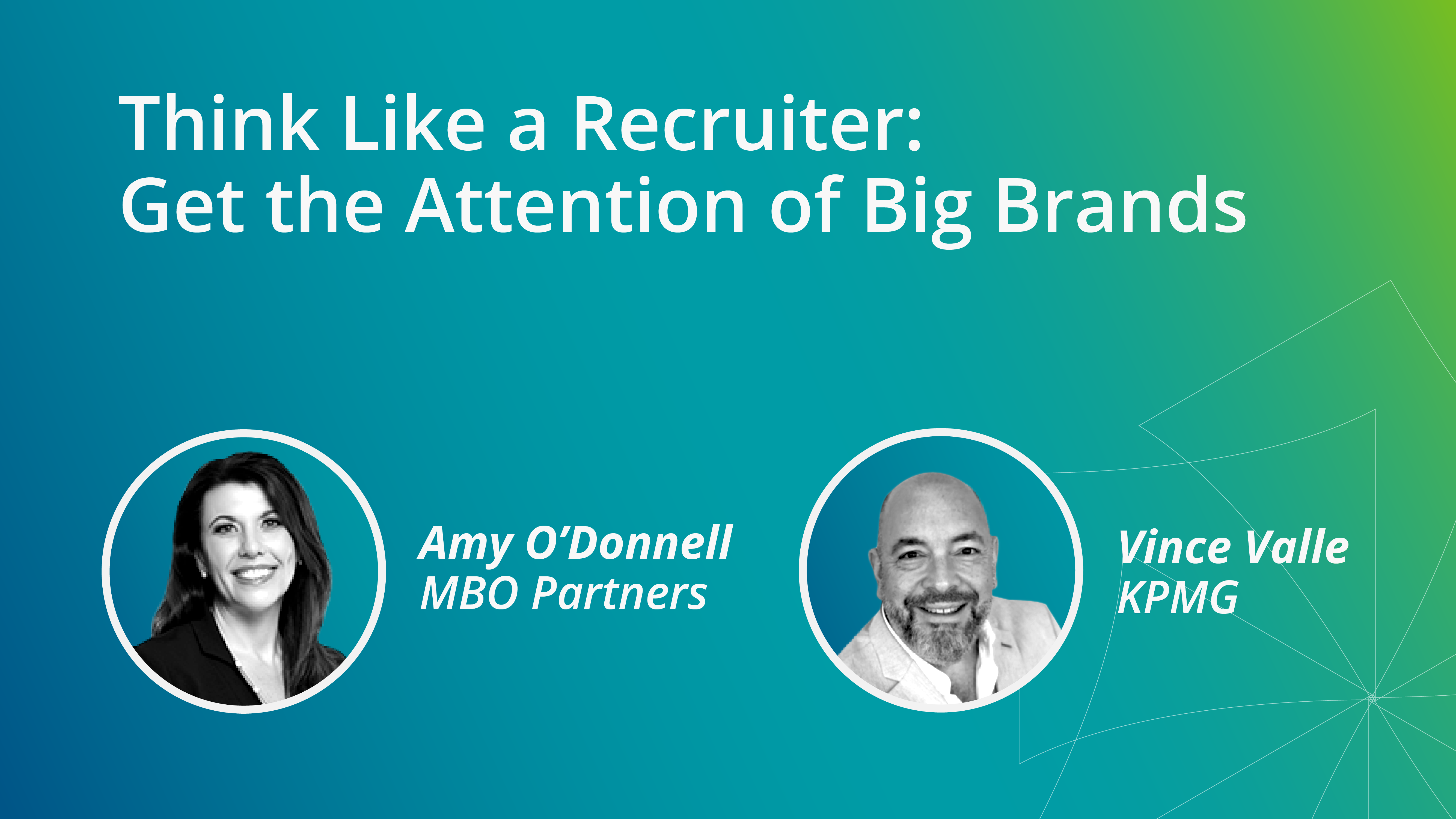 Think Like a Recruiter: What You Need to Know to Get the Attention of Big Brands
Online networking and recruiting have become increasingly popular and important for companies and independents looking for work. On the third installment of the "Building Your Online Presence" webinar series, our experts focused on the future of work and  the growth of independent contracting.    
The "Think Like a Recruiter: What You Need to Know to Get the Attention of Big Brands" webinar covered networking, recruiters, and the significance of working with top brands and companies.
McLean Robbins, MBO's Vice President for Enterprise Marketing, Amy O'Donnell, MBO's Chief Talent Officer, and special guest Vincent Valle, Associate Director of Independent Contractor Recruiting at KPMG, discussed how to understand the mind of recruiters. 
This Q&A-style discussion covered:
How to read between the lines of job requirements

The difference between a good and a bad resume 

Why clarity and proactivity are integral to landing Independent Consultant (IC) work

What it means if you don't hear back from recruiters after applying,

and more
Our experts also reviewed:     
How independent professionals can create and improve their digital presence

How to properly present oneself online

How to market and grow your business
Complete the form to listen to our experts discuss how to think like a recruiter, and don't miss a recap of Part One (Developing and Marketing Your Online Presence as an Independent Consultant), Part Two (Growing Beyond Your Network: Marketing Your Skills and Brand as an Independent Consultant), and Part Four (Stand Out From the Crowd: Insights from Expert Recruiters to Get Noticed for Projects) as well.

Title: Chief Talent Officer
Company: MBO Partners

Title: Associate Director of Independent Contractor Recruiting
Company: KPMG