Leading the next way of working
We keep you on the forefront of the independent economy.
At MBO Partners, our mission is to make it easier for enterprise organizations and top independent professionals to work together. For more than 20 years, we've been leading the charge to keep the independent economy moving forward, building a unique, dual-sided ecosystem comprising many of the world's most prominent companies and in-demand professionals.
MBO has always been committed to advancing the next way of working, and we are far from done. We'll continue to drive change on the ground, delivering innovative solutions that enable both organizations and talent to thrive in a constantly evolving workplace.
MBO Partners has been named a "One to Watch" by SpendMatters magazine for three years running.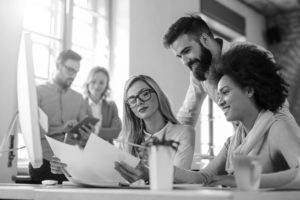 MBO is the preferred independent talent provider to the federal government and more than 30 Fortune 100 companies.
Founder & Executive Chairman
MBO's founder, Gene Zaino, is a prominent thought leader on the independent workforce, and regularly contributes as an expert resource to publications and legislative groups.
"The MBO business managers are the envy of everybody at my client company. Over the past five years, I have been blessed with a series of very smart, talented, and dedicated business managers, even by MBO's high standards of service."
- Glenn Harned, CEO, GMH Associates
This Creative Entrepreneur Didn't Want To Spend His Time On Administrative Tasks. He Found A Simple Way To Hand Them Off.
Our Commitment to Equality and Opportunity for All
June 3, 2020
To Our Independent Professionals, Our corporate belief system begins with the tenet of living by the Golden Rule—treating others as you wish to be treated. The Golden Rule guides us…