Miles Everson- How a Global CEO Reinvents the Workforce

MBO In the News
MBO is featured regularly in respected resources, such as Forbes, Spend Matters, Fast Company and Inc. This week we are proud to feature our CEO, Miles Everson as a main contributor to HBR's latest article: Your Company Needs a Digital Nomad Policy. Read below a recap and sign up for to hear a continued discussion on this topic by attending in person or virtually Miles July 16th event: "Everson on Reinventing the Workforce," at the Harvard Club of Boston from 1:00 PM – 2:30 PM EDT.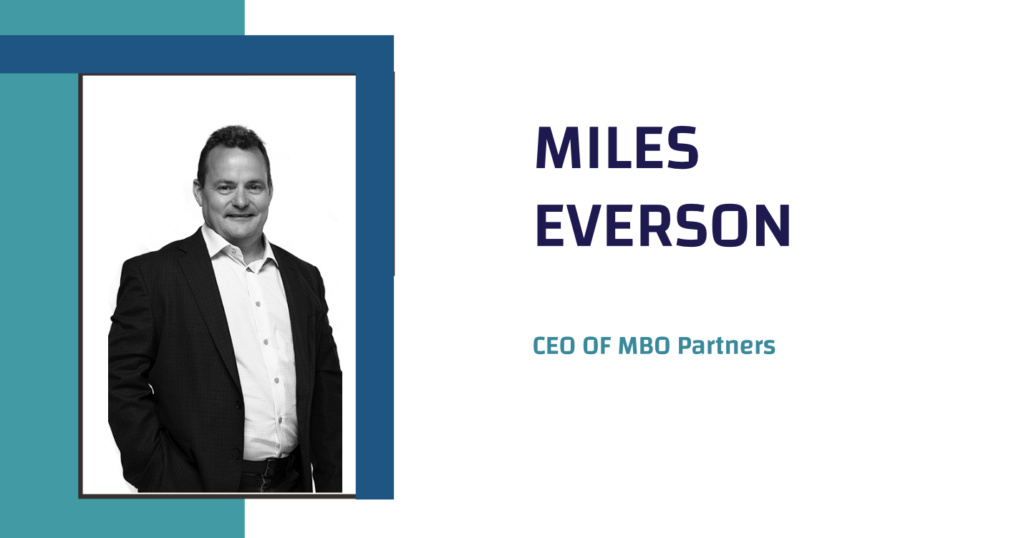 Miles Everson joined MBO Partners in 2019 as Chief Executive Officer.
Most recently, Everson served as Global Advisory and Consulting CEO for Pricewaterhouse Coopers, LLP (PwC), leading the company's Asia Pacific Americas Advisory and Consulting businesses. Leading to his expert insight on the latest topics concerning Digital Nomads and the Future of Work.
Miles Impact on HBR's: Your Company Needs a Digital Nomad Policy.
Most recently Miles, along with Steve King, and Carolyn Ockels added insight into HBR latest feature on Digital Nomads. Knowing this has been one of the leading trends among the workforce today HBR and other outlets have frequently and lately sough Miles and MBO's insight into what the future of work looks like and how digital nomadism plays into it.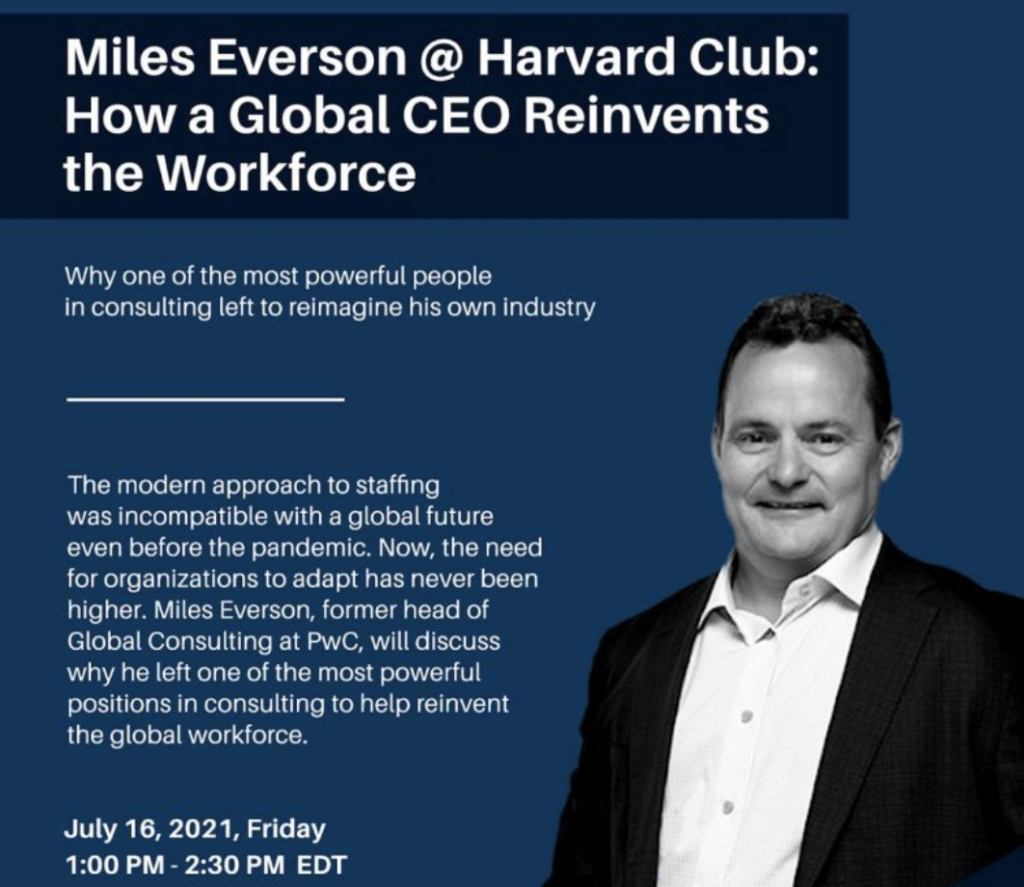 Using his own background as being the head of PWC's Global Advisory and Consulting for PwC along with MBO's digital nomad study, Miles adds an in-depth personal and factually based view on the current and future work trends. His insight captures the personal side of what it takes a person to truly be an influential and successful business in a global world. Throughout his years at PwC he learned the in's and outs of interacting and doing business abroad. However, his expert knowledge and use of studies adds insight to the business world as to what direction business is headed towards. As well as being a CEO himself today, Miles shares what it's like to lead a global business in todays age, including insight on how to deal with outside forces such as COVID-19.
To Learn More:
If you are interested in Miles personal background, business insight, or predictions for the future of work we encourage you to read HBR's article or sign up for his upcoming event:
"Everson on Reinventing the Workforce," at the Harvard Club of Boston from 1:00 PM – 2:30 PM EDT.
Here he will discuss the "reinvention of the global workforce" and how it will help you stay two steps ahead amidst uncertainties. In addition, he will also share stories both his journey in management consulting as well as his new role as the CEO of MBO Partners.
Save your slot here – https://lnkd.in/g9vbf_i
If you want to attend the event virtually instead, click here: https://lnkd.in/gQhk9md
Learn more about how MBO is making a positive impact on the independent workforce economy in our Media Center.