Attract and Retain Top Talent by Becoming a Client of Choice
A Look Into the 4th Annual Client of Choice Report
The impact of the COVID-19 pandemic has been felt keenly throughout enterprise organizations in all sectors. As enterprises strive to adapt to the changing realities and economic impacts of this new normal, it is only natural to seek new ways to reach corporate goals. 
Enter the independent professional, a population of 7.6 million experienced workers already serving business clients with professional and consultative services. Savvy organizations increasingly rely on this workforce for hard-to-find talent, to bolster their competitive positions, and to get their work done.
Independent professionals can fill key positions in all functions, including hard-to-find areas such as specialized management consulting, engineering, IT, marketing, creative, and innovation roles like research and product development. 
Leading companies have long strived to be the employer of choice, including expressing a commitment to hire the best talent and to embrace diversity and inclusion. Now they must figure out how to be the Client of Choice to survive and thrive in today's world.
MBO Partners has been committed to this model for more than 20 years, and there's no time better than now to embrace this next way of working.  
Our Client of Choice report, the fourth in its series, explores the key motivations and drivers of the 7.6 million Americans currently working full time as independent professionals. 
For businesses to effectively compete in the marketplace, it is critical to engage the best and the brightest independent professionals. To do so, they need to understand how and why independent professionals choose their clients and what clients can do to position themselves as a Client of Choice. - Miles Everson, CEO, MBO Partners
The report examines how companies should structure policies, procedures, and engagement practices to be successful in attracting, engaging, and retaining top independent professional talent. 
To learn more: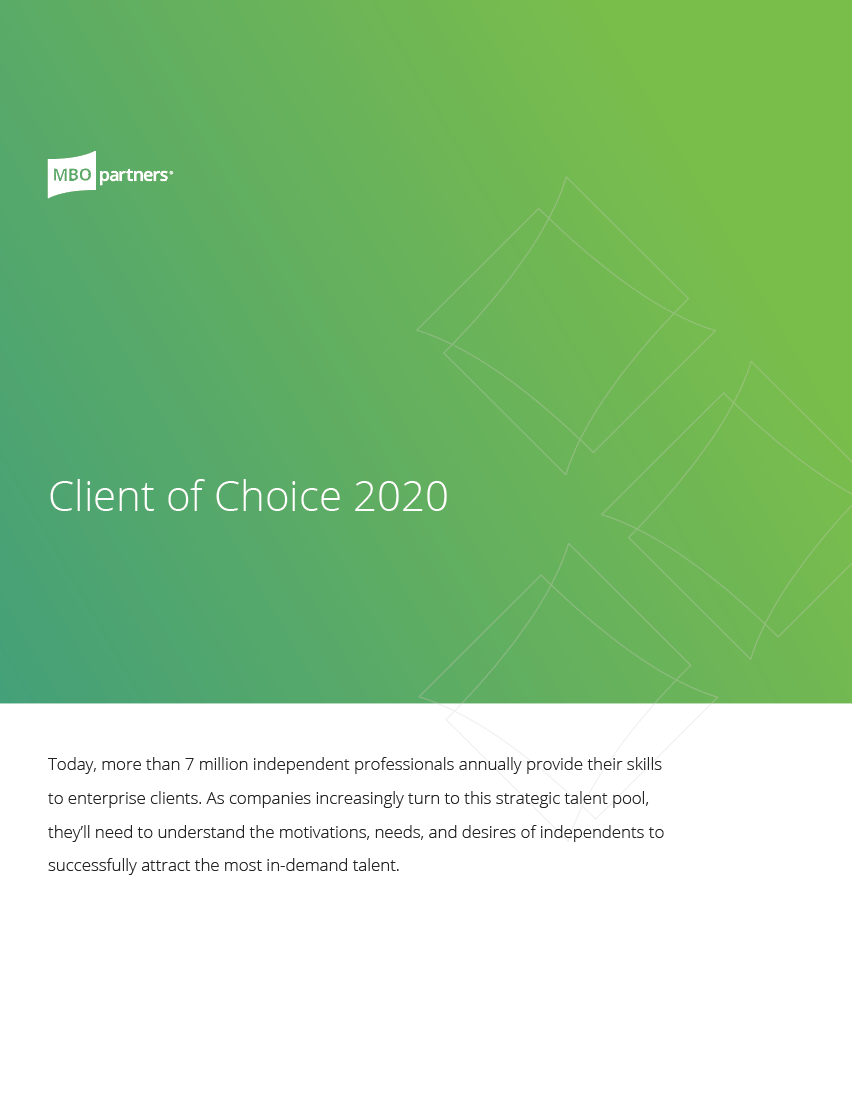 Get MBO Partners Client of Choice 2020 Report