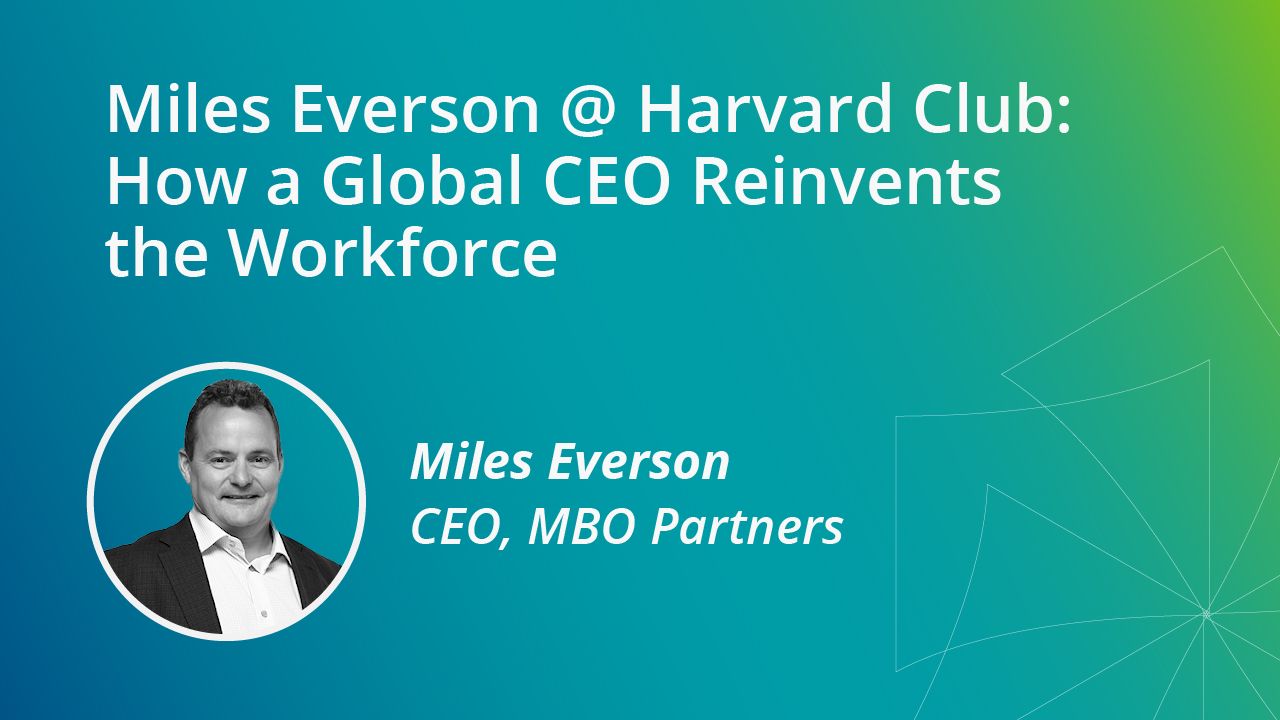 Miles Everson @ Harvard Club of Boston: How a Global CEO Reinvents the Workforce
The rate of innovation is increasing with the development of technology, artificial intelligence, and computing power. This created a significant shift in the workforce, as many workers not only switched to a remote setup but also became independent.
In fact, according to the recent article published by Emergent Research and MBO Partners in the Harvard Business Review: 
"The number of Americans describing themselves as digital nomads rose from 7.3 million in 2019 to 10.9 million in 2020—an increase of 49%. And the composition of this cohort shifted. In previous years, the ranks of digital nomads were dominated by independent workers: freelancers, independent contractors, and the self-employed." 

In this event, Miles Everson, CEO of MBO Partners, talked about what companies need to do to win in the future of the workforce. He shared why he left his 30-year career as the CEO of Global Advisory and Consulting at PricewaterhouseCoopers (PwC). He also mentioned the potential of the independent workforce based on the existing macrotrends. These trends show how independent workers are increasing because it is possible for them to become digital nomads, being able to work anywhere around the world. This was accelerated by the pandemic, wherein asynchronous communications are done through social media and educational institutions.
He found an opportunity in fractionalizing individual careers because it allows businesses to let knowledge flow from different perspectives. This is similar to what open source technology businesses are doing, wherein talent liquidity is ultimately created within the business.

The Q&A-style discussion covered:
The threats to the independent market, and opportunities to further fuel the independent market

How MBO Partners differs from Robert Half and other staffing companies

Possible issues of confidentiality with independent workers

What MBO Partners is thinking about to provide a fuller set of benefits for their employees while maintaining their complete independence

How companies are embracing fractional workforce both in the blue collar and white collar space

Title: CEO
Company: MBO Partners
Title: President & CEO, Chief Investment Strategist
Company: Valens Research