How to Give a Great Business Presentation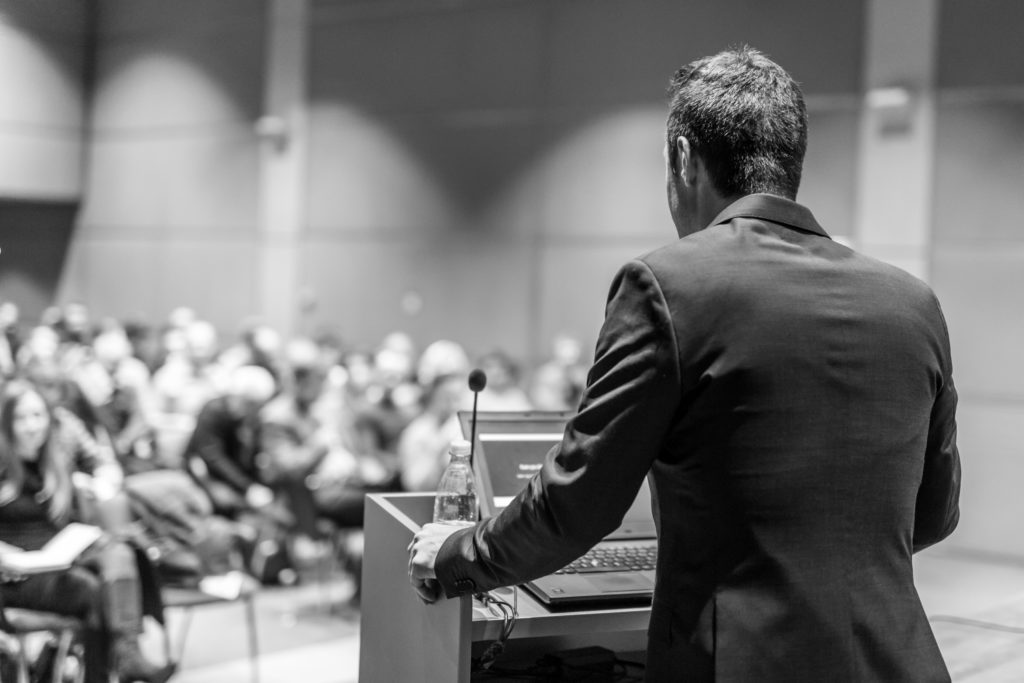 What makes a succesful business presentation?
The ability to communicate is one of the most powerful weapons in your professional arsenal. Communicating comes in many different forms, from professional writing, to networking conversations to presentations. Many of us fear public speaking, and those of us who do not generally do not enjoy it. Essentially, a presentation is simply communicating your ideas to your audience. Whether you are presenting to a potential client, a keynote audience, or an existing client, it is essential to be able to deliver a message clearly, succinctly and effectively.
Most of us have sat through a bad presentation – from an overlong presentation to cringe-worthy slides. The messages may have been important, but they were most likely lost or diluted because of a poor delivery. Presentations affect professional reputation, so the ability to effectively communicate ideas is vital to the strength of any independent consultancy.
How to prepare, design and deliver a great presentation
1. Preparing your presentation
Approach your presentation from a storytelling perspective. Stories are a powerful communication tool that engage your audience and create a memorable experience. Spend time brainstorming and thinking about your objectives and what you want from your audience.
Once you are ready, begin developing your presentation according to these guidelines:
Attention-Grabbing Opener. Develop a strong opening that grabs the attention of your audience.
Make Just Three or Four Key points. Studies on memory and information processing demonstrate that we only remember 3-4 things at a time.
Focus on Your Audience's Need. As you develop your content, it is imperative to keep the focus on your audience.
Close. Your close, or conclusion, should logically tie back to the points you made in your introduction.
2. Designing your presentation
A poorly designed presentation dilutes your message. Slide presentations that overdo it on animation or have cluttered, busy slides are difficult to read, distracting your audience from the key points. Consider these five rules of thumb:
Text and Typography. When it comes to text in your presentation, less is more.
Presentation Length. How long should your presentation be? Presenters differ in their approach. The 20-20 rule suggests that you have 20 slides each lasting exactly 20 seconds.
Visual Elements. Visual slides will help tell your story with few or no words.
Templates. If you are using slides, presentation templates can be helpful in the design phase.
Colors. Colors evoke emotion and can support the tone and message of your presentation.
3. Delivering your presentation
When watching a presidential debate or high-profile awards ceremony, one can see the many differences in people's presentational styles. You'll find that there are many elements to a successful presentation. Your body language and voice are key storytelling tools.
Manage Your Presentational Voice. Your voice plays an important role in your presentation. You want to project your voice so that your audience can hear you.
Eye Contact is Essential. In a live presentation, use your eyes to engage your audience, and maintain consistent eye contact.
Pause if you need to. There may be times when you are at a loss for words. Relax; it happens to even the most practiced presenters. Rather than saying "um" or "ah," take a breath. You may have a bottle of water at the front of the room with you, and taking a sip can give you a few seconds to collect your thoughts.
Be available after your presentation ends. After the presentation, you may have the opportunity to meet with some of the audience members. This time is also important to promote your consultancy, and can be used to network and form relationships.
With these expert tips, you will approach your next presentation with confidence and have the skills and resources to successfully reach your audience.
To learn more about how to give a great business presentation, download our guide and see our sample presentation outline.
---
Find independent consulting jobs with top companies through MBO's marketplace
---