How to Expand Your Independent Consulting Business: When and How to Grow (Guide)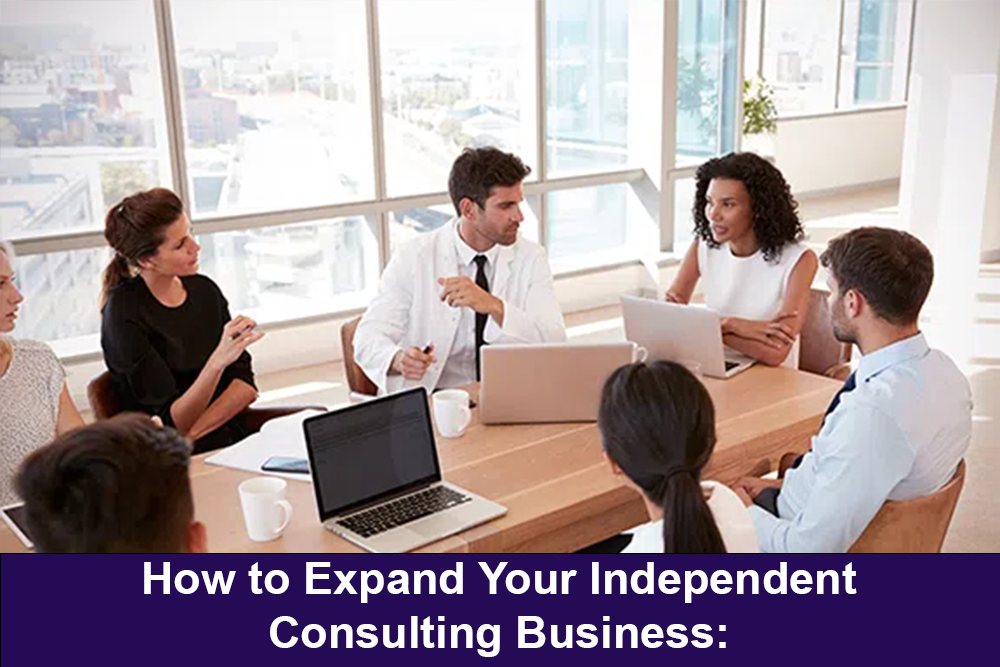 Growth can have many forms which include: Profits, revenue, market share, brand positioning, influence, and geography.
It is crucial to understand where within this market you will find your new business opportunities.
Find demand: If all signs indicate your market is prime for your business expansion, it is time to determine whether more customers are seeking your services.
Learn how to decide if it's time to grow your business, what to consider, and how to develop a growth strategy. Many things can impact the timing of expansion, from regulatory change to financial constraints. It is a good idea to analyze your target market and see if growth is viable. And there are many ways to grow – working with others as a team, hiring other consultants or part-time workers, or finding new work for yourself. In our guide, we will explain what to consider and how to grow your business effectively.
This guide will walk you through several steps to determine how to grow your business:
Consider if it's time to grow
You made the leap to independence and survived the inevitable bumps in the road to create a thriving consultancy. You have a solid base of clients and a pipeline for ongoing work. Now, ask yourself an important question: is it time to grow?
GATE
To a degree, the purpose of every business is to grow. However, growth can have many forms. Profits, revenue, market share, brand positioning, influence, and geography are just a few examples. Whether your goals are modest or lofty, knowing when to grow is an important decision. Your growth plans should not only align with market conditions, but also your personal goals.
"…the goal of living is to grow." — E.E. Cummings
KNOW THE ENVIRONMENT
Keep up to date on potential game-changers or movements that may affect your business and its growth opportunity. This may include your market and industry vertical as well as external factors, such as federal, state, or other regulations that could impact the conditions of your industry. It is impossible to develop a growth strategy without considering evolving legislation, regulation, and compliance processes. Tax policy and health insurance are examples of two recent issues that solo and micro businesses should have on their legislative watch list.
Monitor the news (and influencers) in your industry. Schedule a free Google Alert for keywords pertinent to your business and industry. Google Alerts will deliver to your email inbox immediately, daily, or weekly.
In a KPMG survey, executives and board members identified the top 5 strategic elements impacted by legislative and regulatory change.
Investment / innovation around new products and services
Adjustments in tax planning or legal entity structures
Search for merger and acquisition opportunities
Invest in emerging markets or new geographies
Improvement in information management and protection
PLAN BACKWARDS — TIMING IS EVERYTHING
It is crucial to understand where within this market you will find your new business opportunities.
First, understand if the growing need for your business is in certain geographical areas. For example, if you are a construction consultant, and Ohio has begun an initiative to secure funding for a capital city rebuilding and expansion project, it might be best to begin engaging that market.
Remember, timing is everything. If you choose to make the expansion move too early, there may not be demand for what you offer. Using our construction example, if it is August and the proposed budget for this rebuilding and expansion won't be voted on by their government until next March, it might be best to wait until potential stakeholders begin planning to move forward with the proposed initiative. Conversely, if you wait too long, competitors may begin their expansion before you, or you could miss a key deadline to submit a proposal and risk missing out on the market you wished to engage.
"The best-laid plans of mice and men often go awry."
Despite one's best intentions or efforts, it is important to remember that not everything will go according to plan. Having a contingency strategy in place is critical – learn more by reading How to Create a Contingency Plan for Small Business: 4 Steps
Finding New Clients
FIND DEMAND, CREATE DEMAND
Find demand. If all signs indicate your market is prime for your business expansion, it is time to determine whether more customers are seeking your services.
For example, think back to "supply and demand." Are competitors increasing their prices? Have businesses similar to your client begun engaging in initiatives that require your services?
Create demand. Is your subject matter area a "hot" need? Take a look at the news, and determine if your line of work offers the solution(s) needed to the "problems" reported. Look for early clues and validate where the greatest market need appears to be before beginning your growth investment.
In order to expand, one must create demand. In order to prepare for this growth, we recommend "thinking small." Learn more by reading: "Think Small: Grow Big: Four Simple Steps to Expanding Your Client Roster"
For example, if you are a professional driver (taxi, limousine, etc.), and there is a public transportation strike or loss/decrease of service, your business can take advantage by offering your services to those whose commutes and/or transportation needs have been inconvenienced or compromised. By providing a service to a specific population in need, your business can gain recognition (and new clients) from a new target market.
LOOK AT NEW MARKETS
Opening the door to new markets may include selling your services in a different geographic region. This could mean expanding to other cities, states, or even countries.
A way to begin this process is to identify a possible partner consultant in another metropolitan area who could help you sell services to businesses that are similar in profile to those you serve in your geographical area. You might co-bid with a partner, or simply leverage them as a business development strategy and offer a fee or exchange of services as payment.
As your business may expand its reach, both nationally and globally, online/virtual collaboration will be critical. Read "Online Collaboration for the Independent Professional" for valuable insights regarding virtual collaboration.
LOOK FOR A PARTNER OR SUBCONTRACTOR
You can also grow your business by teaming up with one or more independent consultants to extend your market penetration. Seek out solos that offer complimentary services. For example, an interior designer, architect, and accountant might partner to offer expanded services to existing clients as well as attract new clients.
This strategy allows you to grow without taking on additional staff while sharing the marketing and workflow with other small businesses. You can also align with other businesses to jointly promote services. You could then sell someone else's products and services or create an affiliate program for others to sell your products and services to expand your revenue streams.

ASK UNCLE SAM
Winning a federal government contract is a good way to expand your business. According to the Small Business Administration, in FY2015 the federal government awarded an all-time high of 25.75 percent of all available federal contracts for small businesses, amounting to $90.7 billion in contracts to small businesses. Contact your local SBA and Small Business Development Center to find out what types of government contracting opportunities are available to you.
How to Determine the Cost Of Expansion
Business expansion takes dedication and resources, but it is important to remember your obligations to your current clients and standard operating procedures.
Will your growth plans affect your existing customers? If so, be sure to keep track of how (costs, availability and response times, etc.). Additionally, your clients should be notified should there be any change in service offerings – they may be interested in them! Most importantly, be upfront with your customers about the quality of service you hope to sustain (or adjust, as the case may be). A shift in business direction requires careful planning and execution, especially in terms of preserving your credibility and reputation.
Business expansion can be an amazing thing, but don't forget about your early and current clients. If business structure changes involve rate increases, it is important to determine how to present these to your long-time clients…or if you should offer any kind of "discount" on the new rates. Composing a "rate card" or services sheet for clients (and potential clients) could be an attractive option.
| | |
| --- | --- |
| Pricing Tables | Standard rate |
| Service | $30/hour |
| Service 2 | $200 per item |
| Service 3 | $400/month |
GROWING FROM INDEPENDENCE TO A THRIVING BUSINESS
Understanding how current and pending regulations impact your business is not only essential as you plan growth, but can help you stay ahead of your competition. In developing your growth strategy, consider the following:
Will my current organizational structure support my plans for growth? Depending on your growth strategy, you may need to examine your current legal structure, and whether forming an LLC or S-Corporation would offer you the best legal and financial protection.
How will I finance my growth? If your strategy requires a significant capital investment, you may need to seek financing. Funds may be needed to cover the growth or cushion against risk. The age of your business, degree of risk, urgency, and state of your industry are all factors that will impact your cost and financing options.
Will expansion require new or additional compliance processes? If your growth plan includes selling in new markets or selling a new product or service you may be subject to industry or location specific regulations. For example, if your growth plan involves selling a product or service to consumers, you may be subject to regulations imposed by the FTC
Choosing the right legal entity, ranging from LLC to S-Corp, for your independent business is a big decision. Learn more about the choices available, and what may fit best by reading  "Business Structures: Choose the Right Legal Entity for Your Independent Business".
How will my growth plans impact my tax obligations? Tax compliance is one of the key issues facing all independent consultants. It is imperative for you to understand not only the financial impact, but the reporting requirements and rules governing independent contractors.
WHAT ABOUT YOU?
Take time to assess how growing your business will affect you personally.
Will it require you to work more hours?
Will your family have to make compromises in the short term to support your growth plans?
Is this what you had originally "set out" to do?
For those that have made the decision to go independent, MBO Partners' State of Independence Report in 2021 noted that 87% say they are happier working independently, while 78% say they are healthier as a result. Work-life balance is critical to both the success of your business as well as mental health.
Most importantly, independents feel great pride in doing what they love, and 70% plan to stay the course as an independent. As for What's Next? That choice is yours.
Looking for work as an independent consultant? Join our marketplace to search for your next project
Subscribe to our blog
Get a weekly email of our latest posts sent straight to your inbox
Learn

more

about the MBO Platform
FOR INDEPENDENT
PROFESSIONALS
your independent business with MBO
Engage, scale, and optimize
your independent workforce