The Enduring Growth and Resilience of Independent Work: A Look Into the 10th Annual State of Independence in America Report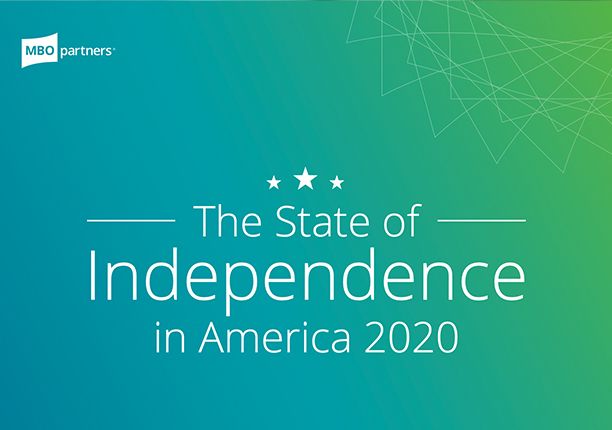 The independent workforce of 2020 consists of 38.2 million Americans of all ages, skills, and income levels working as consultants, freelancers, contractors, solopreneurs, microbusiness owners, and temporary or on-call workers. Our 10th annual State of Independence in America Report is the longest-running, comprehensive look at this workforce, and finds that independents are a skilled, enduring, and resilient group.
Like all of us, independent professionals have faced a challenging and unusual year. The COVID-19 pandemic disrupted work for independents and the economy overall. The number of people working independently fell 7% from 2019 to 2020, yet independents have been less drastically impacted than traditional workers overall. Looking at long-term trend lines in our data, we believe that independent workers will return to strong growth as the economy regains its footing—just as they did in the last recession.
Below, we take a look at three of the many findings from our latest study.
1. The Independent Workforce Is Strong, Resilient, and Rebounding
Three big trends stand out when looking at the changing demographics of the modern independent workforce. First, Millennials are driving independent work more than ever before and represent the largest cohort of this population. Second, Baby Boomers show no signs of stopping work, and have continued to work long past the traditional retirement age. Lastly, Gen Z has entered the workforce and may be the most entrepreneurial generation to come, based on early indications.
Despite the setbacks of 2020, we have documented a steady rise in self-employment over a 10-year period and anticipate that the independent workforce will bounce back as the economy recovers. In fact, technological trends spurred by the growth of remote work have helped to make self-employment easier and an accepted norm.


2. The Independent Workforce Is Healthy, Satisfied, and Secure
Independent professionals have increasingly reported positive effects of having autonomy and control over their work. 83% of full-time independents say they are happier working on their own and 71% say that working on their own is better for their health. And more than 56% say that they feel more secure working as a self-employed professional than as a traditional employee. The large majority of independents plan to continue on their path.
Much of these feelings of satisfaction and security come from the fact that it has become increasingly easier for people to work remotely. The rise of technology like online marketplaces and cloud software make it less expensive and less risky to start a business, and there is a growing community of people who are doing so. With the onset of COVID-19, many businesses moved to fully remote work, a shift which we expect to benefit independent workers. Once a company has decided to use remote employees, it becomes much easier to shift to engaging remote independent workers as well.
3. The Independent Workforce Fuels the U.S. Economy
Over the past 12 months, the independent workforce has generated $1.21 trillion in revenue, equal to about 5.7% of U.S. GDP. This is a diverse workforce, composed of workers providing commodity-style "gig" work, as well as a fast-growing segment of skilled professionals who provide services to corporations, government agencies, and non-profits.
These skilled independents provide a variety of services sectors including research, creative services, and IT. These workers provide access to in-demand skills that can be hard for organizations to find quickly in a traditional employee talent pool. An added benefit is that independents can be engaged on an as-needed business. This allows companies to lower their employment costs and increase their business agility—a big bonus in an era when organizations need to quickly respond to the recession and pivot future business plans.
For the past few years, we have observed the changing structure of work in America. Many people cycle through periods of independent work and traditional employment depending on their individual needs and career aspirations. We expect that this flow between traditional and alternative work will continue and become more normal as time goes on. Already, 48% of Americans report spending some time in their career working independently. Over the next five years, we expect this number to increase to more than half of the workforce.
Want to learn more? Check out the full report here, at mbopartners.com/state-of-independence.
Subscribe to our
blog
Get a weekly email of our latest posts sent straight to your inbox
Learn

more

about the MBO Platform
FOR INDEPENDENT
PROFESSIONALS
your independent business with MBO
Engage, scale, and optimize
your independent workforce