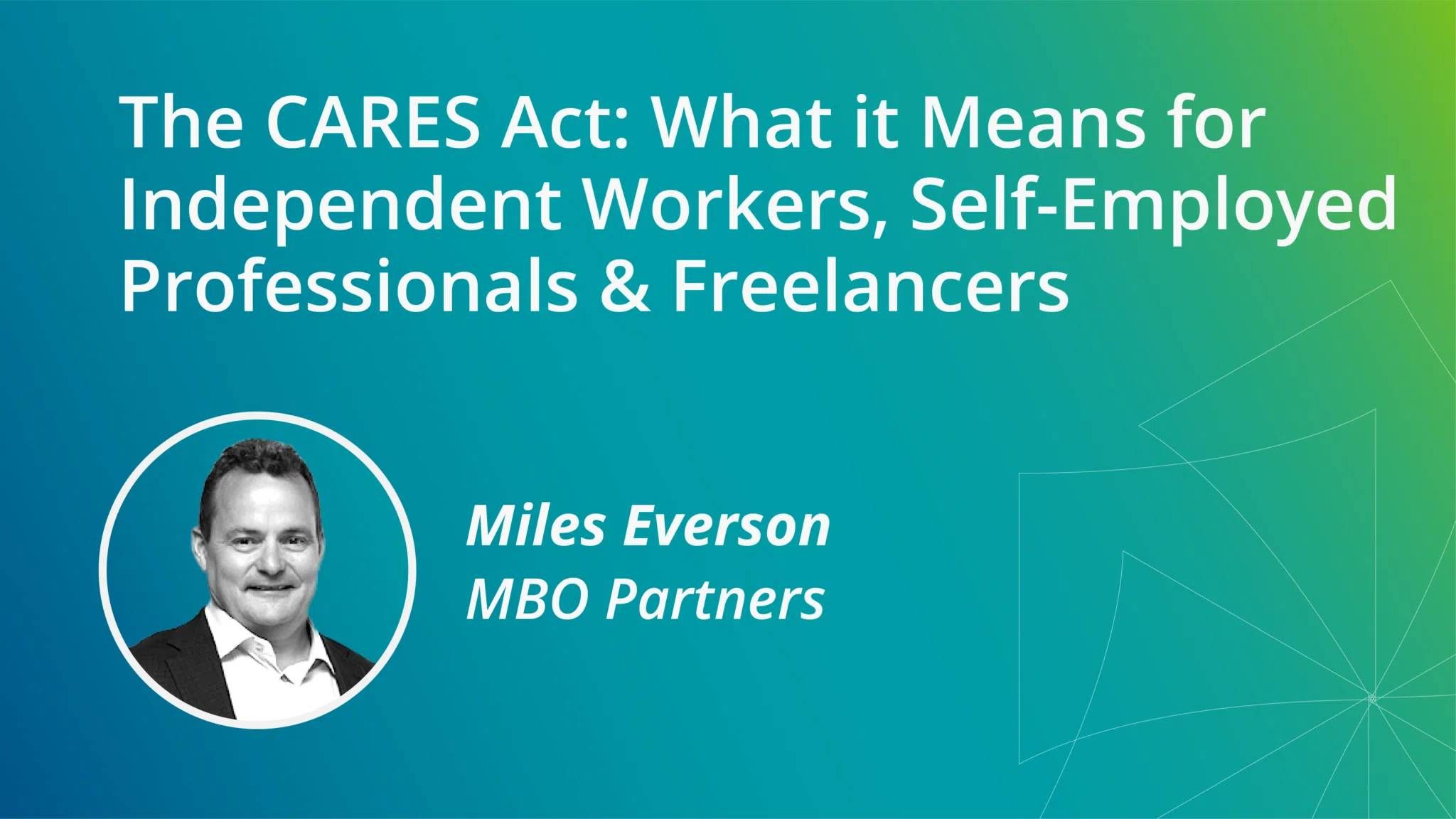 What the CARES Act Means for Independent Workers, Self-Employed Professionals, & Freelancers
Determining the benefits of the Coronavirus Aid, Relief, and Economic Security (CARES) Act may be difficult to understand and incorporate into a business. Hence, many are still unsure about the specific details regarding this law. To fully utilize this law and gain expanded assistance and retirement benefits for workers, it is extremely beneficial to heed the explanation and advice of the key speakers of this webinar.
In this exclusive webinar, Miles Everson, Chief Executive Officer of MBO Partners and Gene Zaino, Founder of MBO Partners, discussed the CARES Act and how the 2 trillion USD economic stimulus package can provide liquidity to Americans and aid the economy through its provision of benefits, loans, grants, and deferred payments during the current COVID-19 pandemic.
This Q&A-style discussion talked about:
The qualification criteria for independent contractors based on their current work status

The qualification criteria for self-employed professionals based on historical payroll

How to file an actual tax return based on previous years

How the CARES Act affects the new business models of multiple companies
The Billing and Financial Management webinar series covers:    
How to defer employer-side tax refunds of net operating loss, carrybacks, actual cash grants, and payroll loans

The benefits that workers are entitled to

The importance of understanding information regarding expanded assistance for unemployment, direct payments, tax returns, and withdrawals for retirement
Complete the form to listen to our experts discuss what the CARES Act means for independent workers, and don't miss a recap of Part One (Increase Your Income: Pricing Strategies for Independent Consultants), Part Two (Setting the Right Bill Rate as an Independent Consultant), and Part Three (What Tax Reform Means for Independent Professionals & Their Clients).

Title: CEO
Company: MBO Partners