The Great Realization: New Data Looks at Bringing Independent Talent into Your Workforce Planning Next Year
So long. Farewell. Auf Wiedersehen. And goodbye. Workers across the U.S. have been signing off from their payroll jobs in record numbers this year. While it's not uncommon to see a surge in quitting when the job market is hot and there are tons of positions available, what's happening right now is unlike anything we've seen before. And, it's impacting your workforce planning next year (and beyond).
In our 11th Annual State of Independence Research, we've found that while people are leaving in droves, they're not not working. Many are just going independent – working for themselves on their own terms, instead of for you. In fact, 51.1 million people are working as independents this year. That's up a record-shattering 34% from 2020. And, they report that they're happier and healthier than they'd be in a traditional job. This, and a better work-life balance, shorter commute, and more flexible schedule have led workers from The Great Resignation to The Great Realization.
Download the 2021 State of Independence >
Shifting from the Great Resignation to the Great Realization
In what was likely the greatest social experiment on work our generation will (hopefully) ever see, this year showed people that they can work comfortably from pretty much anywhere. So, they did. In fact, according to the U.S. Bureau of Labor Statistics, the Quits Rate is the highest it's ever been in its 21-year history. Millions of people are choosing to leave their jobs every single month.
But, people aren't just job-hopping from one payroll gig to another. The number of jobs open in the U.S. is abnormally high, with a record-breaking 10.9 million vacant at the end of July. Many of the folks quitting are opting to go independent. Maybe they're spending a few hours a day consulting. Or maybe they're creating videos on Instagram full-time or building a business with skills they acquired at their former jobs, just on their own terms.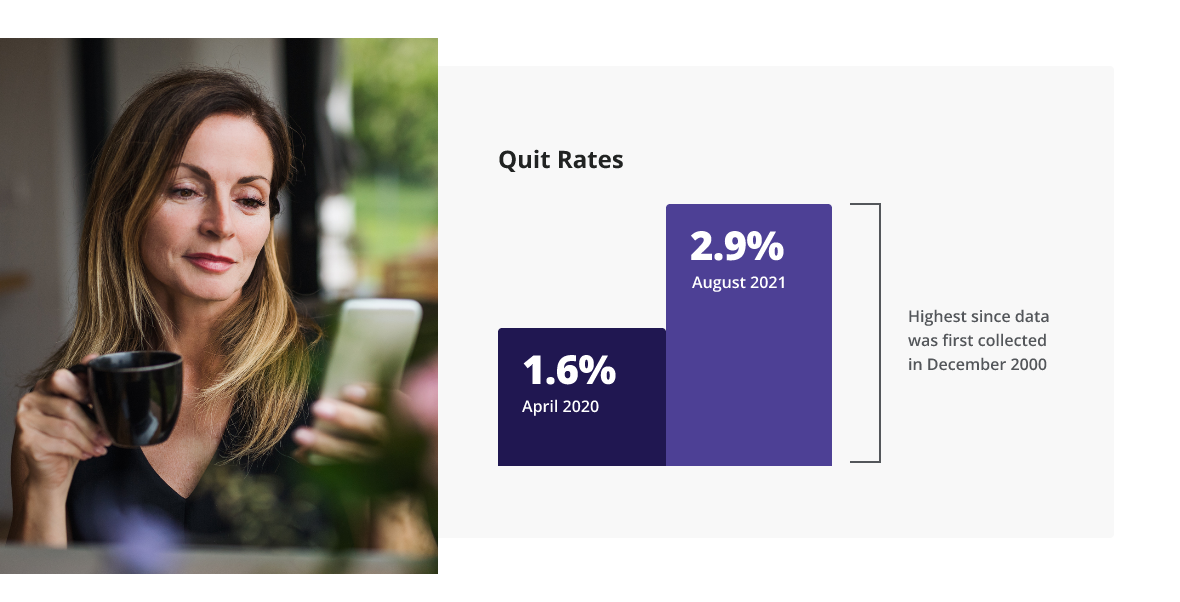 People are realizing the possibilities of change and they're taking control of their lives and careers. We're seeing the largest and fastest scope of global evolution ever known. We're at a point of the merge between technology, international trade, rising independence, skyrocketing demand for skills, and the relentless search for efficiency.
So how can employers retain workers to get work done in the face of this tidal wave of resignations? You have to look at independent workers as a means to your workforce planning in 2022 and beyond.
Download the Full Report Now >
People are Choosing to Stay Independent
As you think about workforce planning, consider this: Workers are making the decision daily to stay independent. And, they're happier and more confident in the choice than they've ever been.
At a time when payroll jobs are aplenty, independent workers are constantly weighing whether they should stay on the career path they're on. They could easily jump back into a high-paying W2 role. But, they're not. Some 63% of independents said that working independently was their choice completely, up from 59% last year. And, 77% said they were very satisfied with their choice – the highest reading in the 11 years of our research.
Only 11% of respondents said they'd seek a permanent full-time job instead of staying independent.
And, people are more confident in staying independent, too. They've realized the skills they have are in high demand and they know they're highly desired talent. What's more, the pandemic reinforced the view that traditional jobs are riskier and less secure than they once were. The elimination of 20 million payroll jobs over the course of a few weeks in March of 2020 gave people a shocking reality check. They began to realize the risks of what they'd once thought to be secure positions.
This year, about two-thirds (68%) of full-time independent workers said working independently is more secure than having a traditional job.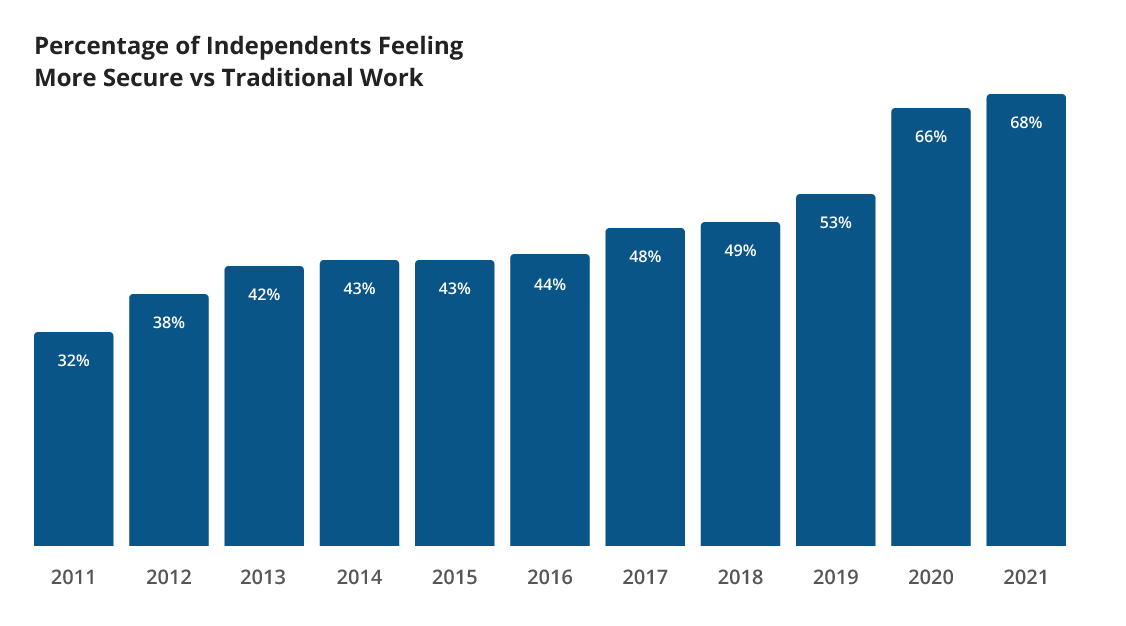 Independents Are Getting Younger, Too
For the first time ever, millennials and Gen Zers outnumber the combined ranks of baby boomers and Gen Xers in the independent workforce. Some 51% of the independent workforce is under the age of 40. And, 68% of newcomers to independent work are either millennials or Gen Zers.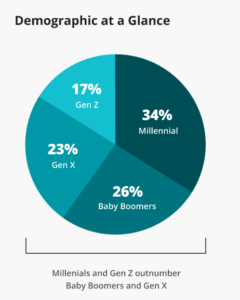 The pandemic, and the accompanying recession of 2020, hit younger workers pretty hard. And so, they turned to independent work to either supplement or become their primary source of income. Millennials, who entered the workforce during The Great Recession in 2007, knew better than to wait for the job market to recover. And Gen Zers have been dubbed the most entrepreneurial generational cohort of recent history, so independence was a natural course when they weren't finding payroll gigs. Many younger workers have also decided they don't want their lives defined by work. Instead, they're looking for freedom, flexibility, and control to live and work in a way that fits their values and passions.
The demographic shuffle led to a new segment of independent workers this year, too. Creators, the folks who are earning money by creating and distributing digital content, topped out at 7.1 million strong this year. And the number is expected to grow. Social media platforms want creators. And brands are realizing they need workforce planning strategies in place to work with them.
Unsurprisingly, most of the people (76%) in the Creator Economy are young professionals under 40. Some 37% of creators said they're doing it full-time while the majority – 63% – said they're using it as a side hustle.
How Does The Rise of the Independent Impact Your Workforce Planning?
If your workforce planning strategy only includes full-time employees, you're missing out on the top-tier talent. In the next three years, we're predicting more than half of the American workforce will have worked as an independent at some point in their career.
Independent work isn't a fading trend. With the expected "Great Return" on the horizon, many workers are going to return to work as consultants or freelancers. It's time to start thinking through how you'll engage these independents.
One way to plan for the boom of independence is to start building out your talent pools for projects on your roadmap. Talent pools, or groups of independent workers who are queued up, compliant and ready to work with you, can help you hit the ground running on your upcoming projects as soon as they get the green light.
Subscribe to our
blog
Get a weekly email of our latest posts sent straight to your inbox
Learn

more

about the MBO Platform
FOR INDEPENDENT
PROFESSIONALS
your independent business with MBO
Engage, scale, and optimize
your independent workforce