10 Great Holiday Gifts for Clients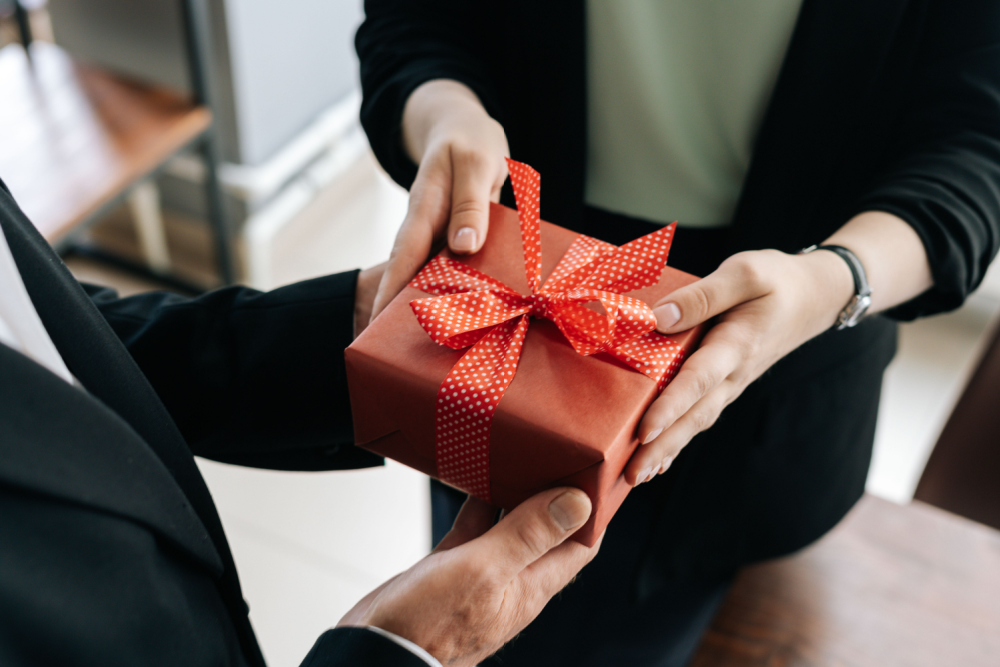 Key Points
Giving your clients original and considerate gifts is a great way to maintain a long-lasting relationship.
Our annual holiday gift guide is a roundup of gifts that your clients will appreciate.
The holiday season is always busy and taking time to find the perfect little something for your client can be an added stress. Rather than settling for a last-minute gift card or fruit basket, take advantage of our annual holiday gift guide.
We've scoured the web and polled our team members to find some of the most creative and thoughtful gifts you can give to clients that will be both unexpected and appreciated.
1. To Keep the Creative Juices Flowing
For the creative-minded client who is always coming up with new ideas, a beautiful Japanese ballpoint pen ($24) might be just the ticket. Pair it with a handmade leather notebook that is refillable and can double as a passport holder ($59).
2. For the Home Chef
Take your client's dinner prep to the next level with a colorful BPA-free cutting board that is made from kitchen plastic scraps and renewable sugarcane ($35). Or help them up their diner party game with a beautiful olive oil cruet imported from Italy ($60).
3. To Spruce Up Their Office
Whether your client works from home or from a high rise, help take their office space to the next level with an enviable Birkin Philodendron ($23). Or this magical storm cloud weather predictor that responds to changes in barometric pressure ($25).
4. For the Reader
Picking out books for an avid reader can be daunting, so consider reading accessories instead. This handmade pinewood nightstand book holder is elegant and original ($38). Or these agate stone bookends will bring beautiful color to any shelf (from $34). If you're unsure what to choose, The New Yorker, The Economist, Bloomberg Businessweek, or Wired are reliable choices that offer several subscription options.
5. To Practice Self-Care
Encourage relaxation and spa vibes with a marble essential oil diffuser ($30), a cozy unisex waffle robe ($99), or a coco butter massage stone (from $38).
6. For the Fitness Geek
For the client who stays on top of the latest fitness trends, help them stay hydrated with the ever popular Stanley tumbler ($30). Or ease sore muscles with a pack of cork massage balls made from upcycled materials ($35).
7. To Wow Your Newest Client
If you've just started working with a client, it can be hard to find the right gift. So, here are a few thoughtful choices you can't go wrong with. You can never go wrong with a candle and this amber and moss scented one is a crowd pleaser ($24). Or, how about a trip to the movies? With AMC's A-List Gift Membership, you can see up to three movies each week (from $73 for 3 months). If you're still not sure, take some time to do a bit of research to find a well-loved store in your client's town—perhaps a local bakery, florist, or chocolate shop—and send something their way. They will appreciate the personal touch and you'll be supporting a small business!
8. For the Foodie
The old holiday gift box—boring! But not these, we promise. Five pints of Jeni's best-selling ice cream delivered to your client's door ($58)? Yes, please. Or, how about a selection of Rancho Gordo heirloom beans with recipes (59)? Sign us up.
9. To Keep Learning All Year Round
If your client loves learning new things, consider gifting them an annual membership (from $15/month) to MasterClass. They can learn from leading experts in music, business, design and style, and science and technology, and more. Or, if your client is a big reader, consider a gift to Audible (from $15), which will give them access to thousands of audiobooks and podcasts.
10. For a Good Cause
If you're at a loss for the perfect gift, you can't go wrong with something that supports a good cause. This reversible burlap-to-cotton tote bag provides 170 meals to feed children in schools around the world ($75). Or, this holiday coffee bundle from Grounds & Hounds helps to fund innovative and impactful rescue programs for dogs across the country ($33).
*Remember, federal employees may not accept gifts valued at $20 or more, and may not accept more than $50 in aggregate gifts from the same outside source in a calendar year.
Subscribe to our
blog
Get a weekly email of our latest posts sent straight to your inbox
Learn

more

about the MBO Platform
FOR INDEPENDENT
PROFESSIONALS
your independent business with MBO
Engage, scale, and optimize
your independent workforce