10 Great Holiday Gifts Independent Professionals Can Give to Their Clients
The holiday season is always one of the busiest times of year, and taking time to find the perfect little something for your client can be an added stress. Rather than settling for a last-minute gift card or fruit basket, take advantage of our annual holiday gift guide.
We've scoured the web and polled our team members to find some of the most creative and thoughtful gifts you can give to clients that will be both unexpected and appreciated. View our top 10 list below, and check out our home office gift guide as well!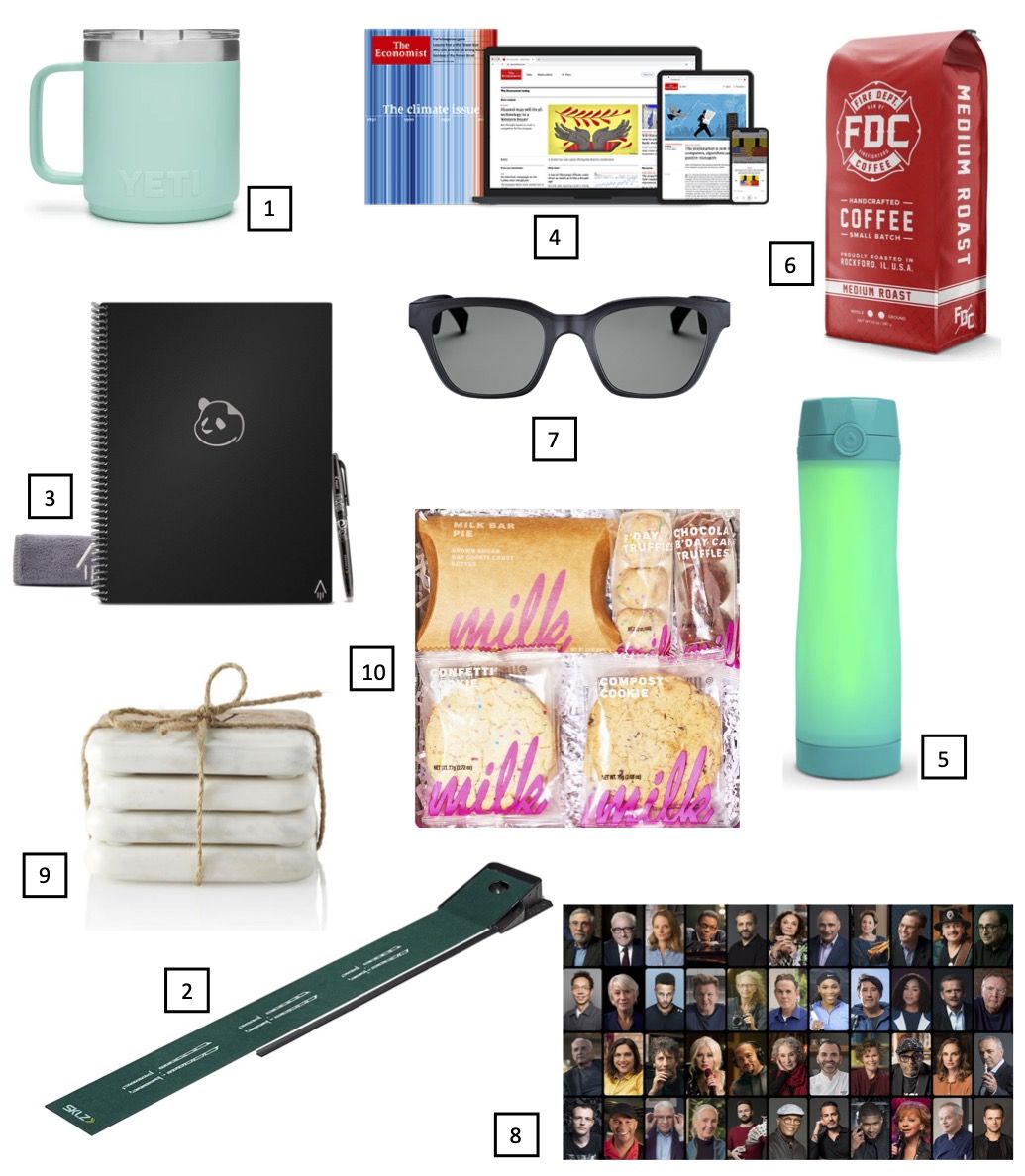 1. For the Home Office
This year, more people than ever before are working remotely. If your client works from home, help them spruce up their office space with a set of succulents ($30), a portable mug ($24.99) for coffee runs to the kitchen, or a bouquet of local flowers (from $39) to brighten up their desk.
2. For the Lighthearted
Bring a smile to your client's face with a playful gift like this indoor putting green ($49.99), magnetic toy ($24.95), or this eye-catching infinite galaxy puzzle ($65) based on a Hubble Space Telescope photo that literally has an endless number of shape combinations.
3. For the Planner
For the creative-minded client who is always jotting down ideas or planning ahead, give this special notebook ($25), which is a three-step system to brainstorm, track ideas, and turn them into reality. Or, consider this tech-savvy planner (from $37) that has reusable planning pages.
4. For the Reader
Whether your client is a fan of business books or the latest fiction hit, you can't go wrong with a book. Tiny Habits: The Small Changes that Change Everything ($28), Designing Your Work Life ($27.95), and The Vanishing Half ($27) and Hamnet ($26.95) are some of the bestsellers from 2020. Or, a print or digital subscription makes a great yearlong gift as well. If you're unsure what to choose, The New Yorker, The Economist, Bloomberg Businessweek, or Wired are reliable choices that offer a number of subscription options.
5. For the Fitness Geek
Fitness is an important priority for many, especially around the holidays. Give your client inspiration to stay on track with their fitness goals with this a fitness app membership (from $19.99/month), a sports mask for outdoor runs ($30), a yoga mat for home workouts ($78). Or, gift a high-tech water bottle ($59.95) that connects with an app via Bluetooth to track your water intake for the day and sends text notifications to keep you on track.
6. For a Good Cause
If you're at a loss for the perfect gift, you can't go wrong with something that supports a good cause. Fire Department Coffee (from $12.99) is a veteran-owned business and 10% of proceeds are donated to provide essential resources and assistance to first responders who have been injured on the job. Each One Grid Candle ($28) purchase sends a solar light to someone living without electricity, helping to eliminate dangerous and harmful kerosene lamps. And these gourmet cookies (from $29.99) support research at the nation's leading pediatric cancer centers.
7. For the Tech-Savvy
If your client geeks out over the latest tech and gadgets, get them something they can brag to their friends about. These Bose frames ($199.95) combine sunglasses with wireless speakers that stream music undetectable to anyone but you. Or, this sleek device ($79.90) will charge your phone while sanitizing it.
8. For the Constant Learner
If your client loves learning new things, consider gifting them an individual class ($90) or annual membership ($180) to MasterClass. They can learn from leading experts in music, business, design and style, and science and technology, and more. Or, if your client is a big reader, consider a gift to Audible (from $15), which will give them access to thousands of audiobooks and podcasts.
9. For Your New Client
If you've just started working with a new client, it can be hard to pick the right gift. Luckily, there are many thoughtful choices that you can't go wrong with. This wood and marble cheese board (from $39) or coaster set ($39) are elegant choices that can even be personalized with a monogram. Or, take some time to do a bit of research to find a well-loved store in your client's town—perhaps a local bakery, florist, or chocolate shop—and send something their way. They will appreciate the personal touch and you'll be supporting a small business!
10. For the Sweet Tooth
If you have a client who loves something sweet, this Milk Bar sampler ($52) or champagne gummy bears ($8.95) might hit the spot. Or send a big thank you with this foodie gift box ($130), which includes salted caramels, Bourbon honey, and whole bean espresso.
*Remember, federal employees may not accept gifts valued at $20 or more, and may not accept more than $50 in aggregate gifts from the same outside source in a calendar year.
---
Find independent consulting jobs with top companies through MBO's marketplace
---
Learn more about the MBO Platform
For Independent Professionals
Start, run, and grow your independent business with MBO
Find, manage and retain top-tier independent talent