10 Steps to Succeed at Your First Consulting Project (Guide)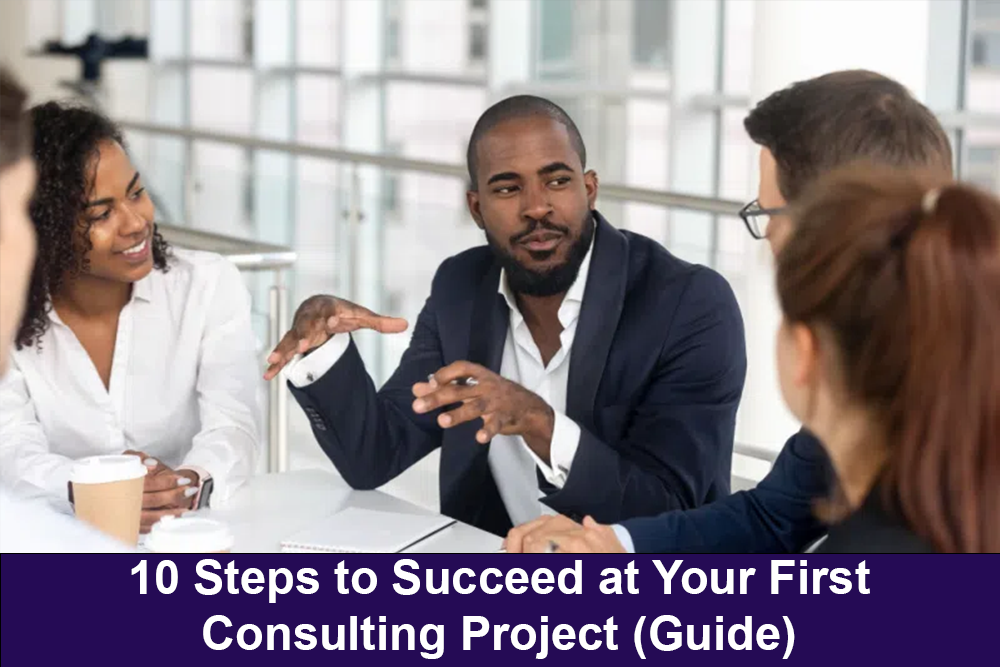 After you win your first consulting project, there are a few things to consider to make sure you are a success. This guide will walk you through how to prepare yourself to execute your project successfully, how to work effectively with your client, and how to build a strong relationship so that you can win future business.
GATE
In this guide, you will learn
What to do after you win your project
After you win your first project, you may be asking yourself several questions, such as:
Where will I work? As an independent consultant, you generally have the freedom to choose your work location. Whether working from home or sharing space in a co-working facility, make sure you are set up to serve your client in a professional manner.
What resources do I need? Ensure that you have the necessary office equipment and supplies, including any specialized equipment or software, to support the client engagement. You will want to consider not only the day-to- day project work, but the administrative details as well.
Below we will review the key decisions you have to make to get started successfully:
SETTING UP YOUR OFFICE 
Below are must-have items for setting up your home office:
Phone system. Systems such as RingCentral, eVoice, and Google Voice allow you to have a central phone number, which can be routed to designated phones, eliminating the need to add a separate business line. Many of America's self-employed are running their business physically alongside many others in a shared space. Co-working, for many, is a desirable option, and MBO Partners shares what you need to know in their article, "Co-working 101".
Computer. You can go with a desktop or a laptop, but consider that a laptop may be useful when you want to work somewhere other than your main office. A Mac or a PC is fine—consider the type of work you're doing and your budget!
Internet connection. Internet is a tax-deductible expense, so spring for the fast service to allow for better download speed and an optimal experience when sharing files or video chatting.
Fax capability. You can skip the standard fax machine and use services such as eFax that enables you to send and receive documents from any device.
Cloud storage. A cloud storage system such as Dropbox or Egnyte makes it easy to back up and share files with clients from any location.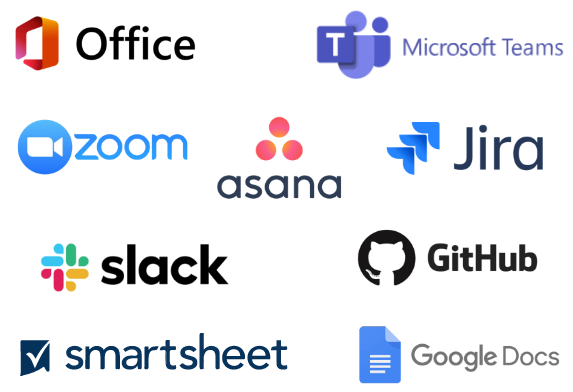 Virtual collaboration—the backbone of independent professional office management—and its technology is constantly evolving. MBO Partners' blog takes a look at "Online Collaboration for the Independent Professional".
HOW TO BUDGET YOUR TIME AND MONEY
As a new consultant, it is important to preserve your resources and protect your cash flow. Do not make investments in items that are not absolutely essential. Before making unnecessary purchases, you will want to check with your client to establish what resources the client will provide. For example, your client may have a project management system in place and will set you up with access.
Remember, it is up to you to create a system for tracking work, as well as clarify expectations of working hours. You'll also need a system for tracking and monitoring your time commitment to each client. MBO Partners offers a single system that lets you bill and invoice your client, as well as track your time but you may also want to ask the client what they currently use. You need to set aside time for marketing and networking, administrative duties, project work, and other operational tasks such as billing and invoicing.
You can cut your costs by foregoing the latest greatest gadget, but don't shortchange your comfort. Read "Launching Your Business: Tips on Where to Cut Costs – And When to Splurge" to learn more.
Many of America's self-employed are running their business physically alongside many others in a shared space. Co-working, for many, is a desirable option. Read "3 Benefits of Coworking for the Self Employed" to learn more.
How to get ready to serve your client
As you prepare to take your own journey with your client, it is good to know that more than 51 million have done the same and 79% are very satisfied with their decision!
But what about you? Here's what you need.
In the corporate world, many firms require that certain criteria be met in order to be approved as a service provider or vendor. This may require business insurance and certain tax forms be completed that assure your compliance to company procurement policies or government regulations. This is especially important with government contractors and large enterprise organizations.
Have you and your client completed all necessary documentation? You should have a signed Independent Consultant Agreement or Letter of Engagement that outlines the project, timeline, scope of work, duration, and payment terms. You may also have a Non-Disclosure Agreement, Scope of Work document, and client provided documentation. If there are terms that need to be negotiated, set up a meeting to review and finalize.
In navigating your first project as an independent consultant, it is essential to know your overall goals and what it is going to take to get there.
Your contract may indicate a start and duration date, but you need to determine the best route to reach the destination. What is the most efficient and productive route? If you hit obstacles, do you have a back-up plan? Now is a good time to consider not only what you must do, but what you will need from your client.
Do you need access to networks and passwords?
Will you require training on any internal client systems?
Will you need support from other departments?
Is there a contingency if you hit a roadblock in the implementation of your plan?
How to make your project a success
With all the essentials in place, you want to get your client on board. Your onboarding process should be both friendly and organized, setting the tone for a successful collaboration.
When you were an employee, you went through an orientation or onboarding process before you began your new job. Employee onboarding is a systematic and comprehensive approach to getting a new employee oriented to the company, goals, work rules, and culture. You want your client to feel the same way when they start an engagement with you.
There are two high-level goals of the onboarding process:
Welcome the client and help them feel comfortable in their new surroundings, and, conversely, make sure that you are comfortable with the new terms of your client engagement
Minimize the time needed for new clients or consultants to become productive members of their new workgroup
THE ONBOARDING PROCESS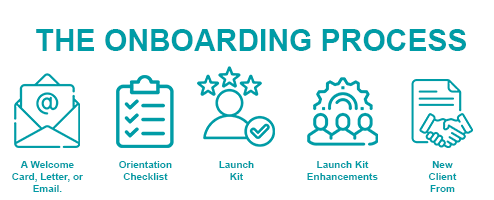 You will want to establish a process for welcoming new clients. A client welcome kit is a nice touch that builds goodwill from the start. Your welcome kit may include:
A welcome card, letter, or email. A welcome letter can reinforce your client's decision to do business with you. Thank the client for choosing you and let them know that you're looking forward to accomplishing the objectives established. Be sure to include your complete contact information.
Orientation checklist. Provide a checklist of items that help prepare your client to work with you. For example, if you are redesigning a client website, you may need contact information for the web hosting service and passwords to access the accounts.
Launch kit. Your launch kit will include any materials that the client needs to begin the engagement. For example, if you are providing access to a cloud server or other program, include the program name, directions for access, client password, and support information.
Launch kit enhancements. Provide the client with any information that will ensure that they get the most out of working with you. As an extra touch you may also include a small client gift such as a coffee mug, pen, or relevant white paper or ebook.
New Client Form. Create a checklist or form to gather any additional up-front information you need from the client before the engagement begins. This should include setting up meetings and obtaining a list of who you need to connect with for further data gathering.
An effective client on-boarding program sets expectations, builds trust, and keeps your clients happy. Happy clients tend to be repeat buyers.
How to succeed in making a proposal
The proposal and contracting process established the requirements of your client project, but now is the time to clearly define your client's expectations. Expectations are deeper and broader than requirements, and how you manage those expectations will determine the success of your project. For example, the requirements may state that you complete the project in six months, but your client may have expectations that the time frame in the contract is the maximum, not ideal, time for completion.
It is important to develop both the language and tactics for controlling your client's expectations. This includes project schedule, scope, and how deliverables are achieved. Before you start your project, you want to define expectations, gather information, set clear and measurable goals, and define the project management process.
PLANNING A SUCCESSFUL KICK OFF MEETING
A kick-off meeting is the perfect way to get a project off the ground. Set up an initial meeting that includes client team members and key stakeholders. This will give you the opportunity to introduce yourself to the team and discuss roles and responsibilities. Depending on the size of the project and organization, you may need to establish follow-up meetings with individuals or departments.
It is important to make sure your kick off meeting is effective so consider the following to help you establish an agenda:
Business culture and communication. Use this meeting to identify your client's preferred work style, including preferred method of communication.
Who will handle what? Establish clear roles and responsibilities for you and the client.
Plan for document and resource management. How will project documents be communicated and managed? Does the client have a central project management system?
What internal resources will you need from the client? This may include people, departments, technology, and equipment.
Schedule for check-ins and updates. What is the best frequency for team meetings? Who should be on the invitation list for these meetings? Should there be a monthly meeting with key stakeholders? What is the best format for these meetings— online or in person? In addition to meetings, how frequently should you provide a written report, and to whom?
Which metrics and goals need to be reported on a regular basis? Determine the key metrics and goals that need to be included in all reporting. The agenda for each follow-up meeting may change, but are there regular items that need to be part of the standard reporting?
How will your work impact other departments? Are there phases of the project that will require collaboration with other departments or individuals? Will the project change any internal processes or procedures?
Will you need to train internal staff? If so, determine the best schedule and method for training.
How will invoicing be handled? Make sure this has been clearly defined and try to break the project into smaller deliverables or milestones. If you can arrange to invoice and be paid at various stages of completion, this will help your cash flow. Understand the payment terms and remember to get
confirmation before you begin work.
Next steps
Now that you have laid the foundation, it is time to get to work. Communication is essential to any client engagement.
Keep the client informed
During the course of the project, the person who hired you may not be involved in the day-to-day. In addition to keeping team members informed, periodically update the person who hired you and other key stakeholders. A brief status of where the project is, and key milestones achieved, is enough to keep them in the loop without overwhelming them with unnecessary information.
Stay alert
Look for ways to add value to your client's business. This can be as simple as passing on a suggestion to improve an existing process or sending the client an article that addresses a current challenge. Showing your client that you are aware of their larger business goal is a good way to establish yourself as a resource. You do, however, want to be careful that you do not add to the scope of your own project. If you identify additional business opportunities or needs, make a list and address them before the project ends.
Many projects require "change requests," and if not thoroughly discussed, they may sound good at the time, but may not be honored at the end. Be honest. If your project hits a rough spot, it is imperative to be up front and honest with the client. Clearly explain the problem and how it will impact the project and outcome. Do not try to sugar coat the issue; be open and honest. It is best to communicate any issues by phone or in person rather than email. Have solutions ready. Remember that the client hired you for your expertise, so it is your job to take the lead and formulate a plan for handling any issues. While these conversations can be difficult, your honest communication will reinforce your client's trust and set you apart as a professional.
Create repeat customers
Customer relationships are key when you're an independent consultant. These final two elements can help you turn your current clients into loyalists.
Work with integrity. As an independent consultant, your reputation is vital to your success. As a new consultant, you want to impress your client, but be careful to never promise more than you can deliver. Set realistic objectives and deadlines. If your client asks for something to be completed in a time frame that is not reasonable, explain exactly why you will need more time.
Build a relationship. Never lose sight that you are building a relationship with your client. If your primary communications are by email, pick up the phone occasionally and make a voice-to- voice connection, or invite your client to lunch or coffee. It is easy to get mired in the details of work, but take time to nurture your relationship with the client. It is that human connection that will not only ensure that you succeed, but pave the way to future work.
A strong client relationship starts from the earliest moments. Read "13 Tips for Building and Maintaining Long Lasting Client Relationships" to learn more.
Looking for work as an independent consultant? Join our marketplace to search for your next project
Subscribe to our blog
Get a weekly email of our latest posts sent straight to your inbox
Learn

more

about the MBO Platform
FOR INDEPENDENT
PROFESSIONALS
your independent business with MBO
Engage, scale, and optimize
your independent workforce