How to Create a Great Consulting Website (Guide)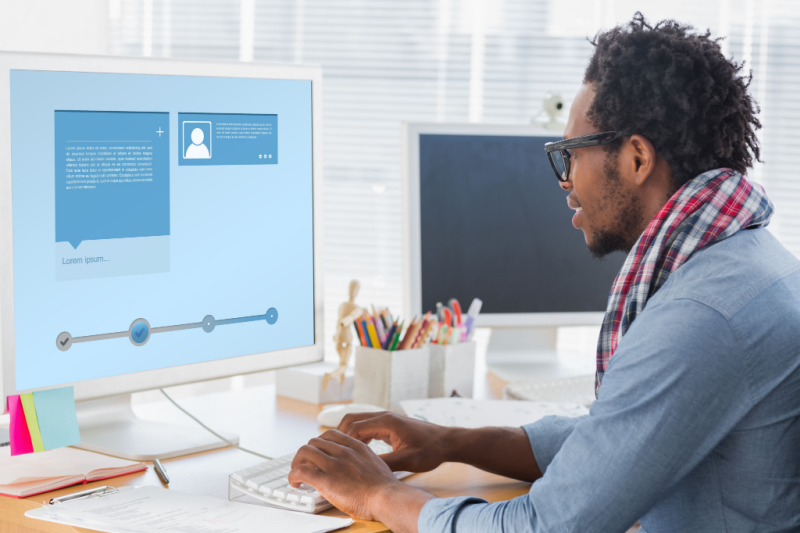 When searching for information or the answer to a question, the Internet is usually someone's first stop. The more specific a search query is, the better results a search engine will display.
A company that is well positioned in those search results can see a huge boost in business. Every business—from solo-consultants to established corporations—should have a website, just like every working individual should have a LinkedIn profile. A website is an effective marketing tool that can help independent consultants spread brand awareness, enhance credibility, promote skills, and reach new clients.
GATE
However, simply having a website is not enough. No matter how beautiful, creative, or content–rich a website is, it will not produce desired results without a strategic plan. Luckily, you don't have to be technically savvy to create or optimize a website. You just need to put on your marketing hat and follow the critical steps outlined in this guide.
Simply having a website is not enough. No matter how beautiful, creative, or content–rich a website is, it will not produce desired results without a strategic plan.
In this guide, you will learn
How to develop a website strategy that meets your goals
Determining your goals and strategy will influence YOUR website structure and content Before you create your website, determine the goals you want your website to achieve and develop a strategy to meet those goals. For independent consultants, your goal may be to earn more business, showcase your existing work, or become a thought leader.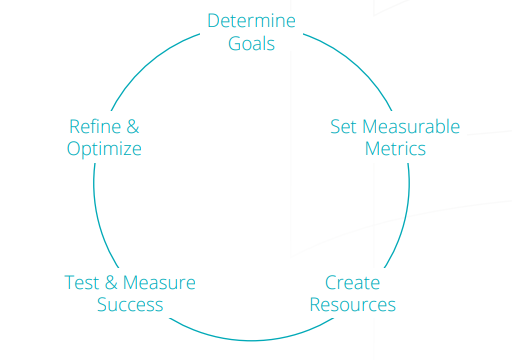 Understand your audience
Your audience, the people reading content on your website, are the recipients of the information you'll provide. Considering how you can help meet your audience's expectations will help you achieve your personal goals.
Ask yourself these questions:
Who will be looking at my website?
What will they expect to learn from my website?
What type of information will be valuable to them in determining if I am the right person for the job?
Know Your Value
Once you've determined your audience, ensure that your website showcases your credibility, value, skills, and industry knowledge.
Ask yourself these questions:
Which skills have helped me win projects?
What is my competitive edge and what do I need to include on my website to help me stand out among my competition?
Do I have a special skill I can describe?
How have I helped my clients solve problems in the past, and how can I quantify or highlight my results?
Develop Measurable Goals
Remember, your website is a marketing tool and you need to regularly measure its effectiveness.
Goals to consider include:
Generate Prospects: Visitors come to my website and read about me and my services
Generate Leads: Visitors come to my website and complete a contact form, download a resource, or contact me
Generate Engagement: Visitors come to my website and participate in a discussion on a certain topic (through a forum or through comments on a blog post)
Promote my Brand: Visitors come to my website to learn about my skills and success
Establish Thought Leadership: Visitors come to my website to read useful content because they are inspired by my ideas and success and want to learn from me
The primary difference between leads and prospects is engagement. Prospect engagement is a one-way street. Prospects will visit your site and then leave. Lead engagement is a two-way street. When leads provide you with information via a contact or content form on your website, they open the door to engagement. After you are finished optimizing your website, consider developing an engagement strategy to nurture these leads and win new business.
The primary difference between leads and prospects is engagement.
Establish KPIs (Key Performance Indicators)
After you establish your goals, consider how you will measure your success. Many goals are measurable using Google Analytics metrics and your website data. Google Analytics is a powerful tool that can be used in a wide variety of ways. However, for the non-expert, you will want to pay attention to the following metrics in order to track visitor activity and Key Performance Indicators (KPIs).
Channels: Google Analytics data will show how many visitors are coming to your site from various channels—organic, referred, social, and direct.
Organic means visitors came to your site by typing a search query into a search engine.
Referred means visitors were referred to your site through another website.
Social means visitors came to your site through a social channel such as LinkedIn, Facebook, or Twitter.
Direct traffic can come from a variety of sources. As a rule of thumb, Google labels traffic as "direct" if the source of the traffic is not clear.
Users: The number of unique users who visited your website.
Unique Pageviews: The number of pages viewed by unique individuals visiting your website.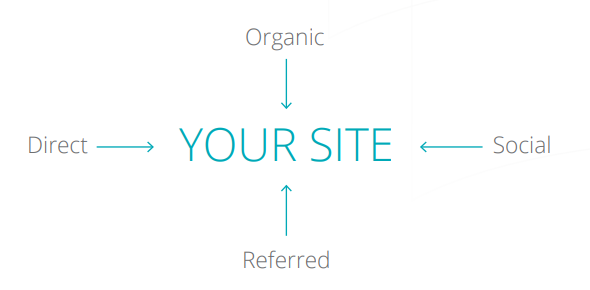 Pages per session: The average number of pages a website visitor views during a session. For the most part, a session ends after 30 minutes of inactivity on your site.
New versus returning users: Shows new visitors compared to returning visitors. Returning visitors are only considered to be returning if their previous visit is tracked, or "cookied."
Time on site, time on page and session duration: These are good metrics for determining how much time users spend on your site or on a specific page.
Exit rate: A high exit rate on any page indicates that users don't know where to go after reaching the page. To keep users on your site, provide a clear next step such as a link to another page.
Form completions: If you include forms on your website, it's a good idea to send visitors who complete the form to a thank you page. If you look at how many times your thank you page was viewed, you will know how many forms were completed.
If this is your first website, you will need to let data gather for a month or two in order to create a benchmark. After that time has passed, you can optimize your site in different ways and compare the results to see if your website is becoming more effective.
Determining who your audience is will help you tailor website content to provide your targeted visitor with exactly what they need to engage with your business. Don't rush through this important step.
How to create your website
Creating an optimized website involves more than putting content on a page
Once you've thought logically about your website goals and how to promote your business, you can back into the actual creation of your website.
This includes:
Selecting a Platform and Domain Name
Determining Pages and Content Types
Creating Content
Optimizing a Suite of Components
Technical Set Up and Deployment
Don't sweat the small stuff.
Many consultants get hung up in the design stage on logo creation, colors, or font choices. While these elements are important, consider building a website like building a house. If you find yourself stuck on which shade of blue to use for your logo before you've built your website, you're equivalently stuck on the color of your front door before you've built your foundation. Begin by getting a framework in place: review templates you like and start with something simple. You can always expand on your framework once you discover what does and does not work for your business—particularly if you're going the Do-It-Yourself (DIY) route.
Choose and register a domain name 
When choosing a domain name for your website, choose something simple, such as FirstNameLastName. com, or YourBusinessName.com. Try to stick as close to your name or to your business's name as possible, and opt for .com—the most common domain type—wherever possible.
This will enhance the credibility of your business and make it easier for your current and prospective clients to remember.
Choose a website platform
Creating a professional website is much easier than you may think. Easy-to-use online platforms with stock images and pre-formatted templates allow you to create a unique website with your own personal brand and feel for as little as $10 per month. Two of the best platforms on the market are Wix and Squarespace, which offer easy-to-use designs and require little technical skill to implement.
These platforms are perfect for websites that don't incorporate complicated features and have few pages. For content-heavy websites, consider using WordPress.org, the most popular content management system on the market. WordPress offers robust features and publishing capabilities. It is popular among website designers, making it easy to find someone to build your website for you if you need help.
Strikingly is another powerful option for people looking to get online fast. Offering both free and premium options, Strikingly allows you to directly import your LinkedIn profile to create a simple, one-page site to showcase your accomplishments.

Create pages and content types to satisfy your strategy and goals
While it's important to be creative and to stand out among your competition, there are standard website components you will want to include.
Home page: Your home page is the first page that visitors will see when they type in your domain name. This page should have critical information about what you do as a consultant. You should briefly describe what kind of consulting business you have and the types of services you offer.
About me: Your about me page should have information about your experience, education, and skills. Using bullet points is an excellent way to show this information as most website readers would rather skim than read through paragraphs of text.
Contact me: You should always offer website visitors a way to contact you. You can either list contact information or insert a form for them to complete, which will send a message to your email address. You should also include a professional photo.
Now, think about other pages you could add to promote your services. Here are some ideas:
My services: Add a page that lists your service offerings. This list can be as long or as short as you'd like, but it's better to display the services you offer in bullet point format.
Current and past clients/projects: This is a great way to showcase projects you have completed and clients you have worked with in the past. If permitted, use logos and include results, outcomes, and achievements.
Testimonials: If you have client testimonials, this is a plus. If you are able to directly quote the testimonial along with the person's name, title, company, and photo, this will validate your work and promote your skills.
Samples of Work: Do you have case studies, reports, blog posts, books or any other samples of work you can show website visitors? Consider including a thumbnail image of any of these with links to full reports or posts. This will keep visitors on your site, allow them to learn more about you, and support your industry credibility.
Design Tip: If you're looking for images to use on your website, consider sites like istockphoto.com that allow you to inexpensively purchase stock imagery. Many sites, like Squarespace, also have image libraries that you can browse and purchase.
Content Creation Tips
When writing the text for your website, be crisp, clear, and precise. Describe what you do and what value you will offer clients without resorting to jargon or vague, flowery text. When possible, demonstrate results.
Consider:
Content Length: Pages should have no more than 300 to 500 words. When possible, show, don't tell, through use of a video, chart, or infographic.
Copy Style: Organize content so that it is easy to read, such as the bullet points we're using now.
Voice & Tone: Write like you would speak. If you work in a creative industry, humor may suit. If you're targeting a suit-and-tie audience, write with a more formal tone.
Calls to Action: Make it easy for potential clients to take the next step. When possible, show a contact form, offer a downloadable asset, or indicate where to go next.
The average attention span online is 8 seconds. That's less than the attention span of a goldfish (9 seconds). Don't write a novel!
Optimization
Optimization is not only the process of creating an "optimal" experience for users on your website, but it's also the technical term behind how your website can be best positioned to rank on sites like Google. For each page you create, you'll be able to "optimize" by filling in the following fields in most content management
systems or website platforms:
SEO Title: In addition to a page title, you may also have the option to enter an SEO title. The title you use should catch the searcher's eye and should motivate the person to click the link. Use clear, user-friendly titles with no more than 55 characters, including spaces. In search results, this is the link you'll click to enter a page.
Example: Website Optimization for Consultants
Meta Description: A meta description appears when your site comes up in search, right below the link. Think of this as one to two sentences (135 to 155 characters) that describe what the page or your site is about. When writing your meta description, remember to use keywords that you know people are searching for.
Example: Amy Smith offers brand and digital marketing services to small businesses in the Washington, DC area.
Slug: A slug is the part of the website URL that appears after your website name. Be sure to use keywords in your slug and make sure your slug describes what the page is about.
Example: AmySmith.com/Digital-Marketing-Services or AmySmith.com/Contact-Me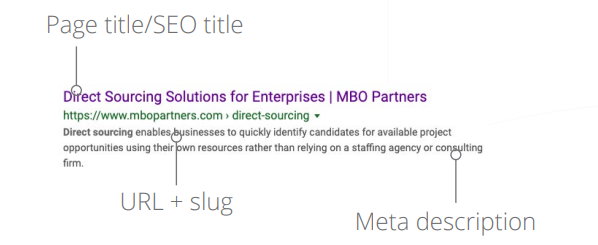 Navigation: These are the selections, usually at the top of your site, that allow the visitor to click to view different parts of your site. Navigation is how your information is organized. Your website visitors should be able to easily navigate through your site and find the information they are looking for. Keep your navigation titles brief but useful, and make sure the visitor knows exactly what they will find on the page they navigate to.
Linking: Linking your pages of content tells Google how your content works together. For example, on your "About me" page, include a link to your services page. Your services page can link to your testimonials page, etc. Links to external pages can also be useful so long as the pages you link to have credibility. However, remember that clicking on an external link will send users outside your site, and the goal is to keep them on your site for as long as possible.
CALLS TO ACTION
Including a "contact me" page on your website is critical. In order to work with you, it should be easy for leads to contact you. A call to action (CTA) is an image or line of text that prompts website visitors to take some sort of action such as completing a form, downloading an eBook, or signing up for a webinar. CTAs come in many forms, from pop up windows and social media icons to simple buttons or forms. Most website templates will include a call to action button; you can use the message on this button to your advantage.

Use a site like GoDaddy.com to secure a custom name for your site. Most domain names cost about $15 per year. Depending on your website host, the cost of this domain may be 'baked in' to your website build costs.
How to market your website
DRIVE VISITORS TO YOUR WEBSITE
Discover what your target audience is searching for Keywords are words and phrases that users type into a search engine to find websites that match what they are looking for. Some keywords get thousands of unique searches per day, while others may only get one or two a month.
Choosing the right keywords to use on your website can drive all important organic (search) traffic to your site. Although you may feel that you know your industry and your audience, you may be surprised at which keywords are actually used in Google search.
Competitive Searches
Run a basic Google search for your type of business. For example: "Washington DC marketing consultant." See which websites come up. Continue to type in different search terms, becoming more specific as you go along. This will help to narrow down the terms that you determine are relevant to your business and ensure that your website appears alongside similar results.

Keyword planner
Just to double check that you have chosen the best keywords for your site, we highly recommend you use Google's Keyword Planner, located within Adwords.Google.com. You can use the planner to type in a variety of keywords and see average search volume, competitiveness, and how much people are paying to rank for those keywords.
You want to target words that have some search volume but are not too competitive. The goal is to have your site rank for these keywords when they are searched. Rank is your website's position for a particular keyword in the results pages of a search engine. The closer your rank is to number one, the easier it will be for visitors to find your website in the search results when they type in that particular keyword.

How to measure your success
With any marketing program, it is important to have goals and to measure how well you are meeting those goals. When it comes to measuring the effectiveness of your website marketing efforts, the most important metrics to track in Google Analytics are unique users (visitors), traffic via channels, exit rate, pages per session, session duration, and conversions. Keep an ongoing spreadsheet of changes you make to your website and dates of changes so that you can compare results.
Tracking search terms that are driving traffic to your site is important in determining if your keyword optimization efforts are effective and if you are attracting the right audience. You may also want to track shares and likes of your content through social media outlets to determine your content's popularity and measure brand awareness. Also, tracking the number of followers on social media can indicate your status as a thought leader.
How to set up Google Analytics data tracking on your site
Google Analytics is a free analytics tool for your website that will gather useful site data. To set up a Google Analytics account and get a tracking code for your site, follow these steps. NOTE: These steps are for setting up Google Analytics (Universal Anlaytics) which is deprecating July 2023. Users are being migrated to Google Analytics 4 and Universal Analytics will no longer collect data after July 2023.
Go to google.com/analytics. If you have a Google account, and are not signed in, click "Sign in to Analytics." If you do not have a Google account, click "Create an account."
 Once you have signed in to your Google account, click "Start using Google Analytics."
Click "Sign up."
Fill in your Account Name, Website Name, Website URL, and select an Industry Category and Reporting Time Zone.
Under Data Sharing Settings, check the boxes next to the options that you want.
Click "Get Tracking ID."
From the Google Analytics Terms of Service Agreement that opens, click "I Accept."
Add the Tracking Code to your site.
When measuring the success of your website, you want to consider quantity and quality. It is not enough to increase traffic, although that is a goal worth having. The more important metric is quality—making sure the quality of your traffic and leads is meeting your expectations and goals.
How to add the tracking code
The tracking code must be added to every page of your website in order for Google Analytics to gather its data. Typically, this is accomplished by injecting the code onto each page through an advanced page setup. It's only a matter of cutting and pasting the code on to your page, but the process is different according to
which platform you use. If you search help within your platform, there should be instructions to use.
GOOGLE'S SEARCH CONSOLE
Why and how to set up a Google Search Console account
In order for Google to access your site's content and gather data, you will also need to link a Google Search Console account with your analytics account. The Google Search Console can also be used to ask Google to crawl and index your site. Requesting that Google index your site will allow your new content to show up on a Google search much faster than waiting for Google's scheduled crawl.
The Google Search Console can also allow you to monitor search terms that have brought visitors to your site organically. You can see the click-through rate of search terms, the number of page impressions, click on search terms, and gather other useful data.
To set up a Google Search Console account:
1. Go to Google's Search Console
2. Click "Start Now"
3. Enter your domain name under "URL Prefix" and click "Continue"
4. After your site has been verified, click "GO TO PROPERTY"
In order for Google Analytics to gather data from the Google Search Console, you need to verify that your site is linked between the Google Search Console and Google Analytics.
To link your site between the Google Search Console and Google Analytics:
1. Sign in to your Analytics account
2. Click "Admin" at the bottom left of your screen
3. In the PROPERTY column, click "Property Settings"
4. Scroll down to Search Console and click "Adjust Search Console." You should see the URL of your website, which confirms that the website is verified in the Search Console and that you have permission to make changes. If you do not see the URL, you need to add your site to the Search Console
5. Under Search Console, select the Enabled view(s) in which you want to see Search Console data
6. Click "Save"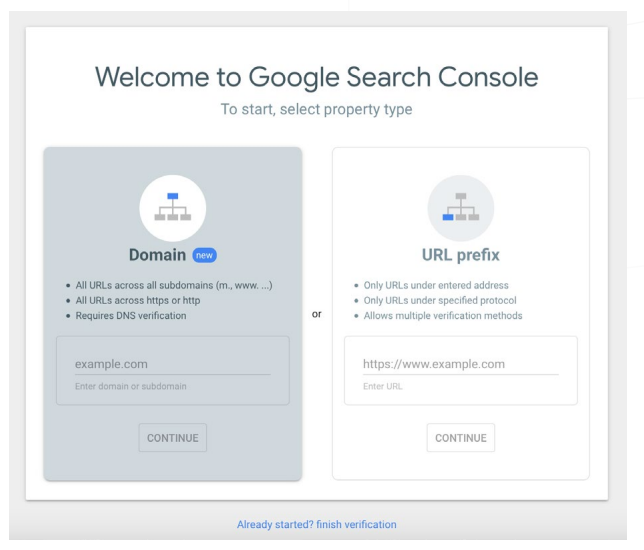 When measuring the success of your website, you want to consider quantity and quality. It is not enough to increase traffic, although that is a goal worth having. The more important metric is quality—making sure the quality of your traffic and leads is meeting your expectations and goals.
How to test and learn
Now that you have created your website with a clear strategy and goals, it is important to reach those goals. Once a month, take some time to look at your traffic metrics, evaluate where you would like to do better, and make changes to your site. Here are a few ideas of what to look for:
Pageviews: If some pages are being viewed more than others, figure out why those are popular and others are not. Pageviews can indicate which content visitors are interested in.
Keywords: Which keywords have brought traffic to your site? Are those the keywords you have been targeting? Are they relevant to your site? Consider creating more content around keywords you think are important and that you can rank for.
Leads: Have you been getting leads from your site? If not or if not enough, consider tweaking the way you describe your services. Try different headlines and sub-headlines, change the format of your content, and change meta descriptions to prompt more action.
Make changes, wait a week or two or even a month and record your results, and then make more.

Looking for work as an independent consultant? Join our marketplace to search for your next project
Subscribe to our blog
Get a weekly email of our latest posts sent straight to your inbox
Learn

more

about the MBO Platform
FOR INDEPENDENT
PROFESSIONALS
your independent business with MBO
Engage, scale, and optimize
your independent workforce