10 Home Office Gifts for the Independent Professional
Many freelancers, entrepreneurs, and small business owners call their home office—or wherever their workplace may be—their sanctuary. An office is a place that should generate creativity, promote health and well-being, and offer both a comfortable and efficient environment.
This holiday season, we've compiled a list of our top home office gifts that are perfect for your wish list or to gift to a fellow independent professional. And, if you're still looking for that perfect client gift, it's not too late! Check out our client gift guide for help.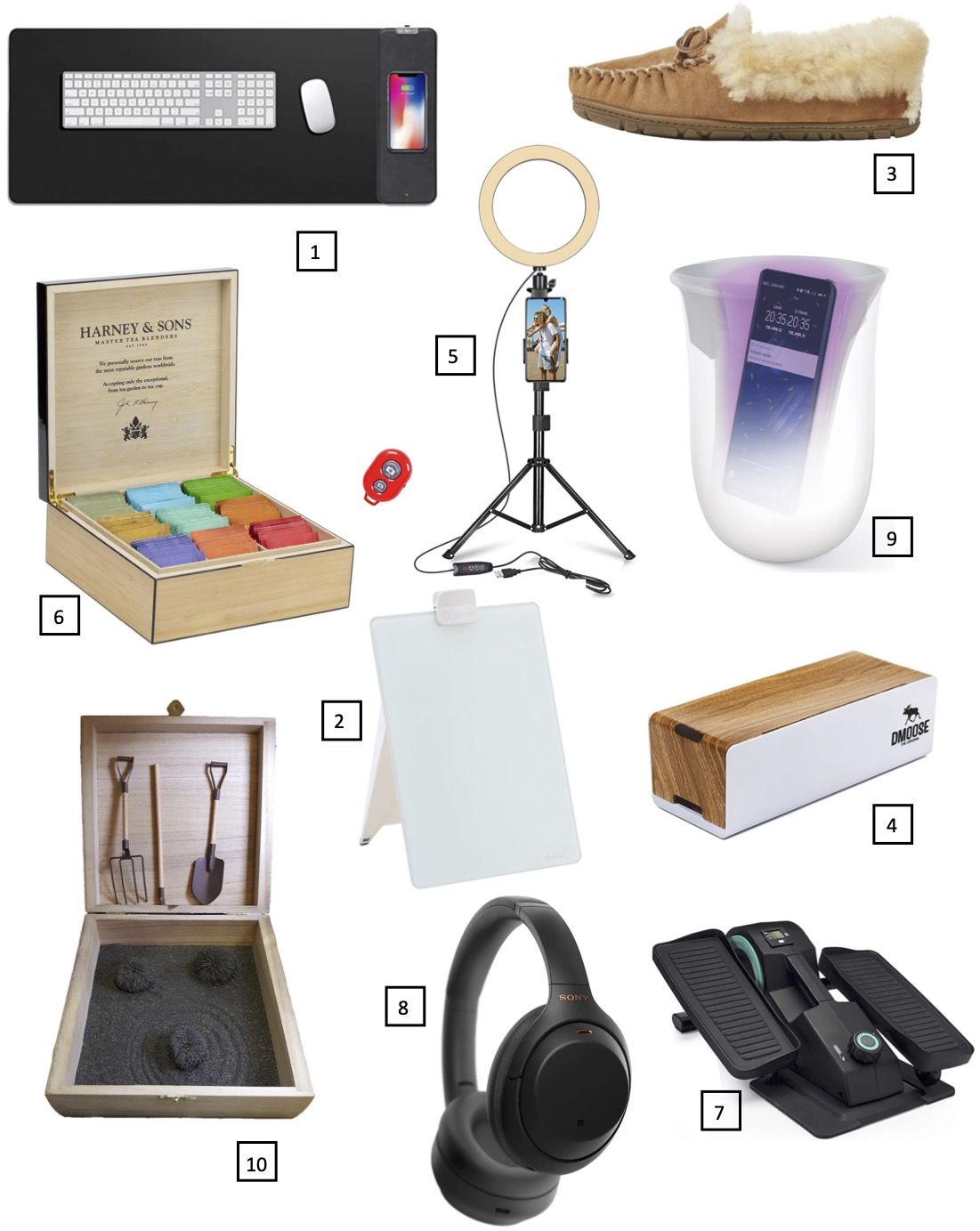 1. For a Tech-Savvy Workspace
Work-from-home technology has grown leaps and bounds the past few years as more people find themselves working from a home office. Keep your smartphone charged and close at hand with this elegant leather mousepad ($39.99). Or, enjoy the convenience of printing and scanning directly from your phone with this affordable laser printer ($108.99).
2. For Boosting Creativity
With this glass dry-erase desktop easel ($16.49) you won't forget a good idea again. Or, try your hand at journaling weekly lists ($13.81) based off of prompts to help nurture self-expression and self-development.
3. For At-Home Comfort
Working from home doesn't mean you have to sit in front of a desk all day long. Switch it up and work from your couch for a few hours with this cushioned laptop holder ($29.99)—it even has a place for your phone. Keep your feet cozy in these tried-and-true slippers, for men or for women ($79). And create a peaceful work environment with this compact essential oil diffuser ($29).
4. For a Functional Workspace
Home offices come in all shapes and sizes. Make the most of your space with this acrylic desk organizer ($32) to keep important files and documents at your fingertips. Or keep all those cords from becoming a messy knot with a cable management organizer ($22.49)
5. For the Ultimate Virtual Meeting
Whether you're meeting a client for a first time or joining a group of friends for a virtual happy hour, you want to look and sound your best. This fully adjustable light ring ($29.99) comes with three light modes and eleven brightness levels, which help to eliminate unwanted shadows. This digital condenser microphone ($79) can be used with any iOS device and will make sure your voice comes through loud and clear. Or, this webcam ($89.99) comes with HD autofocus, light correction, and stereo audio all in one package.
6. For Much-Needed Breaks
Factoring breaks into your day helps you clear your head and boost your productivity. Keep delicious, healthy snacks on hand with a snack subscription box (from $7.99). Or, settle in for the day with a freshly roasted artisan coffee subscription (from $40) or sample box of fine teas ($79.95).
7. For Your Health
When you're feeling under the weather it's hard to produce your best work. Release pent-up energy with this mini elliptical ($249) that can live right under your desk. Plants are also a great way to release stress and bring a smile to your face. Give your office space a dash of green with this low-maintenance potted pothos ($61).
8. For When You Need to Focus
Avoiding the distractions of everyday life can be hard when you work from home. Stay in the zone with this Pomodoro timer ($18.99) which gives you a visual countdown for working in 25-minute increments followed by short, 5-minute breaks. Or, drown out distracting sounds with these wireless noise canceling headphones ($299).
9. For Keeping Clean
Keeping a clean workspace is more important than ever before. Keep your keyboard and screen free of crumbs and smudges with this deep cleaning set ($9.99), and keep. Your phone charged and sanitized with this wireless charging station and UV sanitizer ($80).
10. For a Bit of Fun
The best work environment is a combination of organization, focus, and fun. We know that running a business is serious work, but finding time during the day to lighten the mood is equality important. Take a break from your to-do list and play with this unique magnetic zen garden ($37.95), or bring a smile to your face each day with a daily dog calendar ($15.99) paired with funny captions and puns.
---
Find independent consulting jobs with top companies through MBO's marketplace
---
Learn more about the MBO Platform
For Independent Professionals
Start, run, and grow your independent business with MBO
Find, manage and retain top-tier independent talent