10 Home Office Gifts for the Independent Professional
Many freelancers, entrepreneurs, and small business owners call their home office—or wherever their workplace may be—their sanctuary. An office is a place that should generate creativity, promote health and well-being, and offer both a comfortable and efficient environment.
This holiday season, we've compiled a list of our top home office gifts that are perfect for your wish list or to gift to a fellow independent professional. And, if you're still looking for that perfect client gift, it's not too late! Check out our client gift guide for help.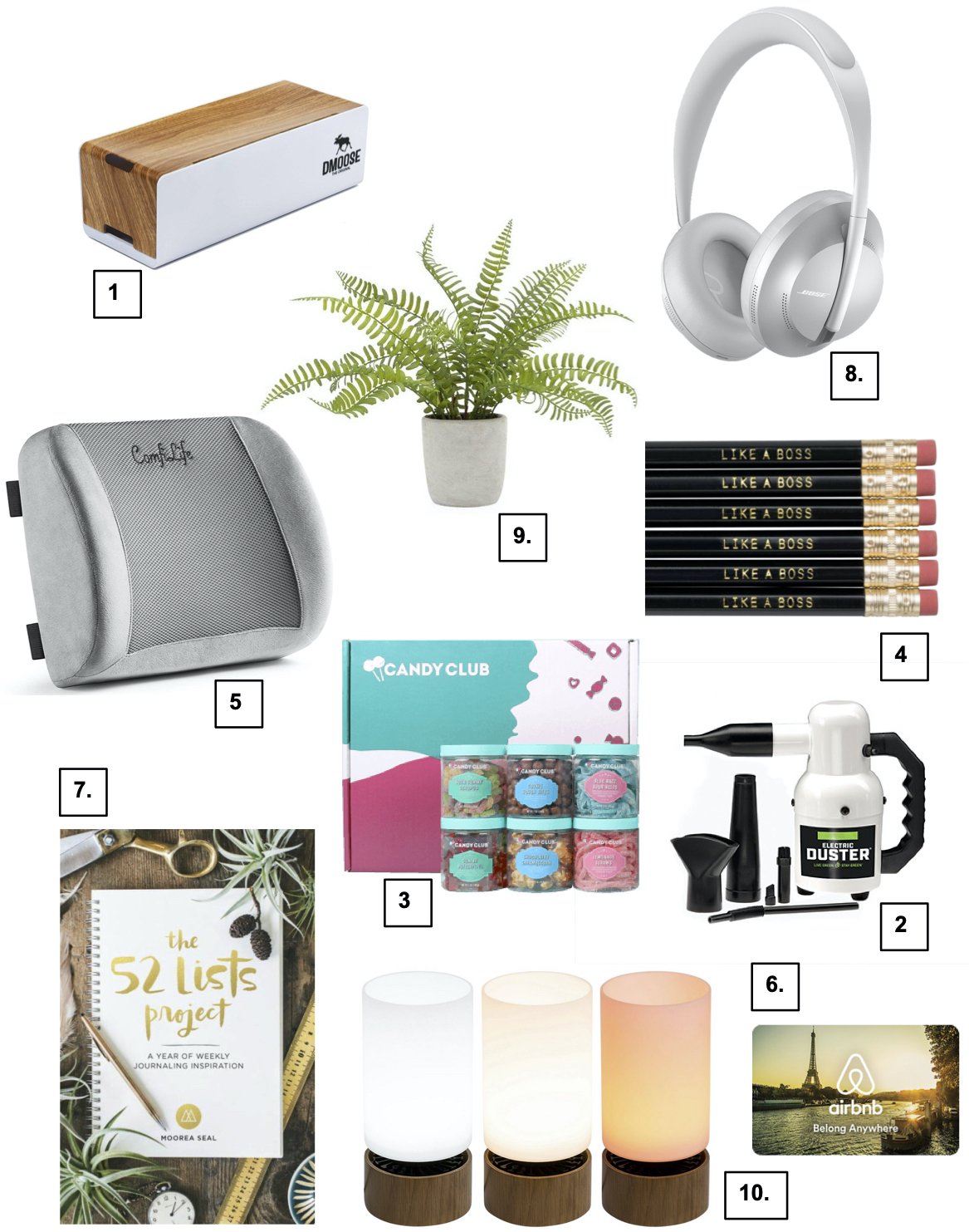 1. For Staying Organized
A messy work environment can have a big impact on productivity and time management. When you know where documents, notes, and supplies are, you can spend more time working on your project and less time digging through piles of papers. Make sure your workspace is both professional and tidy with this leather desk accessories set (from $12.50) or keep cords from becoming a messy knot with a cable management organizer (from $23.97)
2. For Keeping Clean
Keeping your office clean is just as important as keeping it organized. Keep fingerprints and bacteria at bay with a smartphone sanitizer (from $80), and bust the dust from your computer keyboard with this electric office duster ($119.99).
3. For When You Need a Snack
No one works well on an empty stomach, but finding time to take a break to make a snack can be a challenge as a hard-working independent professional. Keep delicious, healthy snacks on hand with a snack subscription box (from $19.99) or satisfy your sweet tooth with Candy Club (from $29.99).
4. For When You Need to Laugh
Running your own business is serious work, but finding time during the day to lighten the mood is equally as important. A daily Peanuts calendar ($14.39) is sure to deliver a smile, or a set of these funny pencils (from $2).
5. For Getting Comfy
Yes, you are a professional, but that doesn't mean you have to discount comfort. Take advantage of the ability to customize your work environment and make sure it is a place you feel entirely relaxed. A lumbar support pillow ($18.85) and seat cushion ($21.63) can work wonders when you find yourself glued to your desk all day. And you're sure to stay cozy and keep your office looking stylish with a faux fur throw (From $69.30).
6. For When You Need to Get Out of the Office
Independent professionals need to take a break just like any other traditional employee. Contribute to a future getaway with an Airbnb gift card, or choose from a range of spa and beauty services with a gift card from SpaFinder.
7. For When You Need Inspiration
Hitting a mental block is tough, especially when there's still work to be done. Brainstorm and map out ideas with this magnetic, desktop whiteboard ($96.03). Or, try your hand at journaling weekly lists ($16.95) based off of prompts to help nurture self-expression and self-development.
8. For When You Need to Focus
Just because you work from a home office doesn't mean it's without distraction. Stay in the zone with these noise canceling headphones ($399.95). If you want to try out the Pomodoro Technique— working in 25-minute increments followed by short, 5-minute breaks—with this fun cube timer (from $14.99).
9. For a Bit of Green
Having plants in your office isn't just easy on the eyes, it also helps keep the air clean and may even reduce stress. Pick the plant that speaks to you and thrives in your level of light at The Sill (from $5). Take your plant game to the next level with a levitating fern ($99.99) that needs no soil or water.
10. For Prioritizing Your Health
When you're feeling under the weather it's hard to produce your best work. Boost your energy and lift your mood naturally with a lamp designed to deliver cycles of natural lite to support your circadian rhythm (from $199). But perhaps getting out of the house is more your style. Find local workout classes from ClassPass (from $9).
---
Find independent consulting jobs with top companies through MBO's marketplace
---