Top 10 Tips for Career Transition in The Time of Covid-19
In these challenging times executives are suddenly being forced to prepare for an unwanted career transition. Others have been planning a departure to retirement, or second career self-employment, for years.
The recent DC/Baltimore Chapter of Women in Cable Telecommunications Zoom webinar, an online webinar for women in career transitions, showcased some of the best practices, whether or not the transition was planned. The panelists consisted of coaches, independent consulting experts, and industry recruiters responsible for large-scale hiring.

They included:
Jason Levin of Ready Set Launch
Vonya Alleyne, Vice President, People Solutions at Cox Communications
Sara Caso Conde, an advisor for high-earning consultants at MBO Partners
Renee Hauch, a career recruiter with Carlsen Resources, Inc.
Lynn Romano, a recruiter with Spectrum
The session was moderated by Monica Lucero of Deloitte, a leader with the WICT group.
Here are the top ten tips they shared during the session:
1. Write a Resume for a Human – Not a Computer
Be wary of those resume services that sell you resume writing services focused on a machine, shared Jason Levin from Ready Set Launch, a DC-based career transition firm. Resumes don't have to be perfect to lead to a job. But they do have to be able to a tell a story.
2. Employ Story-telling Techniques To Stand Out
See your resume as a story of impact, not a list of past roles. Vonya Alleyne, a recruiter with DC-based Cox Communications emphasized that by telling a story, you will have a greater impact with a hiring manager.
3. Be Open to Project Based Roles
As you cast your net, and network for new jobs – consider roles that are full-time, contract or retained/statement of work-based project consulting. Sara Caso Conde, Director of Consultant Services at MBO Partners, shared that you should focus on how you can impact an organization and worry less about the kind of role – and success will follow. This is key advice for individuals interested in companies like MBO Partners which helps independent consultants and their enterprise clients work together
4. Reading Your Resume Out Loud May Be More Useful Than a Video Resume
A good trick shared by Lynn Romano, a recruiter with Spectrum, is to read your resume OUT LOUD. See what questions are generated as your read it out loud to friends and family. Proactively prepare answers to these questions in advance to an interview. Renee Hauch, a seasoned industry recruiter with Carlsen Resources, Inc. shared this pro tip for video resumes, which is a new tool employed by some candidates to stand out, is that they aren't as commonly used, so may not be the best use of time or investment unless already common in your industry vertical.
5. Everything Counts – From Your Linked In, To Your Actual Email Address
Make sure your LinkedIn profile is set up as recruiters do look at it when making hiring decisions. Once they outreach, recruiters are influenced by the email address you use. Using a strange email won't help you get a job. Get an email that uses your real name.
6. Maintain Full Control of Your Electronic Footprint
You can have an outstanding resume or LinkedIn profile, but if the rest of your electronic footprint is not as professional, it can impact your ability to be hired. Vonya reminded the group to set smart boundaries on what is shared publicly – as you are a personal brand. She shared stories of candidates losing positions due to information available online that gave employers hesitancy in making a hiring decision.
7. Make a Gratitude List
Even in the times of Covid continue to make connections. List and thank those who have impacted and helped you. They are your natural network and deserve recognition. As a follow up, ask them for advice. Jason of Ready Set Launch shared this tip given to him by his own mentor, when he was job searching: "If you ask for a job you'll get advice. If you ask for advice, you'll get a job."
8. Referrals are the Best Source for a Recruiter
Vonya shared the statistic that at her firm, more than 50% of hires are referrals – and that talent management professionals are measured on the quality of the hire and organization fit. A current employee or hiring manager who refers someone may be one of the best ways to the next role, suggests Monica Lucero, who moderated the session and works at Deloitte.
9. Daily Exercise & Meditation is Key for Job Hunting Stress Management
Looking for a new role in times of Covid can be stressful. Sara shared that being open and managing mental health is key. Consider spending time with a therapist or coach and also investing in yourself. She suggested practicing "GLAD" – list 1 thing you are grateful for; one thing you have learned; an accomplishment; and something that has delighted you." Read more about this practice here.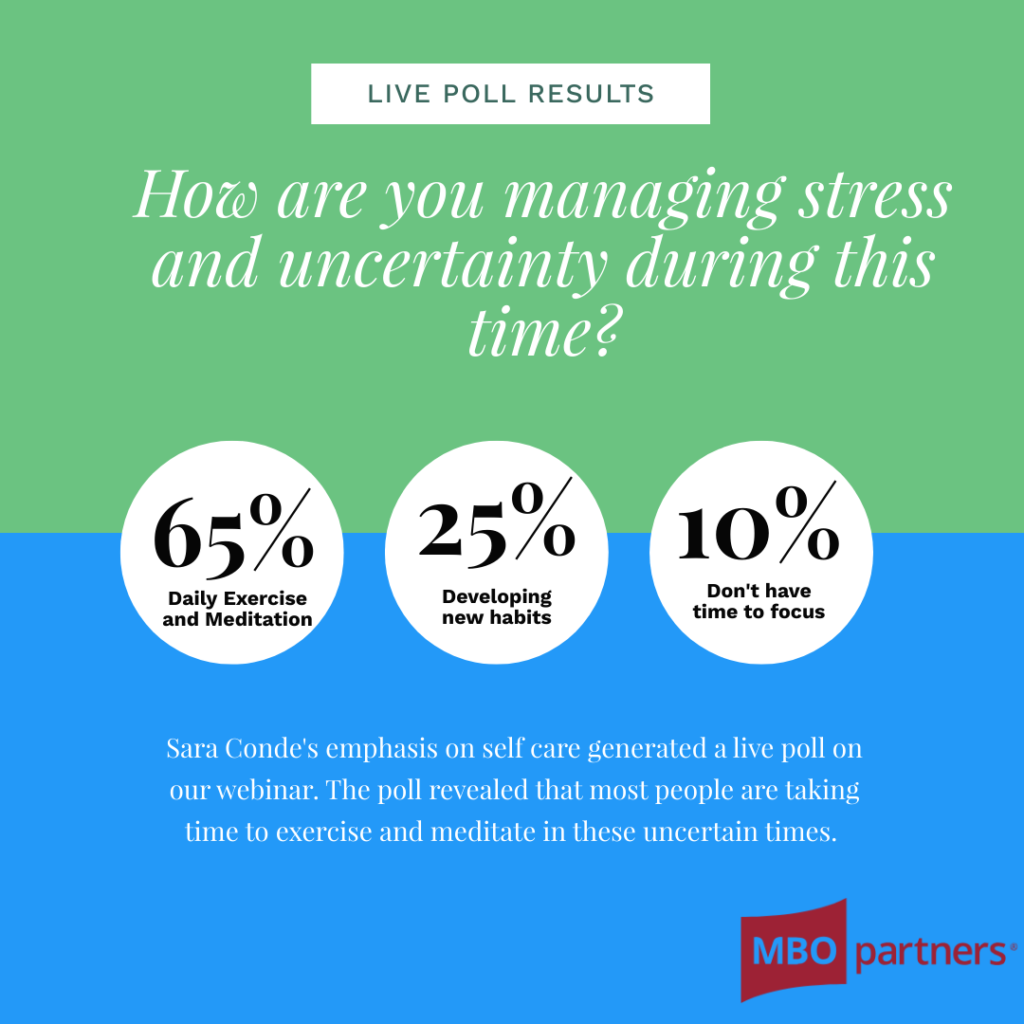 10. Faux-Pas to Avoid in Your Covid Job Hunt
Avoid being overly aggressive, advised Vonya. Be patient – and do your due diligence. In times of Covid, jobs may have 1,000 applicants instead of the normal 200 – which is why it's important to understand that recruiters are busy. Be respectful in follow ups, but don't hound them. Ask about time span for response and respect the recruiter's response. In the same arena, be careful about how to work around recruiters in order to go directly to a hiring manager. Respect that recruiters are helping their organization's hiring managers. Remember to always thank the recruiter afterwards. Whether that's giving a handwritten not or email, you should always thank them for their time. Sara gave a helpful tip for those of whom don't have great handwriting, but who still want to be more authentic. Instead, Sara said to use the digital tool Postable.com.
For those consider self-employment as part of their career transition, here's a good primer post from MBO Partners.

Learn more about the DC/Baltimore Chapter of Women in Cable Telecommunications, the host of the webinar, here: https://www.wictdcbalt.org/
---
Subscribe to our
blog
Get a weekly email of our latest posts sent straight to your inbox
Learn

more

about the MBO Platform
FOR INDEPENDENT
PROFESSIONALS
your independent business with MBO
Engage, scale, and optimize
your independent workforce