Webinar Recap: Bringing Diversity, Equity, and Inclusion to the Future of Work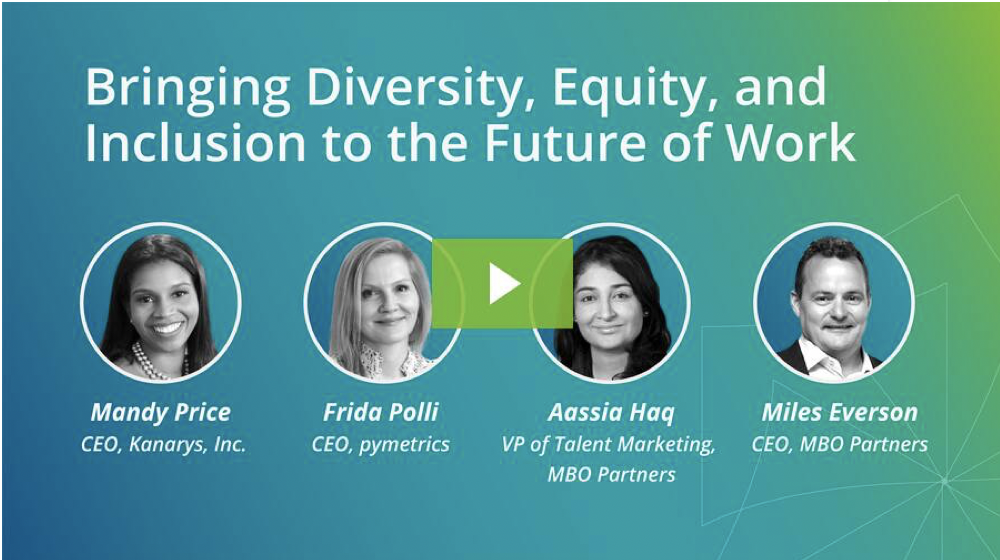 Did you miss the latest MBO's Future of Work roundtable discussion? On March 11, the series continued with the discussion: Brining Diversity, Equity and Inclusion to the Future of work.
Our featured roundtable featured key insights from:
Mandy Price, Co-Founder and CEO, Kanarys, Inc.
Frida Polli, Co-Founder and CEO, pymetrics
Aassia Haq, Vice President of Talent Marketing, MBO Partners
Miles Everson, CEO of MBO Partners
During the session these experts highlighted the growing need for organizations to establish a diverse pool of labor within their company. Together they discussed how to find, engage, and benefit from having diversity and a set standard of inclusion for ones business. They also gave insight into what it means to think strategically about integrating DEI into your company culture, and to holistically align these initiatives with your larger corporate strategy for 2021—and beyond.
For a list of the top subjects covered in this session:
What diversity, equity, and inclusion means for your organization as part of an ongoing labor conversation
Key stories of successful DEI initiatives inside large organizations
What MBO is doing to bring Opportunity for All to 10,000 Diverse Business Owners in 2021
To learn more about Melisa's executive coaching services, visit our App Store to book a consultation.
Subscribe to our
blog
Get a weekly email of our latest posts sent straight to your inbox
Learn

more

about the MBO Platform
FOR INDEPENDENT
PROFESSIONALS
your independent business with MBO
Engage, scale, and optimize
your independent workforce