Earn Residual Income with MindSumo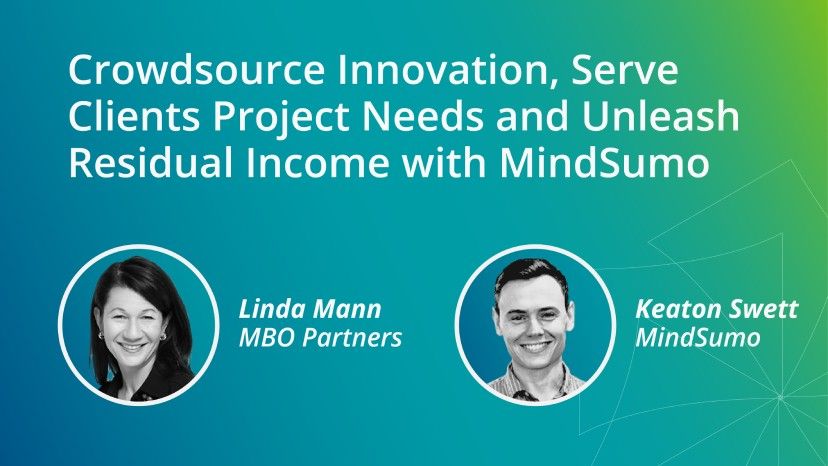 In our DECEMBER 3RD webinar, Crowdsource Innovation, Serve Clients Project Needs and Unleash Residual Income with MindSumo, MBO's VP of Product and MindSumo founder, Keaton Swett, and MBO Chief Experience officer, Linda Mann, shared the value and strategies of crowdsourcing, specific MindSumo capabilities that are now available to MBO talent providers, and how selling innovation to clients can be a fantastic way to unlock new revenue and business development opportunities in the new year.
During the hour-long Q&A session focused on crowdsourcing, Keaton and Linda explained in-depth how crowdsourcing is a way to drive innovation and how it has the capability of becoming more widespread across various industries and geographies. They explained that crowdsourcing solutions can effectively help independent consulting practices bring rapid crowdsourced innovation and insights to their clients seeking this key capability.
Some of these tips included:
The value of crowdsourcing as a tool for innovation
How MBO providers can leverage MindSumo to bring value to their clients
How to unlock new revenue channels through MindSumo in 2021
Why crowdsourced innovation is a great message to sell to clients in the coming year
If you didn't get a chance to tune in live, please listen to the recording, shown below.
Past MBO Webinars:
Check out recordings and recaps of other recent MBO virtual events:
Stay tuned for more MBO events, such as our upcoming webinars in the new year.
To learn more about MindSumo and our other apps, visit our app store.
Subscribe to our
blog
Get a weekly email of our latest posts sent straight to your inbox
Learn

more

about the MBO Platform
FOR INDEPENDENT
PROFESSIONALS
your independent business with MBO
Engage, scale, and optimize
your independent workforce