Webinar Recap: Life Goals – Managing Employee Experience in the Future of Work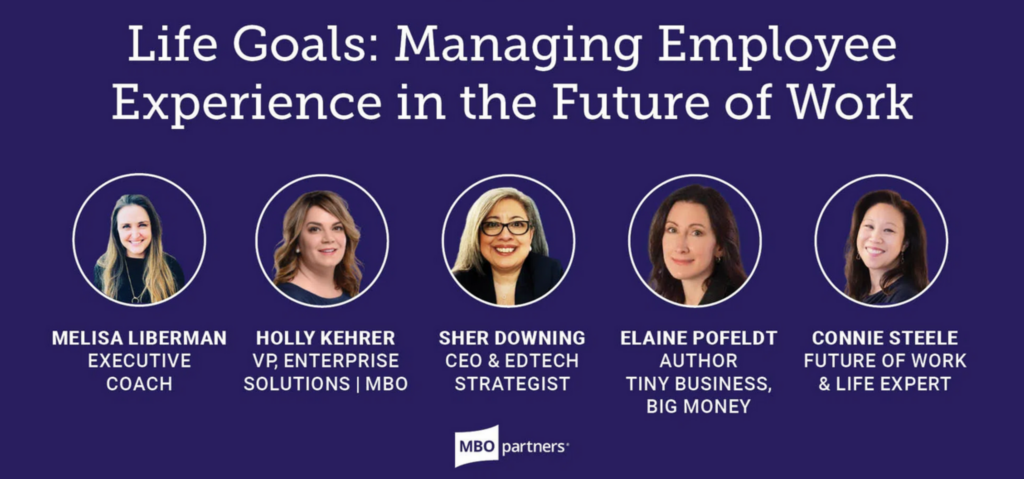 More and more, workers are leaving corporate America by choice. Rather than becoming independent due to job layoffs or other events, they choose independence for their lifestyles and life goals. It's an intentional choice, and the number of people making it is accelerating.
Company leaders across all business sectors are recognizing the need to shift from thinking about the employee experience to considering the overall worker experience—full-time, part-time, and independent. Our February 23rd webinar brought together a group of experts with insights into the independent experience and how companies can attract top talent. Panel members were:
Elaine Pofeldt, journalist, entrepreneur, and author (most recently Tiny Business Big Money)
Melissa Liberman, a former corporate executive who is now a business coach to independent consultants
Holly Kehrer, Vice President in the Enterprise Solutions Group of MBO Partners, helping clients create strategies and solutions around workforce optimization
Connie Steele, a former corporate executive, future of work expert, executive consultant, author, and researcher
Sher Downing, an EdTech strategist and consultant working with all levels of business in strategic planning, creative development, and virtual learning
Several questions were posed and discussed during the webinar. Here are three :
What is changing right now about how employers of choice work with independents?
Employers are becoming more intentional and strategic in their view of the total workforce. They understand that overlook kind of high-impact independent talent. They've started creating workforce models with independents as a critical component. Looking from a holistic talent perspective is helping move the needle.
What do high-powered independents want, and how is it different from the traditional worker?
Life goals are essentially the same for independents and employees. The workforce generally wants to align personal values with organizational values. It's more than just money. The life goals report produced by MBO and Connie Steele compared employees and independents across eight life goals, and independents reported higher success in most of them. This could be because they've chosen a workstyle that allows them to find meaning in their work and life.
How can workplaces redesign themselves to attract and keep top tier independents?
Most organizations have a way to go here. Panelists agreed that a critical area of opportunity for enterprises is the onboarding experience. Unless leadership can make it easy to engage and retain independent professionals, they will miss out on this entire population of high-impact talent. Leverage technology to make the engagement and onboarding process easy, pleasant, and compliant.
Organizations are starting to see bottom-line benefits in creating an optimized workforce. For example, all full-time workers can be fully allocated from a resource management perspective, while the skills and expertise in your independent workforce can be available on demand. Further, there's a desire for a greater partnership among all members of your workforce. Fostering this partnership will help motivate independent talent to continue to work with you, alleviating the need to bring in new contractors continually.
In short, if your organization hasn't begun incorporating independents into its talent strategy, it's a perfect time to start.
Check out the full webinar to hear the entire discussion about managing the worker experience.
Subscribe to our
blog
Get a weekly email of our latest posts sent straight to your inbox
Learn

more

about the MBO Platform
FOR INDEPENDENT
PROFESSIONALS
your independent business with MBO
Engage, scale, and optimize
your independent workforce