Webinar Recap: Stand Out From the Crowd: Insights from Expert Recruiters to Get Noticed for Projects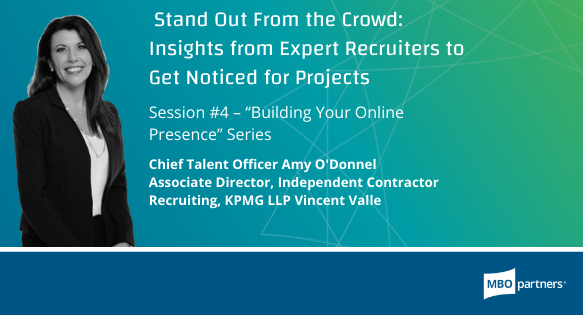 In our November 17th webinar, Think Like a Recruiter: Stand Out From the Crowd: Insights from Expert Recruiters to Get Noticed for Projects, MBO's Chief Talent Officer Amy O'Donnell and special guest Vincent Valle, Associate Director of Independent Contractor Recruiting at KPMG shared insights on how to get inside the mind of recruiters and get noticed for job opportunities with some of the world's top companies.
During the hour-long Q&A session focused on independent professional recruitment, Amy and Vince explained in-depth how expert recruiters search their networks and use online tools to connect independent professionals to client projects. The session included many other essential tips to boost a resume and get noticed.
Some of these tips included:
How to structure your resume and online profile to make you stand out from the crowd.
What key phrases or words to place in a resume, to catch a recruiter's eye.
Which tools today's recruiters use to find top talent.
The best 'tricks' to boost your LinkedIn and MBO marketplace presence.
If you didn't get a chance to tune in live, please listen to the recording, shown below.
Past Sessions in the "Building Your Online Presence" Series:
Check out recordings and recaps of other recent MBO virtual events:
Session #1 – Developing Your Online Presence as an Independent Consultant
Session #2 – Grow Beyond Your Network as an IC
Session#3 – Think Like A Recruiter
Stay tuned for more MBO events, such as our upcoming Dec. 3rd Webinar: Crowdsource Innovation, Serve Clients Project Needs and Unleash Residual Income with MindSumo with MBO's Chief Experience Officer, Linda Mann, and MBO's Vice President, Product and Co Founder, Mindsumo, Keaton Swett.
Subscribe to our
blog
Get a weekly email of our latest posts sent straight to your inbox
Learn

more

about the MBO Platform
FOR INDEPENDENT
PROFESSIONALS
your independent business with MBO
Engage, scale, and optimize
your independent workforce