10 Actions to Take This Summer to Drive Business Success in 2021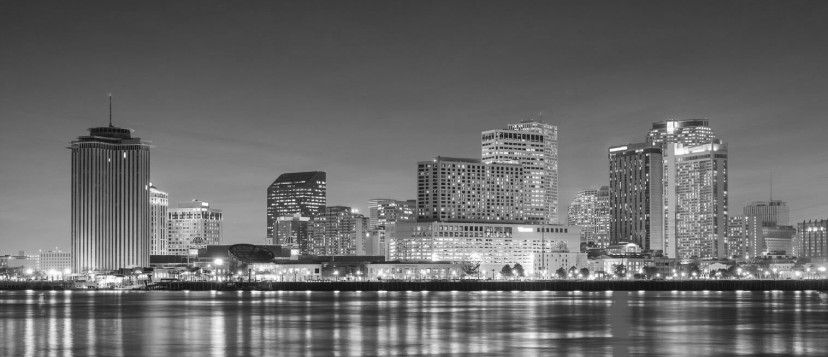 There are many euphemisms for the current corporate climate, from "business unusual" to "a new normal." Suffice to say, normal implies a state of stasis that today's business leaders should consider contrary to business objectives.
For both the future of work and the key question of employee well-being, case studies, workforce insights and a perspective on the trends can equip leaders with the right tools to weather not just the pandemic – but what is certain to be a next few months and even years of rapid change.
In the near term, however, it's important to begin with a thorough assessment of what is currently happening at enterprise organizations, and to leverage low-hanging fruit to drive simple wins, particularly as they relate to one key sector of the future of work: talent engagement.
Consider these 10 ways to drive success in 2020 that can start today and set enterprises up for success both now and in the future.
1. Review Your Talent Mix
Many agile organizations have moved towards articulating an ideal talent "mix" in the wake of COVID-19. It's no surprise that many enterprises cut FTE talent during the pandemic, either as a result of reduced business or to shift operating models for cost and labor efficiency. Now, as business begins to pick back up, organizations are left with a strategic question – how to do I remain viable without simply re-committing to cost?
The answer is not as simple as to simply engage a large pool of contract labor. Through a workforce optimization exercise, MBO can help organizations decide the best way to structure independent talent as part of a strategic long-term organizational goal, as well as consult on how to leverage a combination of FTE, offshore, and highly skilled IC talent to maximize results.
More than 70 percent of organizational leaders hope to grow or maintain the size of their IC programs in the wake of COVID-19, a recent poll conducted by MBO Partners found, indicating that increased use of contingent labor will remain a priority both later this year and even into 2021. Those who articulate a plan and work towards implementation of a modern business model first will lead the pack.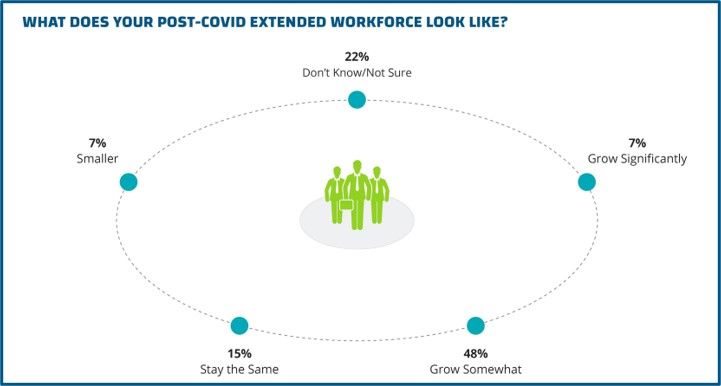 2. Understand the True Cost of Independent Contractors to Your Organization
Getting one's head around independent contractor engagement costs is easier said than done. First, one must have a centralized independent contractor engagement program, ideally one that eliminates rogue spend and appeals to a broad range of engagement types. Many organizations will need to understand not just how much is currently spent on contract and independent labor, but how this talent is sourced, managed, and paid. It is likely that initial figures are low or inaccurate, due to siloed or incomplete data, and that many managers have engaged talent in a less-than compliant manner, such as paying them with a credit card or engaging one-off contactors via a non-vetted talent marketplace. These so called 'rogue' engagements can open an enterprise to misclassification risk, prevent true spend auditing, and derail attempts to create a cohesive, Client of Choice style engagement program. Waiting until an issue emerges can be a costly mistake.
To understand the true cost of engagement programs, one must understand both how talent is currently being engaged, be it via direct sourcing, third party marketplaces, or staffing firms, but also how programs are implemented and adopted broadly throughout the organization. When senior leadership declares that use of independent labor is a strategic priority and facilitates implementation of a strategic program for engagement, then one can begin to not only realize, but to manage and drive down costs.
3. Clearly Articulate Policies to Mitigate Risk
Another value of executive buy-in comes from clearly and centrally articulated policies, which can benefit both enterprise and talent. When management designs a holistic program for sourcing, managing, paying and engaging talent, both costs of procurement and execution for a program decrease, and adoption and satisfaction increase.
4. Create Proactive Talent Pools
Even once articulated, a long-term talent management and direct sourcing strategy take time to implement. Beyond effective program design, there is work needed on the part of both the organization and their IC talent to buy-in and adopt the program to see results.
Many organizations indicate that they are still somewhat in flux with 2020 plans, which seems only natural given the fast-changing business landscape. As such, we've seen great success with the creation and branding of proactive talent 'pools,' or areas of future strategic growth.
MBO will work hand-in-hand with clients to recommend areas for pools based on program-level and competitive industry data, as well as guide proactive marketing and outreach for these pools to ensure proper expectations at the IC level.
5. Consider an Alumni Re-Engagement Strategy
In the current business climate, it's likely that many enterprise organizations have needed to reduce current FTE labor force, either through layoffs, early retirement, or strategic furloughs. But savvy organizations can use their alumni population to their advantage. Many ICs find their first client in their prior employer.
Savvy enterprises would do well to look at alumni populations as a potential community to engage, strategically inviting former FTEs to talent pools, community groups, and offering inside opportunities for IC engagements. MBO Partners is the only platform to offer multiple engagement services, ranging from a straightforward payroll program to a streamlined vendor management initiative, allowing enterprises to leverage talent however they wish to engage, while remaining compliant.
Our clients benefit from customized consultations on the best ways to set up and manage these programs, ranging from a targeted transition management to proprietary marketplace set up and design.
6. Review Program Communication Frameworks
Any program is only as successful as its communication of benefits and value. Many of these programs are new concepts to both enterprise and to independent consultant, and a significant shift from the staffing or compliance models of yesteryear.
During this transition period, a thorough audit and review of current program framework and communication materials, both into the organization and out to talent, can provide valuable insights on utilization, adoption, and future areas of program growth.
7. Review Policies to Drive Towards Client of Choice Status
Once organizations begin to audit program communications and frameworks, they realize that changes could be made, both to better drive adoption and to turbocharge program results.
Among independent professionals making more than $100,000 annually, 64 percent said they have a lot of choice in picking clients and 29 percent said they had some choice, our 2020 Client of Choice research found. The data suggest independent professionals successfully curate their clients, as 86 percent say they are either very satisfied (72 percent) or satisfied (14 percent) with their client relationships and only 1 percent say they are dissatisfied. Companies are also reporting this shift. In our interviews with HR and procurement executives, 57 percent reported finding skilled independent talent challenging or very challenging.
Even in a fairly open labor market, which we've entered post COVID, in-demand independents are able to drive forward their own vision of how to work with clients, and those with IC-friendly policies and procedures will be best primed to succeed.
Data suggests that simple areas of improvement can be made without major technological or program changes – independents want to be treated as part of the team, provided opportunities for skills development, and to work with clients that demonstrate a positive work environment where their contributions are valued.
8. Educate C-Suite and Hiring Managers Alike
Successful independent contractor engagement programs require buy-in at both the C-Suite and the tactical, line-manager level. Business unit leaders should be armed with trends around building and growing an agile workforce, as well as the value of a modern business model. Hiring managers must understand not simply that they can use independent talent, but how that talent can make their jobs easier while maintaining or lowering overall costs and time.
During these next few months, take time to understand where your program is best functioning. What works, and what doesn't? As use of independent talent grows across and organization, generally one business unit or user type will stand out. Take opportunities to use that organization to help evangelize program use organization-wide, or even internationally.
MBO invests time across its account management structure to speak with all stakeholders within client organizations, offering programming specifically dedicated to improving client experience across all levels of an organization. In areas of particular industry focus, strategic working groups are also available to facilitate cross-industry knowledge and to allow for knowledge sharing in a secure and collaborative environment.
9. Create Community Engagement Programs
At its core, an independent contractor engagement program is only as successful as the core of the program: the independent contractor community. Leading enterprise organizations realize that it is not simply a series of well-executed policies and procedures that make a program successful, but the often-amorphous piece called 'community,' which can take many forms and facets.
In the newly all-remote world of COVID-19, we as FTEs realized the isolation that can quickly take over when all forms of 'natural' connection are paused. Independents have felt this for years, often citing disconnection and isolation as reasons for considering a transition back into traditional employment.
Now is the time to build trust and traction with the independent community by improving not just the engagement and execution of your program, but the community aspect as well. MBO helps clients leverage a variety of tools to streamline and improve everything from contractor onboarding to skills-based training, as well as specialized engagement programs to drive additional contractor satisfaction, loyalty and affinity.
10. Plan for 2021 with a Future Proof Workforce Strategy
We are fully halfway through a 2020 that looks and feels much different than anyone could have possibly imagined in January. It can seem difficult to predict what will happen next week, let alone next year.
We find a few areas are safe bets, however. At present, 41 million Americans work independently. Even in a strong jobs market, within five years, more than half of the U.S. workforce would have tried independent work at some point in their careers. In an uncertain economic climate, this number will grow faster by necessity. But for savvy enterprises, it can also become a selling point – using highly-skilled independent labor to drive R&D functions forward, to partner with FTEs to innovate on new lines of business, and to offer fresh perspective on entrance to new markets.
Working with independent talent and strategically articulating a strategy that is not about cost management or tactical engagement, but a true future of work plan that includes ways to let people do the work they love, the way they want will benefit your organization now and in the years and months to come.
We'd love to hear from you. Drop us a line with your thoughts, or to set up a call to learn more: enterprisesolutions@mbopartners.com.
Subscribe to our
blog
Get a weekly email of our latest posts sent straight to your inbox
Learn

more

about the MBO Platform
FOR INDEPENDENT
PROFESSIONALS
your independent business with MBO
Engage, scale, and optimize
your independent workforce