How to Engage Independent Contractors (Guide): Costs and Methods
Independent professionals bring in-demand skill sets, specialized expertise, staffing flexibility, and organizational agility. It's no wonder that an increasing number of organizations are tapping into this valuable pool of  talent to power a new competitive advantage. In fact, more than half of executives say the external workforce enables them to improve the overall financial performance of their company and is important in managing  business costs.
However, many independent contractor engagement initiatives include practices that increase costs, alienate key talent, and put companies at risk. Knowing the direct and indirect costs associated with various  engagement methods can help enterprises develop a smarter independent contractor engagement strategy, giving them a distinct competitive advantage in today's project-based economy.
GATE
In this guide, you will learn
What qualifies a worker as self-employed or independent?
In order to be considered an independent contractor, a worker must first possess the mindset to work independently—they should pursue self-employment and have the desire to run their own business.
However, even if someone wants to work as an independent, they must also meet numerous legal qualifications to be classified as an independent contractor.
We have found that in addition to differing levels of self-employability, workers who consider themselves to be independent professionals have individual preferences and requirements too. Some are clearly compliant and may immediately qualify to work as a 1099 independent contractor. Others are clearly non-compliant and are happy with standard, W-2 employment status. A significant number, however, fall into the middle of the spectrum—we refer to these independent professionals as gray-zone workers. This group sees themselves as independent professionals, yet they may be missing one or two provisions that prohibit them from being classified as an independent contractor. For example, they may not have an active professional website or meet certain business insurance requirements. In our experience working with over 60 enterprises, less than 40% of self-employable talent qualify as a 1099 contractor on their own.

How to best engage gray zone talent
We typically see engagement happen one of two ways: 1. Rogue Engagement or 2. Restrictive Engagement. Rogue engagement occurs when the enterprise does not have a centrally managed program, leaving managers who need talent to their own devices, and restrictive engagement occurs when the enterprise uses a strict, one-size-fits-all program.
Rogue engagement 
Some businesses engage gray-zone workers as independent contractors even though they may not be fully qualified. This type of rogue engagement leads to high costs because this spend is not managed strategically as a category within the enterprise. Without visibility to this spend, it becomes nearly impossible to systemically drive cost savings opportunities.Rogue engagement also puts the enterprise at risk for misclassification, which can be very costly. If an enterprise is found guilty of misclassification, they may be liable for paying back taxes, benefits, or penalties to misclassified workers, in addition to working through lawsuits or dealing with reputational damage costs.
Restrictive engagement
To address the risk of misclassification, many companies engage gray-zone workers as a W-2 employee on a payroll program. This type of restrictive engagement also results in high costs, primarily due to the fact that payroll program markups range from 20-50%.It is also important to note that independent professionals often do not want to be engaged this way, leading higher-billing workers to look for ways to circumvent this classification or take their skills elsewhere. Managers may also be motivated to sidestep this program to keep their independent workers happy. When this happens, managers may opt for rogue engagement, leading to the same high costs discussed in the former scenario, thus making true spend visibility very difficult to achieve.
Is there a cost savings solution for engaging gray zone talent?
The ideal solution is to provide flexible engagement options that appeal to a broad range of independent work engagements and worker types. This creates a win-win situation for the enterprise and for the talent: it mitigates misclassification risk and allows talent to work the way they want. This approach provides a significant cost-savings opportunity as well. The business can avoid costly payroll markups and realize a cost benefit from avoiding the fines and penalties associated with misclassification.
A third way to engage independent contractors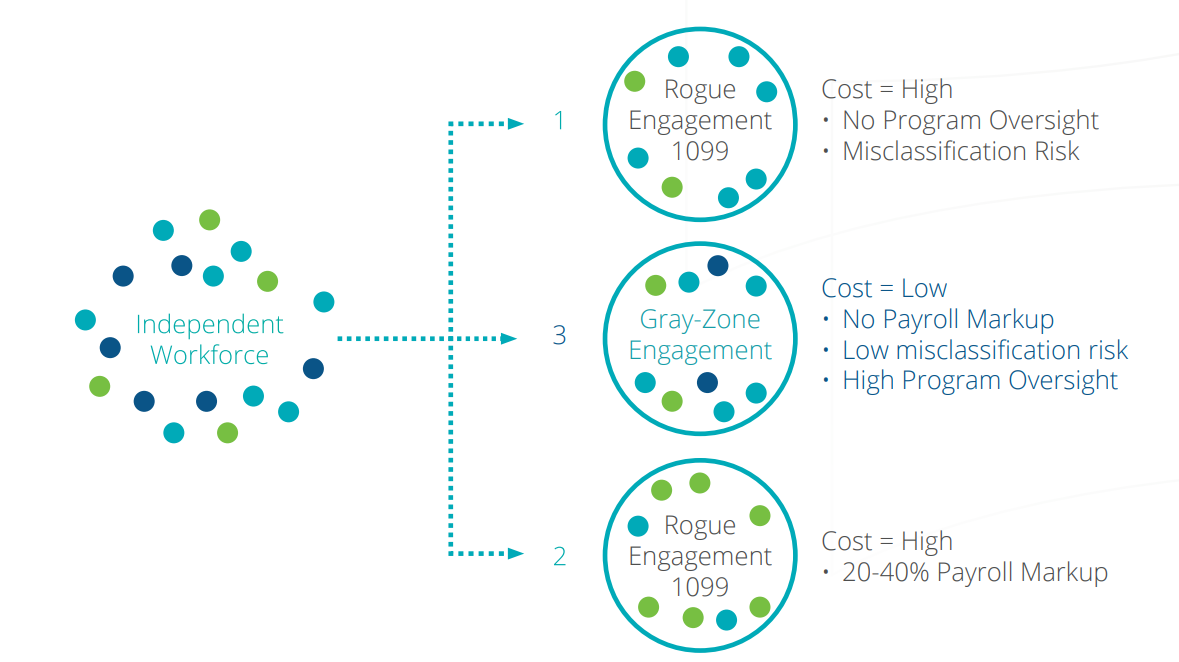 Results from a case study in cost and compliance savings
In order to transition to an engagement solution for gray-zone independent professionals, many organizations today are choosing to partner with a firm like MBO Partners that specializes in independent contractor engagement and compliance. MBO can help make it easy for independent professionals to do business with your company while ensuring engagement practices are compliant with state and federal regulations, and prioritizing cost savings.
Case study: A Fortune 500 cloud computing company came to MBO with two issues
The war for high-performing independent talent is heating up and the company needed to adopt a program that was independent contractor friendly.
Managers did not follow a set process when engaging independent contractors, leading to a lack of spend and compliance oversight.
Here's how MBO helped them find solutions
MBO worked with the company to audit their existing program and implement a flexible engagement model that appealed to a broad range of independent  workers.
MBO developed a simplified compliance program for managers, eliminating administrative burdens by allowing them to easily find, engage, and manage
independent talent.
Here are their results
In establishing a more flexible engagement model, the company has realized an estimated savings of more than $1.4 million in annual operating costs.
Since implementing this new program, the company has mitigated their misclassification risk, and is now efficiently managing their independent contractor spend.
Additional thoughts
Independent professionals are an essential part of the talent ecosystem of many organizations and their presence will only continue to grow in the coming years. In order to realize the cost savings from this new world of work, businesses will need to adjust their workforce strategy to effectively accommodate this talent segment.
Subscribe to our blog
Get a weekly email of our latest posts sent straight to your inbox
Learn

more

about the MBO Platform
FOR INDEPENDENT
PROFESSIONALS
your independent business with MBO
Engage, scale, and optimize
your independent workforce