How Much Does It Cost to Run a Small Business?
The many administrative and support tasks that must be done to effectively run a business is a big part of every small business owner's job. Without an organized and well-managed back office, your business can suffer.
While larger companies have teams of employees and individual departments to handle these types of tasks, when you run your own business, it is up to you to fulfill these roles. You are the CEO, project manager, accountant, marketer, and more. Starting your own business is both exciting and full of responsibility—preparation is the key to success when making the leap to independence.
There are many hidden management costs that can impact your ability to be competitive in your industry. The infographic below summarizes common back-office tasks along with solutions to consider. Estimated cost (low to high, $-$$$) and time (low to high, T-TTT) have been attributed to each solution.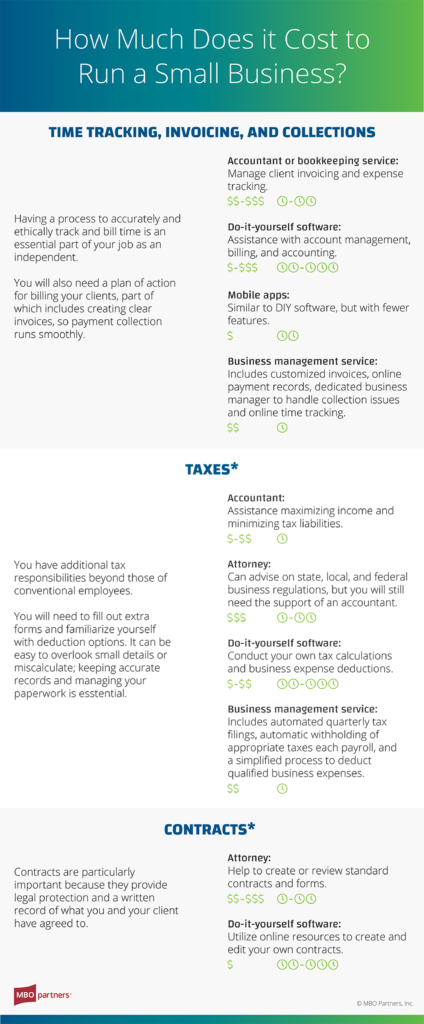 At MBO Partners, we provide you with everything you need to run your independent business.
If you're considering becoming a full time independent consultant, learn how to prepare yourself by reading: How to Transition from a Full Time Job to Self-Employment. To figure out how much you should charge as an independent consultant, read How to Calculate Your Bill Rate and Salary as an Independent Consultant.
The information provided in the MBO Blog does not constitute legal, tax or financial advice. It does not take into account your particular circumstances, objectives, legal and financial situation or needs. Before acting on any information in the MBO Blog you should consider the appropriateness of the information for your situation in consultation with a professional advisor of your choosing.
---
Find independent consulting jobs with top companies through MBO's marketplace
---
Subscribe to our
blog
Get a weekly email of our latest posts sent straight to your inbox
Learn

more

about the MBO Platform
FOR INDEPENDENT
PROFESSIONALS
your independent business with MBO
Engage, scale, and optimize
your independent workforce