Meet Stacy Pilgreen: A Veteran Small Business Owner in the National Security Industry – Special Operations and Intelligence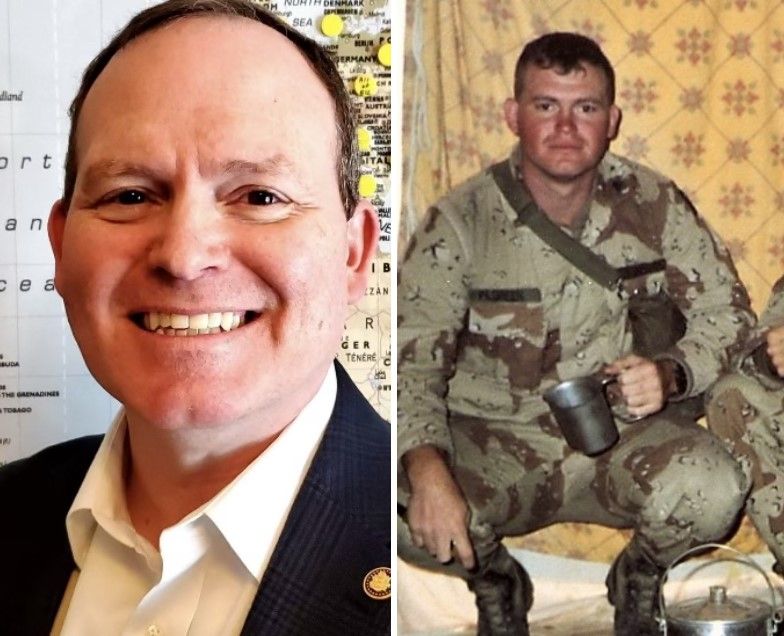 On Stacy Pilgreen's wall in his home office are pictures of transport aircraft that he has parachuted from during his Army career. This visual is apt for a military career that includes 54 countries.The MBO Advantage team sat down with Stacy to discuss what he has learned from his long military career, professional life as a project manager and leader – and his move into a third career as an independent small business owner of Fortis Cohort (or 'Strong Brotherhood' in Latin). In this rich profile, we touch on Stacy's career and his perspective on the challenges and opportunities of being a veteran small business owner.
"I grew up in Oklahoma as part of a farming family, and went on to college at Oklahoma State University. I was a few years in when he realized, I simply couldn't afford to continue. I was broke, and getting serious with my high school sweetheart. I needed to complete my degree, so I enlisted as an infantryman in the Army. After army training, I came back to OSU to complete my degree. I was commissioned as an Officer the day I graduated. At that time, in the 80's, the economy was not strong. I was blessed to graduate first in my class. Life took me to active duty."
As Stacy reflects on an intense 25-year army career in intelligence and special operations, he is first and foremost grateful to God, and to his dedicated wife and family. He is also grateful for the many securities and freedoms he had taken for granted growing up at home in the US. "I was in harm's way many times – fourteen times to be exact – but each time, I was able to come home," he shared. "I had clean, potable water, a democracy I took for granted. I saw that others around the world, didn't have what I had."
Given the nature of his work, Stacy was deployed a full five years of his 25-year career, and this took a toll on family life. This is what led him to first pivot – to move into a professional role at government contractor Booz Allen Hamilton. "Before I decided to leave the military, we had a vote at the family dinner table. And we decided – "it was time to pop smoke and cover my retreat." The family ended up in Chantilly, Virginia and Stacy become a project manager, spending 9 years in business, growing into a more senior leadership role by learning the ropes.
"I was not new to leadership – but I was new to the ways of corporate business. I was blessed to learn that from the ground up, from inside a strong company -Booz Allen."
"I was not new to leadership – but I was new to the ways of corporate business. I was blessed to learn that from the ground up, from inside a strong company," said Stacy. He credits his tenure at Booz Allen with helping set the stage for his future role as a business owner. "Because of the networks of contacts and the skills I acquired, I was finally ready to be my own boss." He founded Fortis Cohort in May of 2020, as his own LLC, and he hasn't looked back.
We asked Stacy: How does a veteran make a successful transition to ownership?
Knowing when to say no and yes: "In a military setting, it is very difficult to say no to the next promotion and say yes to making a change. Evaluate when it's time, and consider saying no to the next assignment, promotion, to fulfill a longer-term life path as an owner. Once you make the leap, remember to also say learn to say no, when you want to achieve work life balance."
Build a network: "I would not have had the network to start a firm when I left my army career. It took my years of professional work to grow my network to include VP's at buyer companies and professional contacts that could engage with me when I set out on my own. Work to build a strong network before going out on your own."
Learn business and financial management skills: "I learned forecasting, building a rolling pipeline, proposal writing at Booz Allen. It took on-the-job training. I learned the lingo – RFI, RPF, Price to win strategy. All this was lingo others knew and I didn't, back when I started out. Take the time to learn, and consider a career that allows you that personal growth and development."
Know the Goals & Know the Risks: "I came to small business ownership in my 50's. I was looking to do well. But I was not trying to be the next Amazon. That wasn't my life goal. Know your goals and know that you have to be willing to put in the work. Unlike at a company, as an owner, you can't make mistakes. It's your business – and you have to succeed, or you don't put food on the table. Ensure you are ready for that personal accountability."
For those considering a transition to independent consulting, Stacy shares the top 5 benefits:
Leadership: "Leading and managing a team or staff is just like leading in the military – vets can hit the ground running. Vets know how to 'follow' when a client is running the show."
Managing Ups and Downs: "Vets are used to mission uncertainties, something that is also inherent in small business. They can weather the uncertainties of IC life better than most"
Bureaucracy Experts: "The government and large Industry clients have plenty of paperwork, compliance and policies that everyone has to navigate. Unlike civilians, vets understand this aspect of the business. Vets roll with the punches in this area–doesn't mean they like it, but they understand it."
Mission-Driven: "Vets inherently know when to roll up their sleeves and complete the mission, if even at a high personal cost. They are trained to operate alone or as a team—all of which are great skill set valued in a business setting."
Moral Compass: Vets have integrity, honor and a strong moral compass – this goes a long way with clients and can make up for initial weaknesses in other areas like technology."
Today, Stacy enjoys a rich network, quality time with his wife and family, all while enjoying being an owner and growing his practice at Fortis Cohort. He is also passionate about building better mentorship programs for veteran business owners and independent professionals.
MBO and our MBO Advantage team, thank you for your service.
Stacy's story is a part of our series about veteran business owners across MBO's platform. Read more MBO Advantage Veteran stories here.
Subscribe to our
blog
Get a weekly email of our latest posts sent straight to your inbox
Learn

more

about the MBO Platform
FOR INDEPENDENT
PROFESSIONALS
your independent business with MBO
Engage, scale, and optimize
your independent workforce