Worker Classification Tests: DOL, IRS, State Tests for Classifying Workers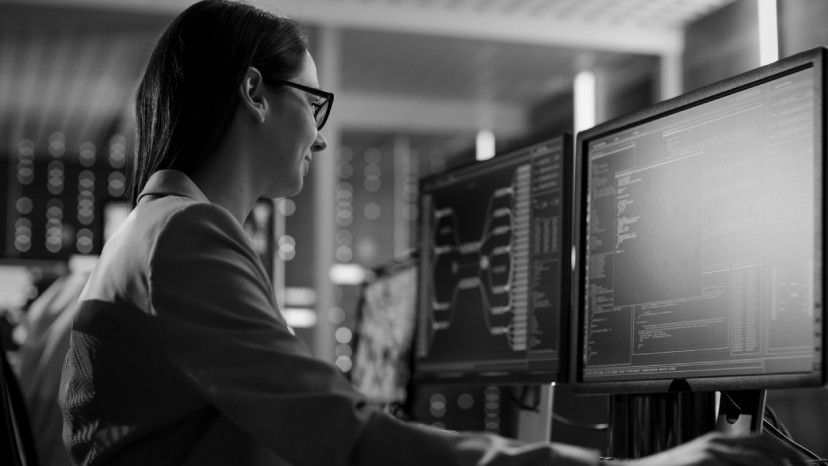 Questions and concerns around employee misclassification continue to grow as the independent workforce rises in number. Misclassification can lead to decreased tax collection revenue, loss of employee entitlements such as minimum wage and overtime pay, and class action lawsuits from unhappy workers.
Dozens of federal- and state-level tests exist to help businesses determine whether or not a worker is an independent contractor or an employee, but these tests vary from one another and are open to interpretation. This creates confusion and frustration for workers, companies, and the government.
To dig deeper into the tests and guidance surrounding worker classification, we will explore the classification guidelines from the United States Department of Labor (DOL), the Internal Revenue Service (IRS), and individual states.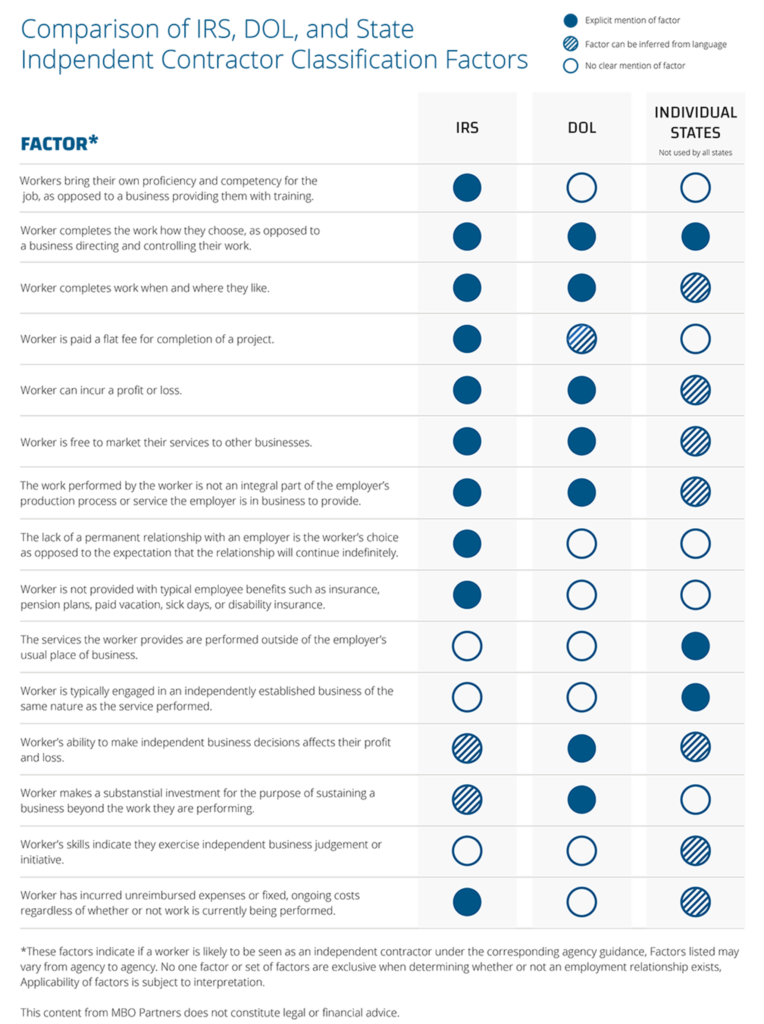 DOL (Department of Labor) Guidance on Independent Contractors and Joint Employment
On June 7, 2017, the DOL announced the withdrawal of their 2015 and 2016 informal guidance on independent contractors and joint employment—a case in point of the fluctuating information available regarding independent contractor classification.
The 2015 memo emphasized the use of the economic realities test developed by a number of courts, and which provides a broader scope of employment than the common law test. The economic realities test focuses on whether a worker is economically dependent on their employer (in which case they would be considered an employee), or whether they are in business for themselves (in which case they would be considered an independent contractor). This memo created the presumption that most workers are employees.
The 2016 memo focused on further defining joint employment—an arrangement where two companies both have rights and obligations as an employer. This is common in the world of independent contracting where a staffing company is responsible for HR-related functions such as payroll, and a second company maintains responsibilities for the contractor's work agreement. This memo suggested that both companies could be deemed liable for violations of wage and hour laws even if one of them did not exercise direct control over the other's workers.
While withdrawal of these memos does not relieve companies of their legal obligations under the Fair Labor Standards Act (FLSA), which provides minimum wage and overtime pay protections to nearly all U.S. workers, or the Migrant and Seasonal Agricultural Worker Protection Act, it suggests that misclassification investigation and enforcement efforts may be reined in, and that joint employer status may only be applied when one company has direct control over another's workers.
The FLSA does not have a single rule or test to determine worker classification; these memos simply sought to provide the Department of Labor's position on worker classification and joint employment. They may have created arguments that some workers should've been covered under the FLSA.
IRS Common Law Test for Worker Classification
The IRS is involved in independent contractor classification because they must provide guidelines for employers' tax liability. Depending on the type of business relationship an employer has with their workers, they may or may not be responsible for withholding income taxes, withholding and paying Social Security and Medicare taxes, and paying unemployment tax on wages.
In order to determine if a worker is an independent contractor or an employee in the eyes of the IRS, businesses must weigh common law rules—facts that provide evidence of the degree of control and independence in the relationship between a worker and a business. These degrees of control fall into three categories:
1. Behavioral Control
Behavioral control looks at how much say a business has over the work being done and how the work is done. Generally, if a worker is told when, where, and how to do a job, they are generally considered to be an employee. On the other hand, if a worker does not require guidance or training, completes the work as they see fit, and works where and when they like, they are generally considered to be an independent contractor.
2. Financial Control
Financial control looks at whether or not a business has the right to direct or control the financial and business aspects of a worker's job. For example, it is more likely for independent contractors to incur unreimbursed expenses than employees. Independents will also typically provide their own equipment or tools, whereas employees will rely on their employer to provide anything extra. Payment is another factor. While employees are paid a regular wage in exchange for working a specific period of time, independents are typically paid a flat fee for completion of a project. Independents can also incur a profit or loss from a job, and are free to market their services to other businesses.
3. Relationship of the Parties
A contract that defines the relationship between parties and describes a project to be completed in a specific time period generally indicates the relationship of a business with an independent contractor. On the other hand, if a worker is engaged for an indefinite period of time, if they are provided with benefits such as health insurance, vacation, or overtime pay, or if they perform services similar to regular business activity, this generally indicates the relationship of a business with an employee.
State Worker Classification Tests and MOUs
In the past, the DOL Wage and Hour Division (WHD) worked with the IRS and individual states to combat employee misclassification through information sharing and coordinated enforcement. In the 2015 fiscal year, these investigations resulted in the payment of more than $74 million in back wages for more than 102,000 workers.
Currently, 43 states have signed a Memorandum of Understanding with WHD in an effort to protect against misclassification. The MOUs affirm the intent to help provide easy access to employees and employers, share information, and coordinate misclassification investigation efforts. Many of these MOUs will expire over the next year.
In addition to efforts to combat misclassification, many states use the "ABC Test," which applies three factors that must be met for a worker to be considered an independent contractor. While the ABC Test is subject to interpretation and clarification state-to-state, it generally consists of the following parts:
The worker is free from the employer's direction or control over their work,
The services the worker provides are performed outside of the employer's usual course and/or place of business, and
The worker is customarily engaged in an independently established trade, occupation, profession, or business of the same nature as the service performed.
Individual states may also have different laws regarding independent contractors and unemployment compensation, worker's compensation, and state tax collection. State-level Departments of Labor may provide additional state-specific information on these topics.
For now, determining worker classification will remain a complex issue. To minimize exposure to misclassification liability, organizations should follow federal and state guidelines as closely as possible, keep documents on file support their decision to classify a worker as an independent contractor, and use a written contract in all independent contractor engagements. Partnering with a third party such as MBO Partners to manage engagement can minimize or eliminate compliance issues as well.
Do you have more questions about independent contractor engagement or classification tests? We're here to help! Contact us today.
The information provided in the MBO Blog does not constitute legal, tax or financial advice. It does not take into account your particular circumstances, objectives, legal and financial situation or needs. Before acting on any information in the MBO Blog you should consider the appropriateness of the information for your situation in consultation with a professional advisor of your choosing.
Learn more about the MBO Platform
For Independent Professionals
Start, run, and grow your independent business with MBO
Find, manage and retain top-tier independent talent