7 Travel Tips for Road Warrior Independents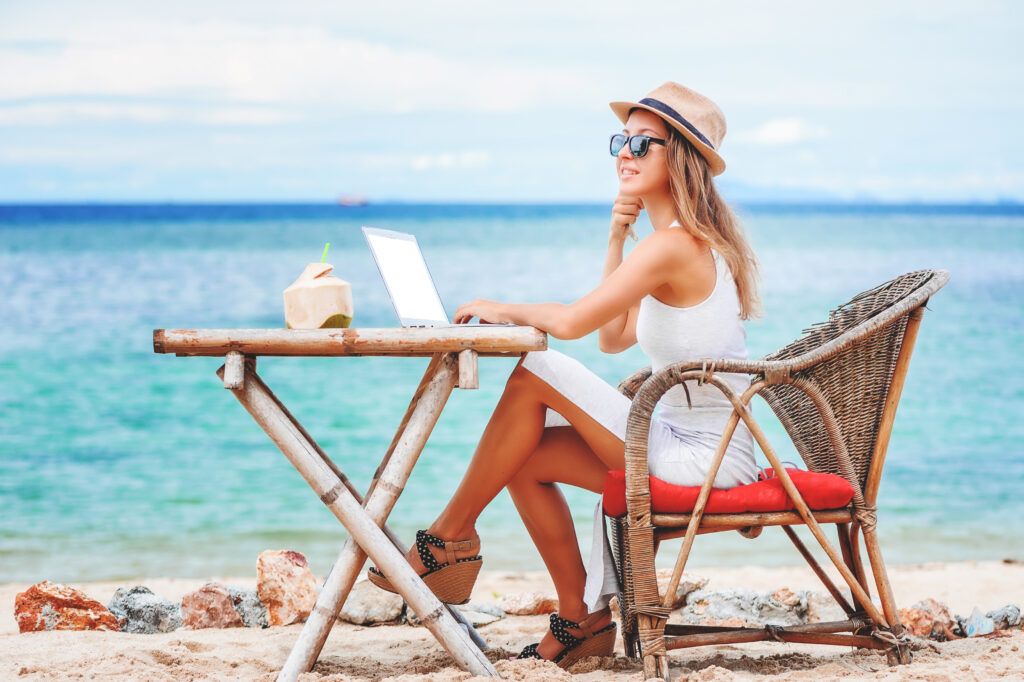 Key Points
Digital Nomad lifestyle is on the rise
These tips can help you navigate traveling while overseas.
How one navigates the travel-heavy lifestyle is not just a skill, but a necessity.
The MBO Partners 2022 2022 Digital Nomads research study found that 16.9 million American workers currently describe themselves as digital nomads, increasing 9% from 2021 and a staggering 131% from the pre-pandemic year 2019. With such an increase the life of the self-employed "road warrior" has many twists and turns. How one navigates the travel-heavy lifestyle is not just a skill, but a necessity. In this post, we highlight some of the best ways to lighten your baggage—both physical and emotional—in your business travels.
Footing the Bill
As an independent consultant, you have the right to bill your clients for travel expenses. Many contracts lay out a set rate for mileage and the like, regardless of the actual price you've paid for that flight, train, rental car, etc. There are a number of applications and resources that can track these and appropriately bill clients, so we encourage you to explore.
It Pays to be Loyal
Much like your consulting practice, those who reward you with their business are those with whom you tend to have the best relationships.
Both frequent flyer and hotel/car rental rewards programs allow its members to get elite status, perks, upgrades, and other bonuses with each purchase. Don't have the luxury of being able to use the same airlines/hotels/etc. every time? Consider getting a rewards credit card – you can collect points/miles for any purchase, no matter which company you choose for a particular travel itinerary, or what exactly you may be purchasing (that includes earning points for a regular trip to the grocery store!).
With so many loyalty programs and so many account numbers, passwords, and other critical information to remember (like how many points/miles you've earned), we recommend using a virtual "Award Wallet" that can provide immediate access to these accounts when booking/arriving. We recommend an app with the same name.
Advance Planning Pays Dividends
While life on the road certainly has its perks, the traveling alone can put significant damage on your wallet…and your sanity.
Booking transportation, whether flights, trains, or even buses, well in advance – 4 to 7 weeks before a trip – provides better opportunities to get lower rates. Still, according to travel executives, airlines usually have 10-15 different price points for a flight; rates can change at any time. That said; once you see a good deal on a flight/train/etc., book it immediately. The price may change within hours.
Additionally, by subscribing to email alerts on travel sites like SmarterTravel, AirfareWatchDog or Google Flights, you'll be alerted about sales, price drops, and more for transportation and hotels.
Lastly, be aware of any additional fees that may come with what might be perceived as a great rate. Fees can range from checked bags to now even printing your ticket at the airport.
(Direct) Buyer Beware
When booking a flight, you typically want to spend the least amount of time shuffling through an airport (or two), or sitting on a runway. Did you know there's a difference between "non-stop" and "direct" flight? Direct flights might still make stops between your departure airport and your destination – it would just keep you on the same plane, sitting on the runway, as opposed to making you switch planes. Just be sure to always look at the "travel time" column when comparing options. It can also behoove you to fly "non-stop" on a distance trip, thus avoiding a potential missed connection, delay or opportunity for misplaced baggage. After all, if you bill $125 an hour, a single connection could be valued at an hour's work or less.
Know Your Baggage to Avoid Any…Baggage
Of course, the best way to reach your destination comfortably, with all the essentials in tow, is a solid, foolproof packing strategy.
Similar to fees, be sure you're aware of any baggage restrictions before starting to pack. Also, consider which forms of luggage might be best for the particular type of traveling you do most, especially if you're looking to invest in a new set! The current trend is to try to utilize carry-on luggage almost exclusively, and rightfully so. Less checked bags means less risk for your belongings, your schedule, and your wallet.
When packing, the first thing to do is make a list of what you'll need. Consult the weather forecast for your destination, as well as the meetings/events on your schedule so you can be appropriately dressed for each occasion.
To avoid over packing (a common pitfall), we recommend using neutral colors and basic styles so they can easily match with various other items. Also, Condé Nast has finally put to rest to the age-old debate regarding the most space-efficient method for packing clothes: flat packing versus rolling (spoiler: it's flat packing!).
For Your Files, For Your Safety
As for business documents – can they be shipped ahead or printed onsite? If not too costly, it is strongly recommended. And of course, always keep a flash drive of all the essential documents in case of any emergencies or last-minute printing needs.
Also, for your safety, always keep a picture of your driver's license/passport and credit cards saved to your phone and/or computer. It's important to have this in case anything critical is lost or misplaced.
Stay Connected
From the tasks we need to complete to the activities we wish to have, every one of us has varied internet needs. This is why it's crucial to consider connections while abroad. It's a good idea to research mobile hotspots or ask your service provider about their possibilities for hotspot functionality.
Take Charge!
Speaking of backup, be sure to charge all critical electronic devices the night before, but leave it near your keys/purse/wallet so it's all packed with your carry-on as you head out the door.
Everyone has their own approach or "hacks" to the road warrior lifestyle. While our tips can certainly be a big help, these merely scratch the surface.
---
Looking for work as an independent consultant? Join our marketplace to search for your next project
---
Subscribe to our
blog
Get a weekly email of our latest posts sent straight to your inbox
Learn

more

about the MBO Platform
FOR INDEPENDENT
PROFESSIONALS
your independent business with MBO
Engage, scale, and optimize
your independent workforce