5 Creative Client Engagement Strategies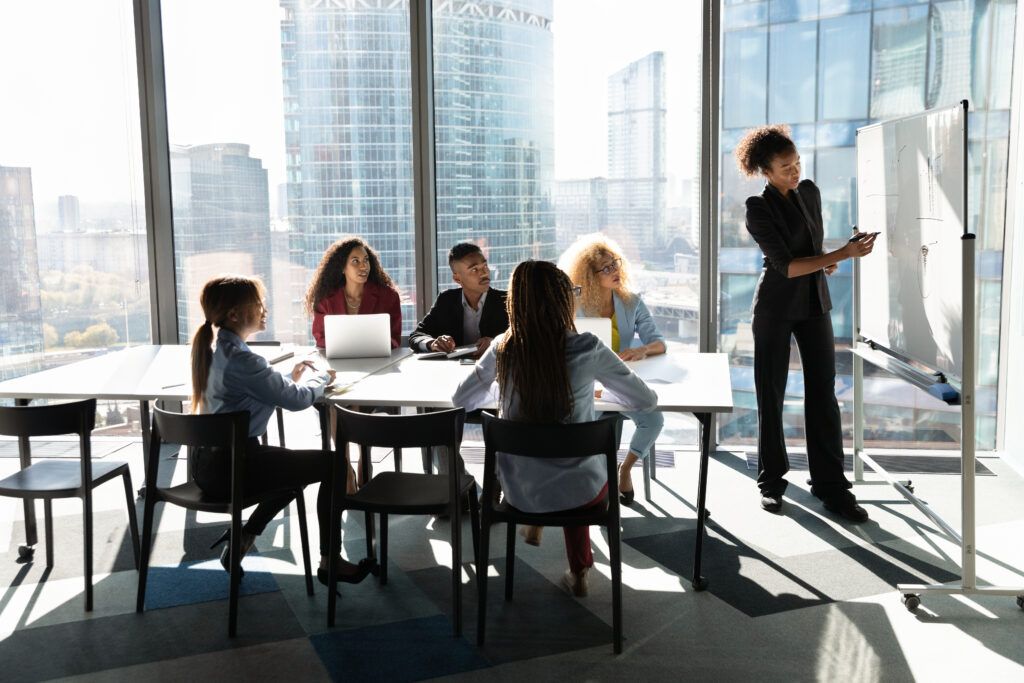 Key Points
Increase client engagement to grow your business and build better relationships with existing clients.
Collaborating with one of your peers is a great way to stand out from the crowd and find new clients.
Client referrals help boost your credibility and can be a great marketing tool.
Finding and keeping clients is a primary part of your job as a small business owner. Networking, communication, and growing an online presence are good baseline strategies, but your business should stand out in a more memorable way. We've put together a list of five creative ways you can find, engage with, and keep the clients you want.
1. Host Live Events
After a few years of working remotely, online video tools like Zoom are second nature to most people. And that's good news for your business. There are so many creative ways to engage with existing and potential clients online.
Use live stream features on your social media channels to give people a look inside your business. You might highlight a project you've worked on in the past, ask people to submit questions that you can answer, or talk about something new and exciting in your industry. Your live stream doesn't have to be long—you'll be surprised by the amount of information you can cover in 10-20 minutes and the time will go by quickly.
You can also use online tools like Zoom to host webinars. You might interview an expert or one of your peers, answer questions, or walk through an issue a client is having as a case study. Remember to promote any type of live event you host and be sure to record it. That way you can repost the videos later. Easy content creation!
Check out: Top 6 Virtual Meeting Tools for Small Business Owners
2.
Engage Potential Clients on Social Media Platforms
If you know the type of clients you are trying to target, you likely have a good idea of the social media channels they frequent. While you don't need to maintain a presence on every platform out there, it's a good idea to focus on two or three. This will help you cast a wider net to reach potential clients.
Encourage followers to interact with you by asking questions, responding to comments, or offering a little reward for engagement such as a fun gift or small discount. Run a poll, ask people questions, and be sure to respond and interact with your followers.
Yes, social media is a time commitment, but if you keep it light and fun, your brand will shine through. People want to know the person behind the business, and social media engagement is a great way to build brand loyalty. Remember, you want to be top of mind when these potential clients need your services.
Up next: 5 Ways To Use Social Media As An Independent Professional
3.
Partner with Other Independents
Collaborating with one of your peers is a great way to stand out from the crowd and find new clients. As a business of one, it can sometimes be hard to take on all the work you want or complete the type of project a client is looking for.
Partnering with another independent can help you take on those larger or more complex projects. Perhaps the person you partner with has a completely different set of skills that perfectly complements your own expertise, or perhaps you work in the same industry, and you can accomplish more together.
Learn more: Consultant Partnership: When Partnership Consulting is Best
4.
Get Visual
Most of your client engagement will be done online, so get ready to get visual. Visual posts tend to have much higher engagement rates than just posting text alone. Try to include a visual element with each piece of content you post.
Photos are the easiest visual element to include with your content and are a great place to start. If you want to get a bit more creative, try creating a reel on Instagram, a meme that relates to your industry, a data-driven infographic, a slideshow, or an animated graphic.
Check out: 8 Effective Marketing Strategies for Consultants
5.
Ask for a Referral
Client referrals are a helpful way to drum up new business. Referrals boost your credibility and are a great marketing tool. Engage with current clients by posting polls or surveys asking for feedback. Monitor reviews for your business on Yelp, Google, etc. Respond to or address any feedback—positive or negative.
Think of referrals as bookends for client engagement. If you've done a good job engaging your client (and they are happy with your work) they will likely be happy to give you a referral when your project is complete. In turn, this can lead to a new client and a new opportunity for more engagement.
Try this: How to Get Client Referrals

Subscribe to our
blog
Get a weekly email of our latest posts sent straight to your inbox
Learn

more

about the MBO Platform
FOR INDEPENDENT
PROFESSIONALS
your independent business with MBO
Engage, scale, and optimize
your independent workforce