7 Predictions for the Future of Work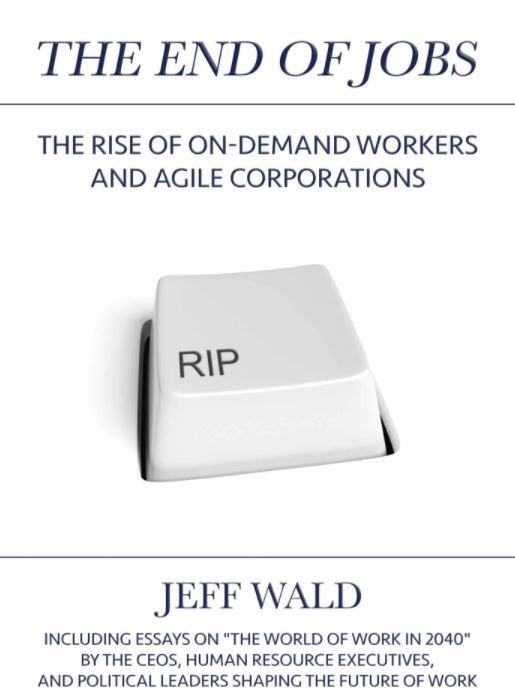 Exclusive Excerpt from "The End of Jobs: the Rise of On-Demand Workers and Agile Corporations" by Gene Zaino
The world has witnessed incredible workforce changes in the past century, and even more rapid acceleration of change in recent decades. Today's workforce is on a rollercoaster ride, one where new developments and innovations and changes to ways of working are exacerbated by the current coronavirus pandemic, increasing political pressure, and an abundance of rapid and ever-evolving societal changes.
Earlier this year, founder Gene Zaino contributed a chapter to The End of Jobs: the Rise of On-Demand Workers and Agile Corporations, in partnership with industry expert Jeff Wald, co-founder of Workmarket, an ADP company.
When Wald approached Zaino to write a chapter, he had just celebrated the birth of his first grandchild. Zaino structured his chapter as a letter to her and to the workforce of the future, combining wisdom and predictions into a single, unifying message.
Zaino accurately predicts some of the turmoil that awaits independent workers and the world at large, forecasting that it will get worse before it gets better. But get better it will. He foresees independents as "Ironmen," empowered by the technology and resources at their disposal to build vibrant, powerful and self-driven careers, as well as the rise of a "Maker Force" of independents purpose-driven to do the work they love and to provide value to themselves and to others along the way.
As we head towards Independence Day, a holiday designed to remind us of the freedoms we hold most dear, this message feels particularly appropriate.
Independent work is very much a choice, one enabled by the platform that Zaino has dedicated his career to building.
In today's post-COVID-19 world, Zaino looks towards a future that gives workers control of where, how, and when they work, and also enables enterprise access to strategic and agile talent.
Below, find key insights from the chapter that resonate not just as predictions for 2040, but in the workforce of today as well.
The Independent Workforce is Here to Stay
Over the past 20 years, the rapid rise of the independent workforce has created new opportunities and challenges for our economy and society. These will continue to be a major force impacting our lives in the next 20 years as well. By the time you take your first full-time job, more than half of the workforce will be or will have been at some point in their career, self-employed.
We will see people combine a treasure trove of technologies, data, and resources to build their own productive version of an Ironman suit, giving them the power of independence to pursue their passion and financial wellbeing. Savvy individuals will use technology to work smarter, to work more productively, and to protect themselves and their careers against obsolescence as they leverage tools to make themselves—and their work—more valuable. These skills and tools make you powerful, creating an armor, just like an ironman suit, that will insulate you and let you do things you've never imagined.
The Tale of Two Independents Is Real
In contrast to the need for a safety net for the those relying solely on app-based commodity services, we need to encourage and enable people to work independently, giving them the freedom to build their skills, to be happier, and to know that they are a productive contributor to society. It will be important to carefully balance these two conflicting policy vectors. Too much of a protectionist environment will inhibit the use of independent workers, taking away the freedom to choose to take on the risks and rewards inherent in independent work.
Savvy Organizations will Capitalize on the Independent Workforce
As skilled independent labor continues to grow, organizations will place a premium not just on the workers themselves, but also on the results and successes driven from the projects independents complete. It is here that the model of working in the future will really begin to change, as we move from a traditional workforce to a fractionalized one where work itself is packaged as a product to be purchased, rather than paid for by the hour.
It Will Get Worse (Before it Gets Better)
Today's employment system is broken, and it has been for some time. Workers no longer leave a company after 50 years with a pension and a gold watch. They no longer build careers at one or two companies. Instead, they transition in and out of traditional employment, joining companies to create stability for a growing family, to learn a new skill, or to leverage an opportunity. Employers need to think in the same manner. They position their most valuable asset as their "people," treating their full-time workforce to benefits like healthcare and paid leave, offering training opportunities and valuable development benefits. But they often sideline their most strategic assets—their contract workforce population—by treating them like second-class citizens. The tipping point won't be pretty. We must move towards a world where independents are seen as a valued economic and entrepreneurial asset, we'll swing the other way in an attempt to protect a broken world of work.
The Maker Force is Coming
What's a maker, you ask? Makers are those who leverage more than just labor, time, and materials for their jobs. Makers take their knowledge and produce an asset that can derive value, and with that value, income, both now and in the future. Examples of this include writing a book, selling a song, creating a new service, or investing in productive assets like real estate or software, as well as traditional methods of making a product for sale (perhaps on Etsy or some new marketplace).
Moving forward, people will earn livings your living based not just on a flat, transactional skill set, but based on your intellectual property, a concept previously reserved only for companies, and your income-generating potential and value to the market will grow accordingly.
Data is the Rocket Fuel to Get Us to the Next Level
In the coming years, the tools we have to perform, optimize, and complete work will grow faster than we've ever imagined. This technology will be the rocket fuel we need to help today's consultants become the maker force of tomorrow. Savvy independents will team up with each other to leverage relationships, to capitalize on shared intellectual property, and to fractionalize work, so that income will be a separate concept from 'hours worked.'
We'll Learn Balance and Redefine "Success"
Thanks to AI, technology, and shifting workforce demographics, we will leverage a unique opportunity: to become a maker in the micro-business economy—the independent workforce of the future—taking ideas, passion, and talents and selling them back to the workforce not just as a worker bee in someone else's hive, but as a thriving business of one.
To do this, one must leverage resources, how to make the most of data available, forge partnerships, and more.
We'll Need Community More than Ever
Nobody can do this alone. A key failing of technology is that it can make us feel invincible. After all, we can meet, talk, and connect virtually with anyone in the world with the push of a button.
But technology is worthless without real, meaningful communication. At every moment, use any available resource to form deep, meaningful relationships. This, in the wake of COVID-19, is particularly important. When face-to-face isn't available, how does one build and maintain connection? Similarly, listen, really listen, to what others have to say. Communication is one of the most important skills and one that will serve both independents and enterprises in the future.
To read learn more, read the full chapter, excerpted in its entirety below.
Read the Full Chapter Here
Subscribe to our
blog
Get a weekly email of our latest posts sent straight to your inbox
Learn

more

about the MBO Platform
FOR INDEPENDENT
PROFESSIONALS
your independent business with MBO
Engage, scale, and optimize
your independent workforce