How to Set Independent Talent Up for Success in 2023 (Guide)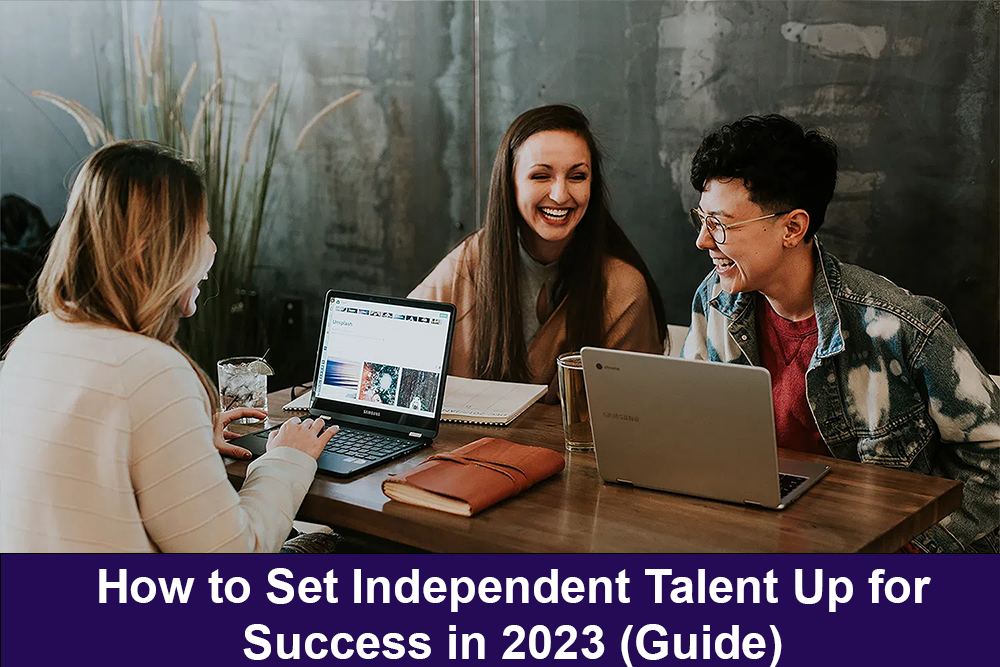 This guide covers best practices for a company and its managers to set up their independent talent for success in 2023. These practices are part of building an optimized workforce. It also includes self-assessments that help determine what's working and where improvement is needed.
GATE
In this guide, you'll find:
INTRODUCTION
The US business environment is experiencing an exciting phase as new ways of working have taken root. The COVID pandemic shook up long-held tenets about how to optimize productivity in the workforce and opened the door to a variety of work style options for employees and contractors. While some enterprises have moved back to the pre-pandemic work style—or at least attempted to—others are adapting. They are initiating or expanding remote work policies, accommodating digital nomads, and laying the groundwork for workforces comprised of full-time employees and independent professionals.
An optimized or blended workforce is the winning strategy for many enterprises across all sectors. Competitive benefits of such a workforce—with a large percentage of independent talent working alongside employees—include operational cost savings, increased productivity, and access to skills unavailable on the job market.
The US independent talent population virtually exploded after the pandemic lockdown was lifted. The total number of full-time, part-time, and occasional independents rose 34% in 2021 to 51.1 million, then jumped 26% to 64.6 million in 2022. This robust independent population supports an optimized workforce, allowing hiring managers to fill short-term and long-term roles with expert contractors.
It's one thing to have such a large talent pool available to you. Setting up for success means engaging the right independent professionals and motivating them to re-engage with you over time.
How well does your organization, and you as a manager, create an environment that supports the success of high-value independents and motivates them to continue to work with you and your team?
BEST PRACTICES AS AN ENTERPRISE
How hard is it to find a contract role at your company? Is there a clearly defined page on your website to find opportunities and submit proposals? Or does your company use a talent network or online marketplace? Once a manager has identified someone they want to hire, how streamlined is the vetting process? How long does it take for the contractor to get to work? Is the work fulfilling for them?
Setting up your independent talent for success begins with the right processes, technologies, and strategies across the enterprise. Review these five best practices and use the self-assessment template provided below to note how your company stands with each. This can help you create a 2023 plan to help set up you and your independent talent for success.
1. Engage the right talent
Setting up for success starts with having the right talent in the right role. Getting this practice right makes a big difference to your team's productivity and project outcomes. These tips are part of the most effective execution of this practice:

Put a talent network in place
Implementing a talent network is an effective strategy for proactively sourcing and managing groups of highly qualified independent talent. This pool of vetted on-demand pool independent professionals allows direct sourcing by hiring managers to fill project roles across the enterprise. It's also an excellent way of shortlisting talent for future projects.
Use marketing principles to attract talent from outside the network
Your talent network is not static. As the enterprise grows and adapts to changing markets, your talent needs will similarly change. This means that you will need to attract new talent on an ongoing basis. Think in terms of marketing to accomplish this. Create one or more campaigns that target independents with needed skill sets, using social media, content marketing, email—even webinars and live chat sessions.
Implement policies that address independent work styles
In addition to mitigating risk for the enterprise, policies can make it easier for independent talent to determine if their work style aligns with your company and to understand what will be expected of them. Implement policies that apply to your talent network, including a remote work policy, a digital nomad policy, and a cybersecurity policy that covers work done on contractor devices.
Have a range of compliant engagement options
Because independent contractors operate as their own businesses, they cannot be treated like traditional employees and must be classified according to IRS regulations. While it is important to put steps in place to ensure all independent workers will be properly classified, their situations are not "one size fits all." Independent contractors have different levels of self-employability and individual needs and requirements. Providing flexible and varying engagement options will allow the enterprise to attract and retain high-value talent while remaining compliant.
Review insurance requirements
The level and type of insurance a contractor must have will vary depending on their role. Check with your company's legal advisor about what insurance an independent contractor needs. At a minimum, consider requiring general liability insurance.
2. Clearly define roles, deliverables, and scope
The completeness and clarity of your contractor engagement has a significant impact on the quality of the work and results you achieve. It's well worth the time to go beyond templates and standard documents in setting up your talent for success. Keep these tips in mind to help make this practice most effective:
Tailor a standard contract for each professional
A written contract defines the independent professional's role, the type of work they will be accountable for, and the general terms and conditions required to do business together. Use the contract to define your ongoing engagement rather than to focus on a specific project—use the scope of work for this. Start with a standard contract template and work with your talent to add, delete, or modify it to fit a particular engagement. Collaborating on this can help set the groundwork for a good working relationship as you work through items like terms of engagement, project resources, and confidentiality commitments.
Use a scope-of-work template and modify it on a project-by-project basis
The scope of work—or SOW—defines the details of a specific project. Elements of the SOW include budgets, timelines, milestones, and deliverables. Again, start with a standard template and enter the details as completely as possible.
Make scope changes as easy as possible to put into place
The procedure for making scope changes should be detailed in the contract and can be repeated in the scope of work. It is beneficial to make the change process simple and fast. On the other hand, be sure to capture the right information so you'll have proper documentation.
3. Ensure that onboarding and re-engagement are fast and efficient
The onboarding process generally involves these steps:
An independent contractor filing a compensation or disability claim
An independent contractor filing for unemployment compensation
A whistleblower reporting worker misclassification
Dual classification
A large part of the process can be automated, and most, if not all, can be accomplished online. Implement software and tools with the right capabilities and hire third-party services for steps like background checks and enterprise-mandated training courses. The benefits to you and your talent are the ease with which onboarding gets accomplished and the ability to track completed actions easily and accurately.
Talent re-engagement should be easy to accomplish, both for you and for your contractor. It may be as simple as creating a new scope of work for both of you to sign.
4. Make payment processes efficient
A fast and efficient billing and payment process greatly support your talent's success. This is another area where automation is valuable. Online invoice submission is very useful to your contractors as it minimizes the overhead time needed to tender bills. Ensure accurate terms are entered into the system, so your independents are paid promptly according to their contracts.
5. Define communication channels
"Communication is key" is a frequent assertion in relation to people management success. While it is an accurate assertion and is particularly important when it comes to your independents' success, there are many modes of communication in a business. Many of these are manager-specific and are discussed below. On an enterprise level, channels that suit different communication forms can make work significantly more productive, partly because of time savings. For example, an email platform is a ubiquitous form of messaging, while Slack and Microsoft Teams allow fast, real-time chat in threaded form between team members and other people in the organization. Online collaboration spaces like Google Docs and SharePoint let people embed comments and conversations directly in a document.
Enterprise assessment to identify strengths and weaknesses
This self-assessment is an opportunity to take some time to consider where your enterprise stands regarding these best practices. Called a "spider diagram" for its (very) rough likeness to a spider web, one practice sits on each of the five points. The levels of effectiveness range from 1 (doesn't exist or is ineffective) to 5 (highly effective).  Consider each best practice and assign a score for each, then connect each point with a line. This should result in a visual representation of how well your enterprise is situated to support the success of your independent talent. Using this can help you plan and prioritize initiatives to improve enterprise effectiveness.
Download the enterprise self-assessment template
BEST PRACTICES AS A MANAGER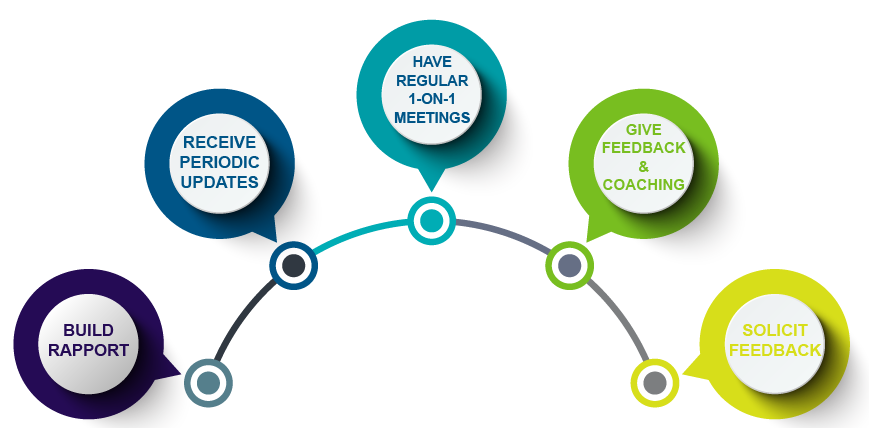 The extent to which you interact with your contractor will likely depend on the nature of their engagement. On one end of the spectrum, you may be engaging them for a short-term project with simple deliverables. On the other end, you may be bringing them on board for a long-term and complex project. The farther you are on the latter end, the more significant your management approach becomes. The whole spectrum, though, benefits from your support through these best practices. Each practice is connected to communication in some form—back to that all-important "communication is key" assertion. The more effective you are at each practice, the more you'll set your talent and team up for success.
1. Build rapport
Rapport is critical in any great relationship. Having something in common with another person instantly forges a connection. Without the bond that rapport creates, communication and collaboration are harder. An environment with good rapport supports a motivated, productive work experience.
In a first-time engagement, take time to review the material available about your independent talent to see if any items resonate for you. Schools attended, hobbies, and volunteer work are examples that could form the basis for collegial conversation. Alternatively, spend time talking with them and asking questions about anything that piques your interest.
One area that is likely to be fruitful is work. Independent professionals are business owners who have goals to achieve. They want to keep improving their skills to grow their companies. Talking to them about business or the skills they offer clients can be a major rapport builder.
Keep rapport in mind throughout your work with your independents. Check back with them, expand on conversational topics, and be interested in what they say.
2. Receive periodic updates
Set up a formal update milestone. The timing depends on the project and the contractor's role. In some cases, once a month or biweekly might be best, in others, weekly or even more frequently might be preferable. You can get a live update or simply ask for the information via email. One benefit, of course, is your ability to stay up to date with the work and project. A more subtle benefit is the sense of connection you will both feel, which helps keep the work interesting and productive.
3. Have regular 1-on-1 meetings
Regular 1-on-1 meetings can produce a high return on the time you invest in them. They offer the opportunity to spotlight successes and outline challenges, provide space for feedback, and strengthen your relationship. Like the periodic updates, the frequency of your 1-on-1s will depend on the nature of the engagement. At a minimum, have one at the start and one at the end of the project. When it comes to the meeting agenda, create a general flow for the time available, and, if feasible, ask your contractor to flesh out the specific agenda. Let them take the lead in the discussion while you ask questions and address any questions they have.
4. Give feedback and coaching
Provide useful feedback to your contractors, going beyond the notion of feedback as strictly "corrective." While it's important to note if improvements are needed, it's also important to acknowledge work well done and let them know what's working. With the rapport you've cultivated, your feedback will likely help your contractors in their own businesses and with other clients.
Coaching is also key, but it's different from the type you're giving your employees. Independent talent, especially newly engaged, will need education about navigating your organization's processes and procedures and about the company and team cultures. Empower them to get up to speed on "the way things work around here," and you will likely have a contractor who is well set up for success!
5. Solicit feedback
Soliciting feedback from high-value independent talent can be highly constructive. Your contractors may be in an excellent position to see where improvements to processes and other activities can be made. These meetings are an opportunity to build and deepen rapport and discuss challenges. Actively listening can offer you and your team new and potentially valuable information. Ask for feedback during your 1-on-1s or as part of your periodic updates (or both).
Self-assessment to gauge your effectiveness
This self-assessment can provide insight into how effective you are in your working relationship with contractors. Called a "spider diagram" for its (very) rough likeness to a spider web, one practice sits on each of the five points. The levels of effectiveness range from 1 (I don't do this or I'm ineffective) to 5 (I'm highly effective).  Consider each best practice and assign a score for each, then connect each point with a line. This should result in a visual representation of how well you are supporting the success of your independent talent. Using this as a guide can help you decide where you want to improve your contractor interactions.
Download the manager self-assessment template
Setting your valued independent talent up for success in 2023 is an all-around win. With the inclusion of contingent labor in an optimized workforce and collaborative, fruitful working relationships, the potential for business growth—for the enterprise and for your independent talent—is high.
Want to optimize your workforce with these and other best practices? Our workforce optimization experts are ready to help!
Subscribe to our blog
Get a weekly email of our latest posts sent straight to your inbox
Learn

more

about the MBO Platform
FOR INDEPENDENT
PROFESSIONALS
your independent business with MBO
Engage, scale, and optimize
your independent workforce