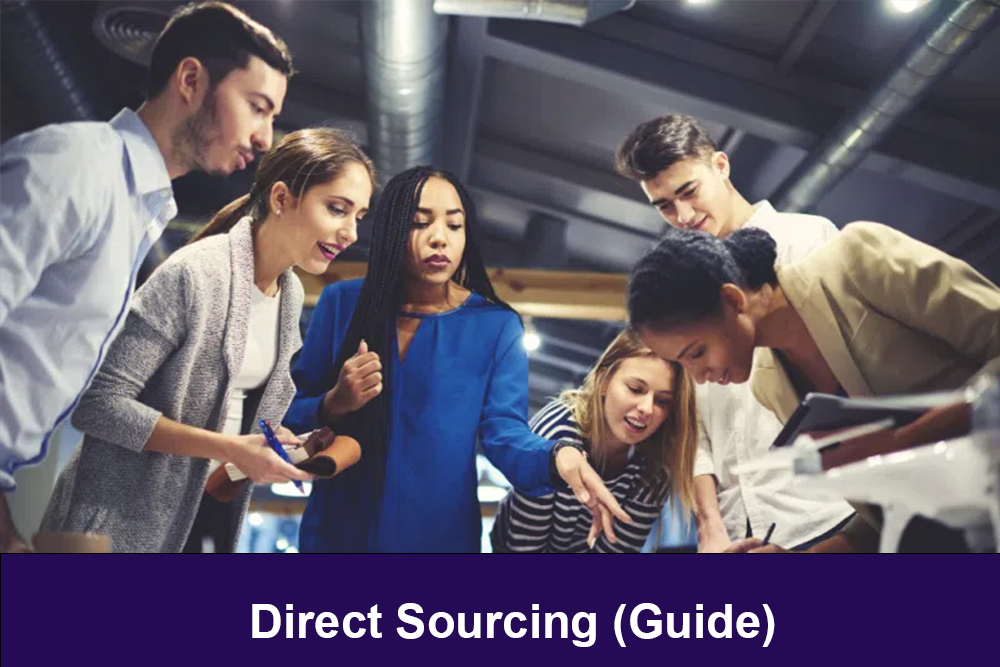 As the use of independent professional labor continues to grow, so does the need for more efficient ways to find and leverage this increasingly valuable talent pool.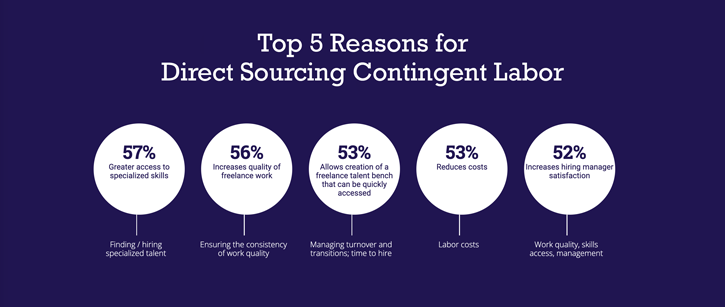 Source: Contingent Labor Report
Direct sourcing shifts recruiter functions in-house, enabling managers to search through a Talent Network, a group of vetted independents, to match skill sets with project opportunities and better anticipate future engagement needs. By looking beyond traditional channels of labor procurement like staffing firms, companies can streamline their process to fill their requisitions faster while saving 30-70% per engagement.
GATE
As part of a scalable multichannel agile workforce optimization plan, enterprise-grade direct sourcing platforms enable organizations to easily source, engage, and manage independent talent with mitigated compliance risk.
Direct sourcing platforms and solutions empower companies to leverage their own enterprise brand to engage contingent workers of all types in a faster, more cost-effective way that often results in an overall better experience for placed resources and engagement managers alike.
In this guide, you will get a comprehensive overview of the Direct Sourcing landscape, what to look for in a solution, and how to make it work for your organization. Remember to download the interactive checklist to help identify and define your specific needs.
6 Core Benefits of Direct Sourcing
A well-managed direct sourcing solution provides enterprises with many benefits. By minimizing the need to work with a third-party staffing company or consulting firm when searching for and engaging independent professionals, companies can instead focus on building a pool of on-demand talent that allows enterprise managers to access the skills they need when and where they need them most.

1. ON-DEMAND ACCESS TO TOP INDEPENDENT TALENT
Many companies today report having difficulty finding workers who have the skills they need. Independent professionals are a group of highly-educated and credentialed talent that can help fill the skills gap in a company's workforce, providing access to in-demand skills that are hard to find in a traditional talent pool. By leveraging and sharing their network of independent talent across multiple managers or departments with a direct sourcing strategy, companies can engage talent on an as-needed basis.
2. COST SAVINGS
Cost savings can be realized through a number of benefits including: flexibility in talent acquisition, the ability to bring most recruiter functions-in house, and reduced recruiting cost and payrolling overhead. Direct sourcing also reduces the amount of time mangers have to spend reviewing candidates.
3. INCREASED EFFICIENCY
Direct sourcing cuts out the middleman. Less reliance on traditional, cumbersome processes allows organizations to streamline working with contractors at scale on an as-needed basis. Full-time employees benefit from feeling supported by the ability to leverage broader skill sets on-demand while independents achieve higher satisfaction and productivity levels. On a company level, this combination contributes to rapid internal adoption and increased quality throughput that creates higher value work experience.
4. CLIENT OF CHOICE
Independent professionals value a simple, streamlined process when working with clients. Direct sourcing technology allows independents to see a company's available projects and offers them a defined process for engagement. These practices foster loyalty among independent talent, helping to position enterprises as a Client of Choice. As a Client of Choice, an enterprise implements a superior experience specifically designed to meet the needs of independents, realizing a competitive advantage by becoming the top choice in client partnership among top independent talent.
5. MITIGATION OF MISCLASSIFICATION RISK
Integration of technology platforms helps ensure all applicable independent professionals are directly sourced for assessment and engagement. Paired with the right technology and implementation partner, direct sourcing creates a reliable compliance process. Organizations like MBO Partners, for example, offer a trusted methodology of evaluating and engaging independent workers, which significantly mitigates misclassification risk.
6. SIMPLIFIED TALENT RE-ENGAGEMENT
Direct sourcing technology can offer an assessable system that automates onboarding, payment, and engagement documentation, creating a positive experience on both enterprises and independent professionals. By building a pool of pre-vetted talent that has already been successfully engaged, it becomes much easier for companies to find and deploy skilled workers when needed.
Flexible solutions like direct sourcing efficiently incorporate contingent talent into agile workforce strategies. Taking steps to tailor your program makes your brand more appealing to independents and it is also a great way to maximize your return on investment.
By incorporating a direct sourcing program, companies can more specifically meet their needs by making their own choices.
Requirements of Direct Sourcing - Compliance
Direct sourcing can lead to many financial benefits that help organizations avoid unnecessary costs by providing centralized management, lower cost engagement options and visibility into contingent worker spend—but that is only a small part of the picture.
Most third parties and technology platforms that facilitate direct sourcing are not designed to handle the complex program requirements enterprises need and lack a sufficiently robust compliance layer to solve for misclassification risk.
Without a centralized program or policies in place, enterprises may engage contingent workers who have not been properly vetted. This poses a significant compliance risk and can lead to potentially catastrophic misclassification or co-employment issues down the road.
To compliantly engage contingent talent across an organization, it is important for enterprises to build a scalable, comprehensive program which includes mechanisms to ensure compliance. This program should address everything from finding, sourcing, and engaging independent workers in a complaint manner to managing, paying, and re-engaging them as part of a talent pool.
There's no one-size-fits-all formula for creating a program to support a direct sourcing strategy—each enterprise will have unique talent needs and challenges. There are, however, certain universal requirements that help build a strong base for a lasting and successful program.
It is important that leadership understands that the significant benefits gained from direct sourcing are realized through the investment of time and resources. To this end program requirements and the costs associated with pursuing a direct sourcing strategy need to be clearly defined.
A direct sourcing strategy catalyzes engagement and helps to get top talent in the door, and a sustainable end-to-end program will keep them coming back.
Key Factors to Consider about Direct Sourcing
In order to evaluate a direct sourcing solution for engaging and managing contingent talent, organizations must determine the type of talent that the program will be used for, decide how the program will fit into their existing contingent talent strategy, and customize appropriate evaluation criteria based on organizational needs and goals.
It is important to begin with a centrally managed independent contractor compliance and engagement program. Get to know both the costs and benefits of implementing a program, secure a dedicated program sponsor or champion within their organization, and start an internal education campaign so employees and hiring managers understand how and why the program exists in order to more readily adopt new policies and processes.
Throughout this time, enterprises will need to consider what type of contingent talent they will engage: independent contractors, temporary workers, SOW project-based workers, etc.—as talent type will shape program design. It's also important to take a close look at current policies regarding independent contractors, if applicable. Evaluate current worker classification processes and determine whether or not they are compliant with federal, state, and local laws.
For companies that currently engage contingent workers, look to see if there are project contracts on file and what information they include. By assessing gaps and areas for improvement, enterprises can better pinpoint what needs to be changed and what needs to be created when evaluating a direct sourcing solution.
With the factors above in mind, be aware that building and maintaining a centralized program is a big investment of time and cross-functional resources, and it is not typically an area of expertise for most companies. Rather than trying to build their own center of excellence for contingent talent engagement, many enterprises decide to partner with a firm that has expertise in this area.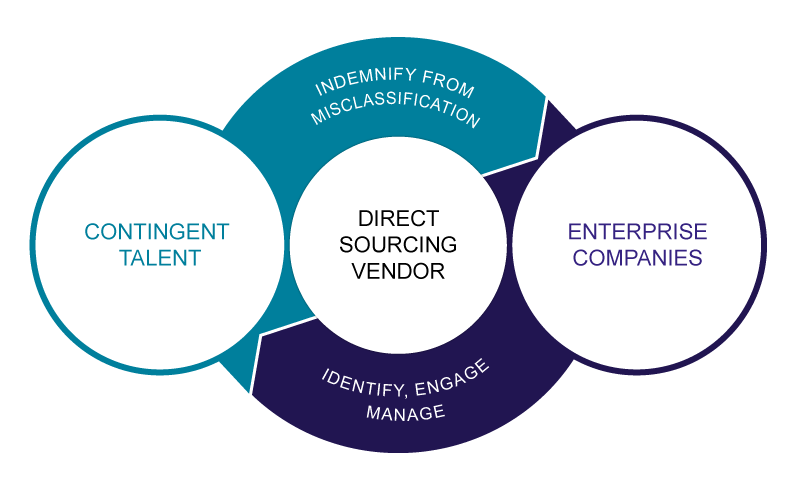 When selecting a vendor to partner with, it is important to keep organizational needs and goals in mind. For example, many companies solely focus on process outsourcing, payrolling, or talent acquisition. Enterprises will benefit most from working with a company that can put a rigorous and consistently enforced process in place for identifying, engaging, and managing contingent talent while indemnifying the enterprise from misclassification and legal risk.
While one size will not fit all, the right vendor should be able to build comprehensive worker classification policies, align contingent worker engagement with the needs of the business, implement a compliance framework, and institute measurable objectives that enable the enterprise to collect data on how the program is doing and evolve and adapt accordingly.
Direct Sourcing Checklist
Tailoring a comprehensive program to your organizational needs and values will enable you to source, engage, and manage contingent talent with greater efficiency and compliance. Use the following questions as prompts for important considerations like defining your objectives and key results and ensuring an agile, informed approach. We have included these cues in a downloadable interactive checklist to help you and your team align and create a robust direct sourcing engagement solution for your organization.
Subscribe to our blog
Get a weekly email of our latest posts sent straight to your inbox
Learn

more

about the MBO Platform
FOR INDEPENDENT
PROFESSIONALS
your independent business with MBO
Engage, scale, and optimize
your independent workforce