8 Essential Elements of a Professional Website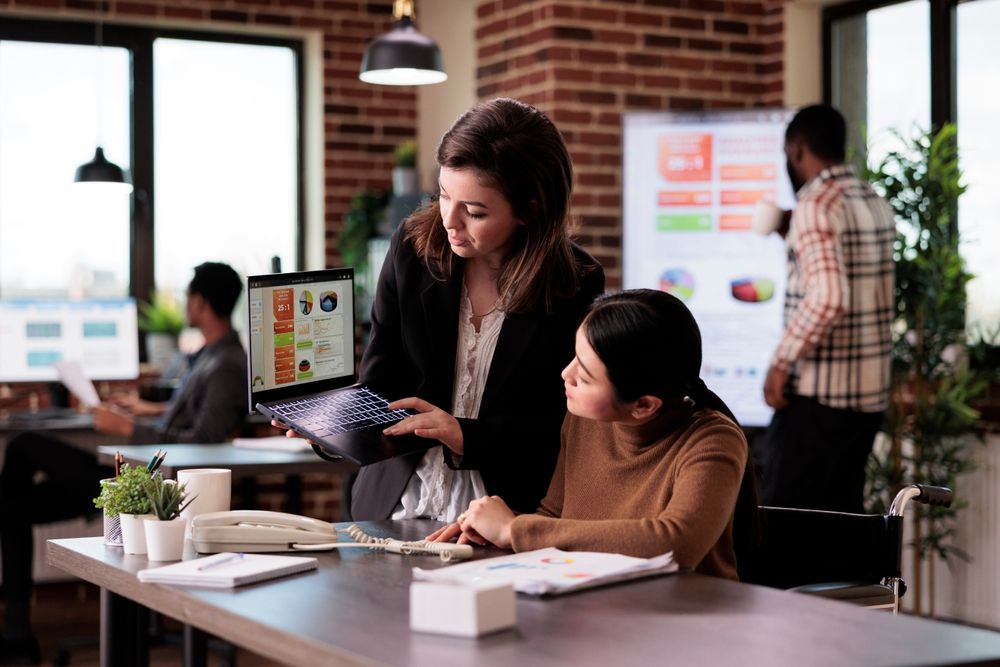 Key Points
A professional website can help spread brand awareness, boost credibility, promote services, and generate new client leads.
Increase your online visibility by optimizing your content with SEO.
Monitor growth using analytics to boost your Google search ranking and reach more potential clients.
A professional website is a great way to spread brand awareness, boost your credibility, promote your services, and generate new client leads. As a small business owner, most of your competition is likely bigger businesses that have the marketing capital to advertise and reach out to more people. But a professional website can help even the playing field and do a lot of heavy lifting when it comes to promotional work. Here are eight elements to include in your personal website to make it look professional and increase your online visibility.
1. Have a Clear Call to Action
A call to action (CTA) encourages someone who visits your website to take action. This could be a button, banner, or popup that says "Subscribe," "Learn More," or "Sign Up" that links to a page where they can fill out a short form for more information. Having a CTA is very important because it is a way to gather important data from people who visit your site.
It can be a helpful way to get information about a potential client like a name and email address that you can then use to nurture leads. A CTA might also be to follow your business on social media. You can keep your CTAs simple or get creative with them—here are some great examples from HubSpot if you need inspiration.
2. Create an About Page
An about page sounds like an obvious thing to include on a professional website, but when you sit down to write one it can be a little tricky. An about page is one of the first things someone will click on when they come to your site. This is your opportunity to build a connection and explain what you do and who you are simply and quickly.
A strong about page should find a balance between explaining your credentials to help build credibility and not focusing too much on yourself. You'll want to build a connection by establishing some sort of compelling narrative that will stick with people when they read about you and keep your writing conversational and friendly.
Try it: 9 Things a Small Business 'About Us' Page Should Include
3. Use Compelling Visuals
People are drawn to visuals like images, photos, and videos, so be sure to include these when and where appropriate in your site. Using original media is a great option, but you can also check out stock photos as well. Just be sure they are high quality and not too fake looking. Visuals can also refer to using graphics related to your content, a coordinated color palate throughout your site, a recognizable logo, and a consistent easy-to-read font theme.
4. Make Sure Your Content is SEO Optimized
When people search for services like the ones you offer in a search engine, you want your website to show up on the first page of search results. To rank highly in searches like Google, you have to optimize the content of your site with certain keywords. These keywords are the most searched words based on the specific industry you're in or the service you are trying to sell. To find what words people are searching, you can use tools like Google's keyword planner. It's also helpful to look at your competitors—those top-ranking sites—to see what sort of language and keywords they are using.
Once you've done your keyword research, you can start optimizing your content to include those words. A great way to boost your search engine ranking is to create content on those keyword topics. For example, if you are a graphic designer and find people are searching for ways to make a business logo, you might write a short blog post called "5 Steps to Create a Custom Business Logo".
Check out more ways to optimize your site: How to Increase Organic Traffic to a Small Business Website
5. Don't Forget About Mobile Optimization
Today, potential clients are just as likely to come across your professional website on their phone versus their computer. In order to make sure their experience is seamless, be sure to optimize your site for mobile. What does this mean? When you are making your website, be sure to choose a template that specifically says it is optimized for mobile, tablets, laptops, and desktop computer. As you build your site, you should be able to toggle between a desktop view and a mobile view to make sure positioning of pictures, buttons, text, etc. looks right in both versions.
6. List Testimonials
A testimonial page is one of the best ways to help build credibility for your brand. This is a page where you can show off the work you've done in the past and give potential clients some concrete examples of what you are capable of. Before writing a testimonial, make sure to clear it with your client first. If possible, include the client's name, relevant credentials, and photos or visual examples from the project.
Testimonials should be short and direct. Imagine that you are a client visiting your site for the first time. What would you find useful from a testimonial? Make sure the testimonials you choose to highlight feature different parts or services from your business. If possible, use concrete numbers that show success based on the services you provided.
Up next: 6 Creative Ways to Get Client Testimonials that Build Your Brand
7. Include Social Media Links
As noted earlier, including a CTA to follow your business on social media can be a helpful hook for business. A potential client might not be ready to join your newsletter or reach out about a project, but they might follow your company on Instagram to keep an eye on it if they are interested in future work. including links to your social pages will also help boost your site in search engine rankings. A win-win!
8. Monitor Growth with Analytic Tools
Last, but certainly not least, you'll want to make use of analytic tool to monitor the growth of your professional website. Once you've put in all the effort to make it great, you'll want to keep improving it and making it better. The website platform you use will likely come with its own analytical tools like statistics about the amount of traffic to your site and how many people visited each page.
This information can give you valuable insight as to what pages are popular and working and which ones aren't. you can also use Google Analytics which will help you dive into specific details like the time-of-day people are visiting your site, what devise they are using, and what their demographics are. Let data gather for about three months and then review this data, make changes, and repeat the process.
Check out: How to Create a Small Business Website: 5 Simple Steps

Subscribe to our
blog
Get a weekly email of our latest posts sent straight to your inbox
Learn

more

about the MBO Platform
FOR INDEPENDENT
PROFESSIONALS
your independent business with MBO
Engage, scale, and optimize
your independent workforce