MBO International Engagement Program
Compliantly Engage Independent Professionals Who Work Internationally
Demand for Geographic Flexibility is Increasing the Need for International Engagement Solutions
Companies optimizing their workforce strategies understand that today's independent talent are taking their home-based projects across borders and traveling internationally. This is a shift from the "global worker" of the past comprised of a foreign national delivering services in their home country and/or US citizens relocating to a foreign country to provide services there. Today, clients need and independents want an engagement solution that allows for geographic flexibility... whatever form that might take.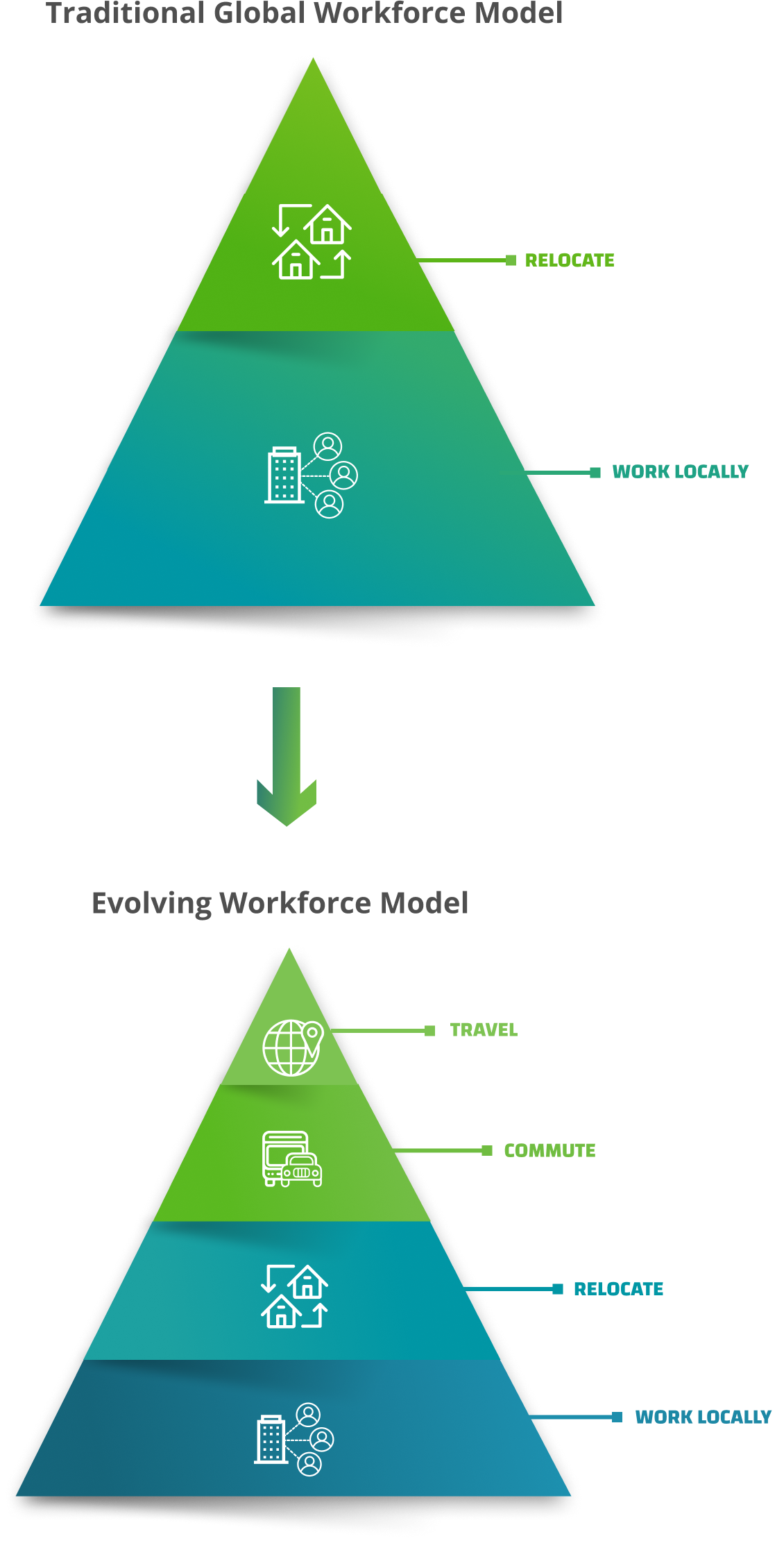 MBO solutions work for all types of international engagements
Our cross-border assessment determines how to engage talent internationally
At the core of MBO's international engagement solution is a comprehensive cross-border analysis that evaluates the myriad of risks that can arise given a specific international work scenario. Supported by well-known subject matter experts, MBO's cross-border assessment makes sure that both our clients and talent are compliant with local country rules and regulations when international work is performed. The outcome of this assessment determines whether MBO can engage the talent directly or whether its international partner network must be leveraged.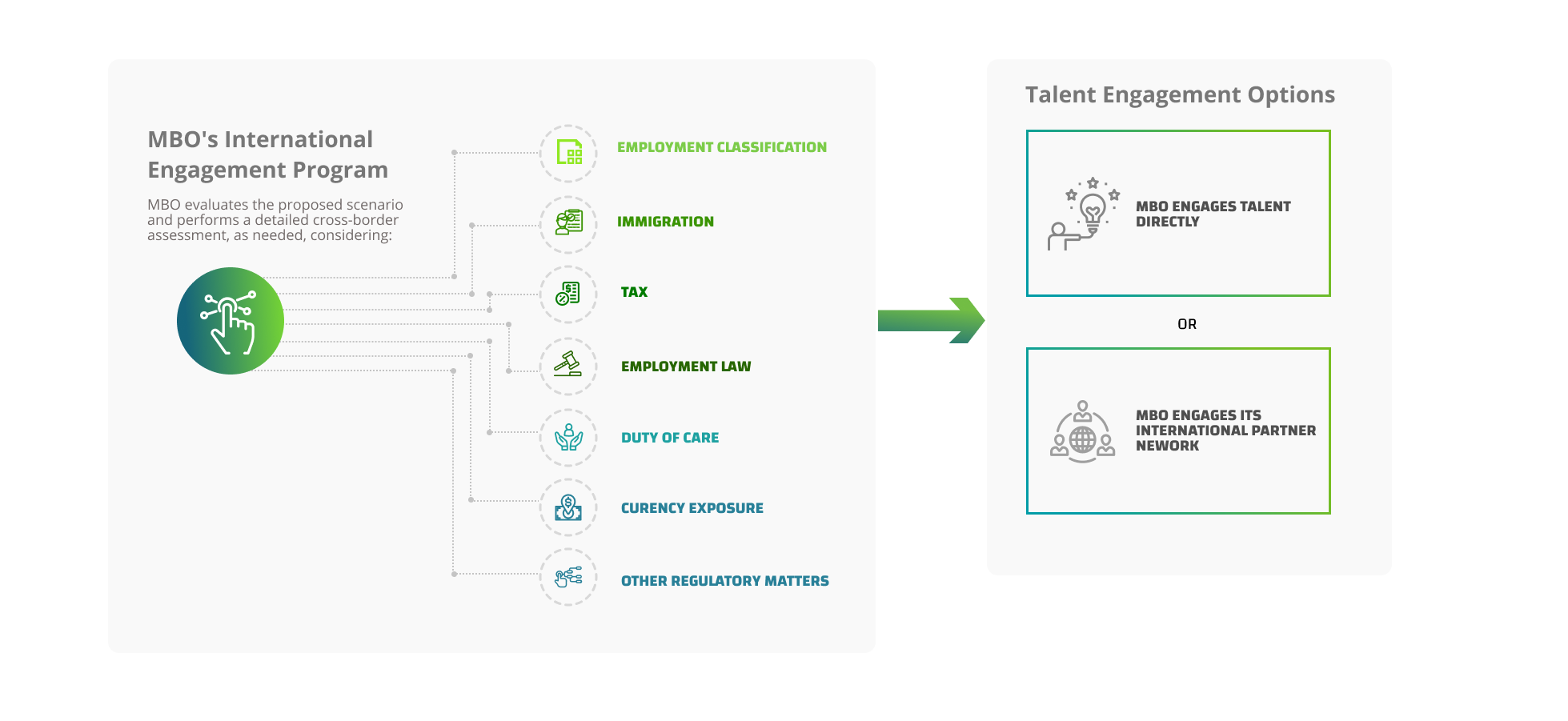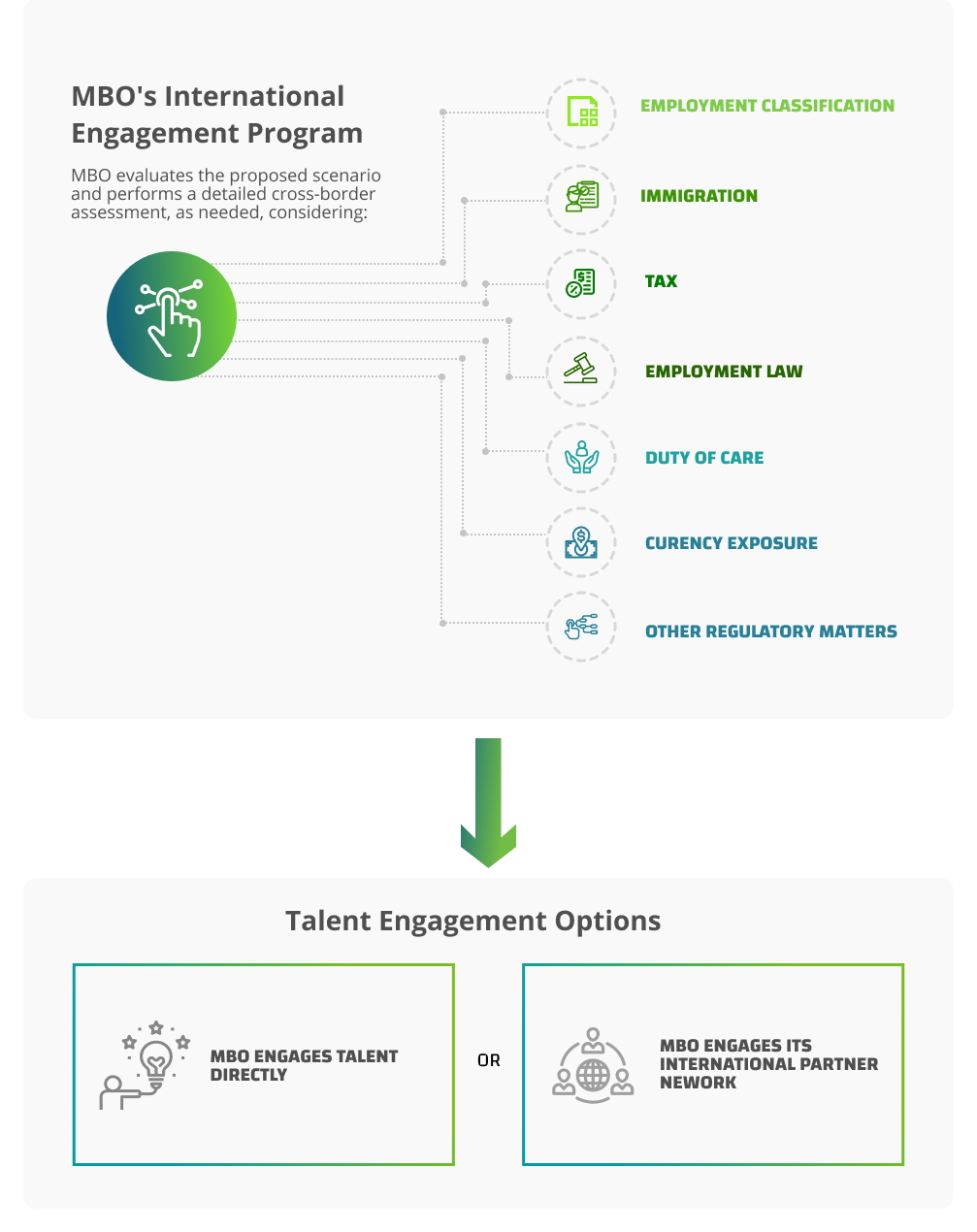 Direct Engagement through MBO
Talent receives engagement guidance to work abroad safely and compliantly. Enterprises receive same degree of compliance as if the talent worked in the U.S.
Compliance with work country employment classification rules
Guidance and services for immigration and taxes
Compliance with other cross-border issues
Insurance for the safety and well-being of Talent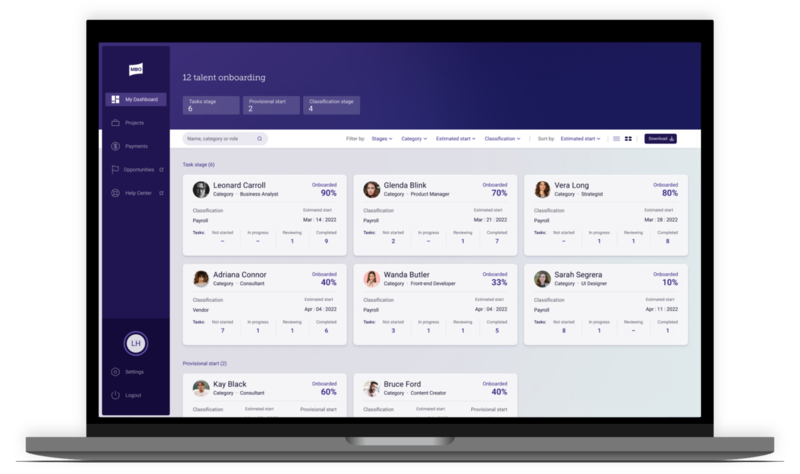 Engagement through our Partner Network
Talent receives both U.S. and local country support. Enterprises receive the same level of compliance and services as if talent were engaged domestically.
Designated MBO point of contact for onboarding, classification, and back office services
In-country expertise and support
Multiple currency capabilities
Benefits of MBO international engagement solution
INCREASE YOUR GLOBAL REACH

COMPETITIVE
Geographic flexibility gives enterprises a significant competitive edge

CLIENT OF CHOICE
Make international engagements easy and top talent will want to work with you

AGILE
Virtual work and streamlined engagements enable you to adapt quickly to change

DIVERSE
Foster ideas and innovation through global diversity and inclusion
LEVERAGE MBO'S COMPREHENSIVE SOLUTION

GLOBAL
MBO enables enterprises to engage workers in nearly every country

COMPREHENSIVE
An engagement solution for every project / travel configuration
COMPLIANT
Pre-project risk assessment protects you and your independents

ECONOMICAL
Competitive pricing and lower total cost through direct access to talent
MBO's international offering spans the globe with MBO and partner-supported solutions in more than 100 countries.
We'd love to discuss your business needs.
Interested in learning more about our solutions for engaging independent professionals internationally? Complete the form to have an enterprise specialist contact you.