Frictionless, Compliant
Independent Talent Engagement
Compliant, Talent-Focused Engagement Solutions Built for Enterprise Scale
Compliant, Talent-Focused Engagement Solutions Built for Enterprise Scale
The MBO platform provides simplified and compliant methods for engaging the independent workforce. Our solutions provide enterprises flexibility, transparency, and cost savings while keeping risk mitigation at the forefront.
Flexible engagement options also help enterprises create a positive experience by giving independents the support they need to perform their best work-regardless of business structure.
Frictionless and compliant engagement. Cost transparency. Enterprise consistency.
Unique Engagement Options that Mitigate Risk
MBO has 25+ years experience in independent workforce management, providing enterprise risk mitigation and considerable cost avoidance.
MBO's industry-leading compliance solutions provide enterprises the flexibility to engage talent in a variety of ways based on talent preferences, work arrangements, and regulatory considerations. Classification indemnification is part of the standard solution.
Streamlined Onboarding and Dedicated Support
Reduce the time, effort and costs associated with onboarding and managing independent professionals.  Our platform and dedicated support team efficiently guide your independents through program qualification and compliance so they can get to work fast.
These processes can be integrated with your talent management ecosystem, including your VMS and other aspects of your technology stack, ensuring a seamless experience.
Reduce Costs with Scalable Engagement Programs
Increase cost savings by implementing more robust talent engagement strategies that support an agile workforce strategy. As your tactical strategy evolves beyond risk mitigation and cost containment, enterprise consistency in independent talent engagement forms the foundation of a workforce optimization program.
MBO has more than two decades of experience not just in building programs, but in scaling independent professional engagement programs to meet future workforce needs.
Engagement on MBO's Proprietary Technology Platform
Simplified Talent Time Entry & Payments
Streamlined Manager Approvals & Reporting
One Invoice & Remittance for Accounts Payable
Executive Analytics on Program Performance
Reporting for Tax Calculation & Payment
Integration to your VMS or existing technology stack
Compliant talent engagement is the foundation on which all other MBO solutions are built
Ready to move past the engagement phase?
Learn more about direct sourcing and workforce optimization
How Leading Enterprises Achieve Compliant Talent Engagement
Engage talent faster, cost-effectively and compliantly
Learn why leading enterprises prefer to find, engage, and manage talent through MBO's flexible, cost effective engagement services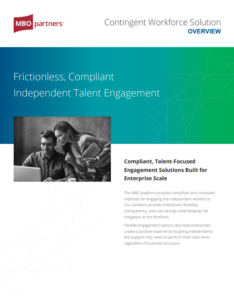 Interested in a more comprehensive talent engagement solution?
Contact us today for more information.