Support Innovation and Agility with a Smart Talent Deployment Strategy
Agile companies need quick and easy access to skill-based workers to stay innovative and competitive. Building a virtual bench of vetted, onboarded talent allows you to dynamically respond to ever-changing business needs.
MBO Partners, the platform behind the most advanced non-employee labor strategies, will work with your organization to create a program with policies and best practices to ensure you have the right talent when you need it.
Businesses who recognize the positive impact engaging skilled independent workers can have on business growth know they need to position themselves to attract and keep the best talent. By pre-onboarding independent talent with the skills they anticipate needing, companies can adjust to market needs and fill skill gaps with flexibility and minimal risk and build positive relationships with top independent workers.
Watch this short video to learn more about MBO's Virtual Bench offering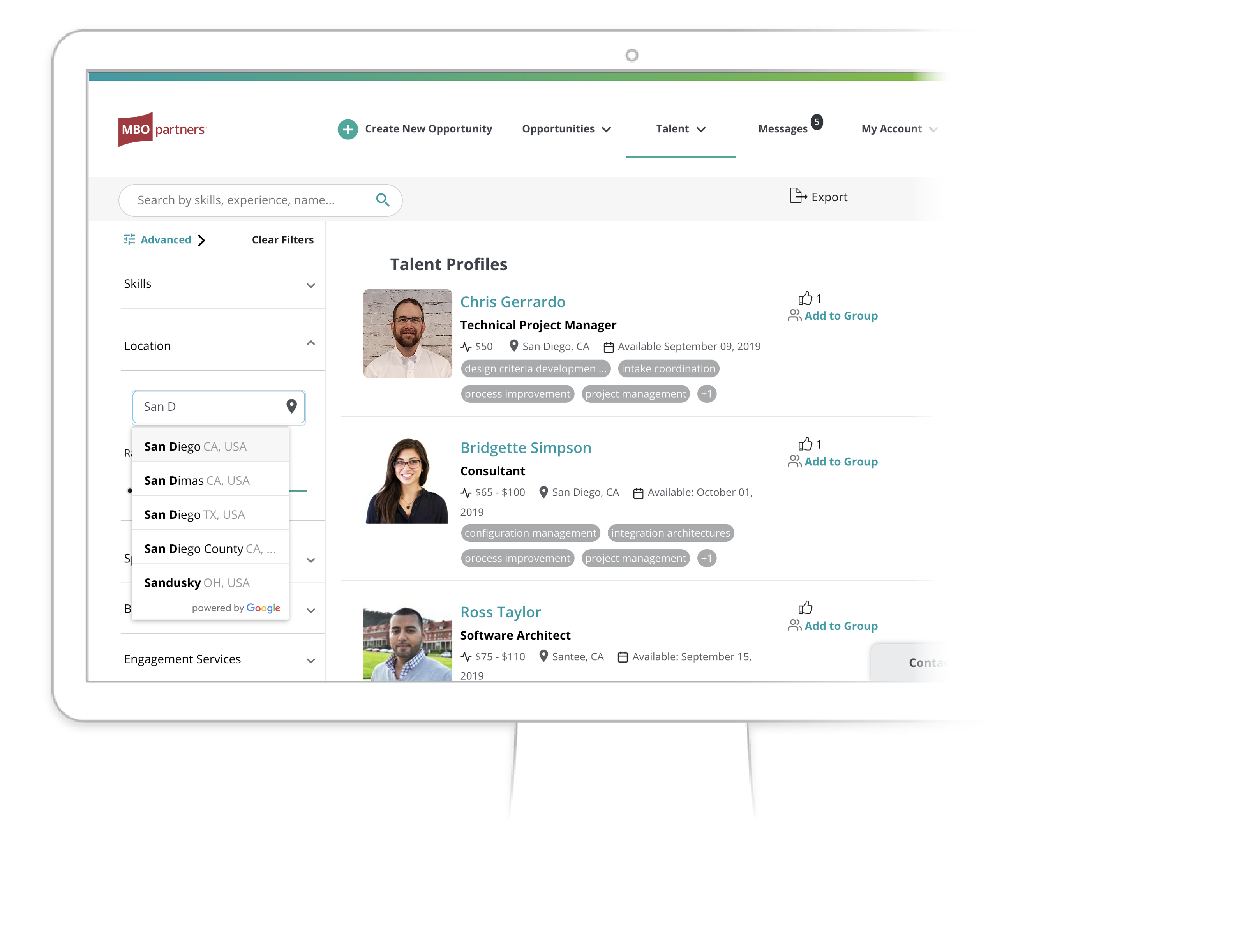 Quick and Easy Deployment of Top Talent
Workforce flexibility is what will separate successful companies from others in the next decade and beyond. By preparing a virtual bench of talent for quick deployment when needed, forward-thinking companies will achieve continuity of innovation and gain a competitive advantage.
Overcome Risks and Reduce Talent Onboarding Costs
MBO will work with your organization to create talent deployment strategy that addresses risks and concerns while achieving cost efficiency.
Ensure your specific onboarding terms and requirements are met by creating an onboarding process that sets appropriate expectations for you and your talent.
Minimize risk and achieve organization-wide program adoption by creating and following best practices for talent engagement and onboarding.
Reduce your risk in pre-engaging contractors by implementing solutions that compensate talent for taking onboarding steps and by creating a communication plan that builds a positive relationship with talent for future projects.
6 Components of Creating a Compliant, Cost-Effective Virtual Talent Bench
Minimize risk and set realistic expectations by creating a transparent SOW with specific required training and documents.
Minimize risk by creating a communication plan that promotes transparency and outlines the reasons for onboarding prior to engagement.
Work Arrangement Specifications
Support flexibility by planning for changing work arrangments and allowing for re-evaluation if needed.
Create a Positive Experience
Create a positive onboarding experience by setting expectations and implementing a communications plan using templated tools and materials.
Support quick engagement by maintaining a stock of equipment, including laptops, that may be required for project work within a short time period.
Ethics and Compliance Training
Efficiently onboard talent by requiring that any ethics and compliance training be completed ahead of time and compensate the talent accordingly.
Long, Successful Client Relationships Define Our Success

Schedule a Consultation to Discuss Creating Your Virtual Bench
If your business decides to engage independent contractor talent, a lot of questions will likely arise—especially if this is new territory for your company. There are many common misconceptions about the independent workforce, a 38-million strong talent pool. One important distinction to note is that independent professionals don't just make up the on-demand economy—Uber and Lyft drivers,…